Sahibzada Zain-ul-Abideen Kazmi calls on Dr Hassan Mohi-ud-Din Qadri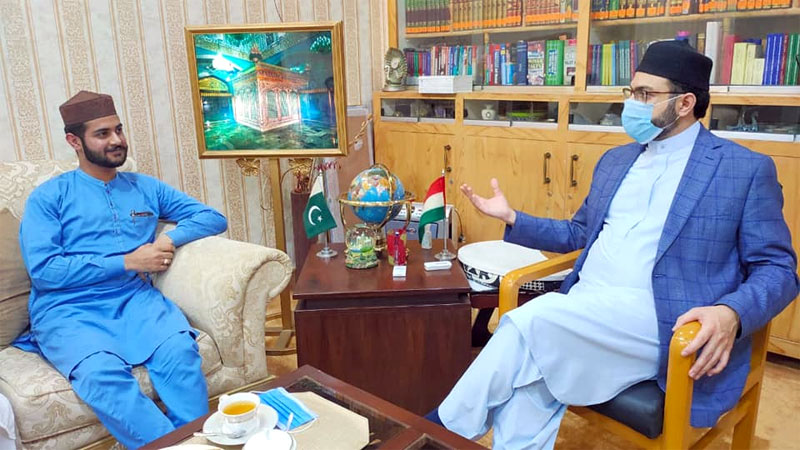 Sahibzada Zain-ul-Abideen Kazmi, Zanjani, Chishti, Nizami, the renowned spiritual personality, and Sajjada Nasheen of Khano Harni Shareef shrine, called on Chairman MQI Supreme Council Dr Hassan Mohi-ud-Din Qadri at his residence. Both the leaders had a detailed discussion on the unity in the ranks of Muslim Umma, and the role of the Sufis in the promotion of Islamic teachings. Raja Zahid Mahmood, President MQI Lahore Hafiz Ghulam Farid, Arif Chaudhry, and MQI Lahore officeholders Asghar Javed, Asghar Bhatti, Malik Amjad, and Asghar Chishti were also present on the occasion.
Speaking on the occasion, Dr Hassan Mohi-ud-Din Qadri said that Sufis have played an important role in promoting the Islamic teachings in the world. He said that peace, love, and human brotherhood are the shared components in their message. He said that Sufis and Mashaykh attracted people of all stripes and colors to Islam through their character. He said there is a dire need to implement these teachings of love and harmony in an effort to put an end to extremism and forge unity in the ranks of not just Muslims but humanity.
Dr Hassan Mohi-ud-Din Qadri asked the religious scholars and Mashaykh to play their role for the unity of Muslims. He said MQI is spreading the universal message of Islam throughout the world, stating that we continue to make efforts constantly to bring the Muslim Umma together under the banner of the love of humanity, the promotion of knowledge, and revival of the faith.
Sahibzada Pir Zain-ul-Abideen, while speaking on the occasion, said that Shaykh-ul-Islam Dr Muhammad Tahir-ul-Qadri is a great scholarly asset of the Islamic world. He said the services and contributions rendered by MQI are appreciable. He said that the struggle of Dr Qadri for the promotion of interfaith harmony and inter-sect tolerance is praiseworthy. He said MQI has done commendable work for the promotion of the Islamic message of peace, love, and interfaith dialogue in the world.