Jamia Islamia Minhaj-ul-Quran launches two-year Mufti Course (Specialization in Fiqh)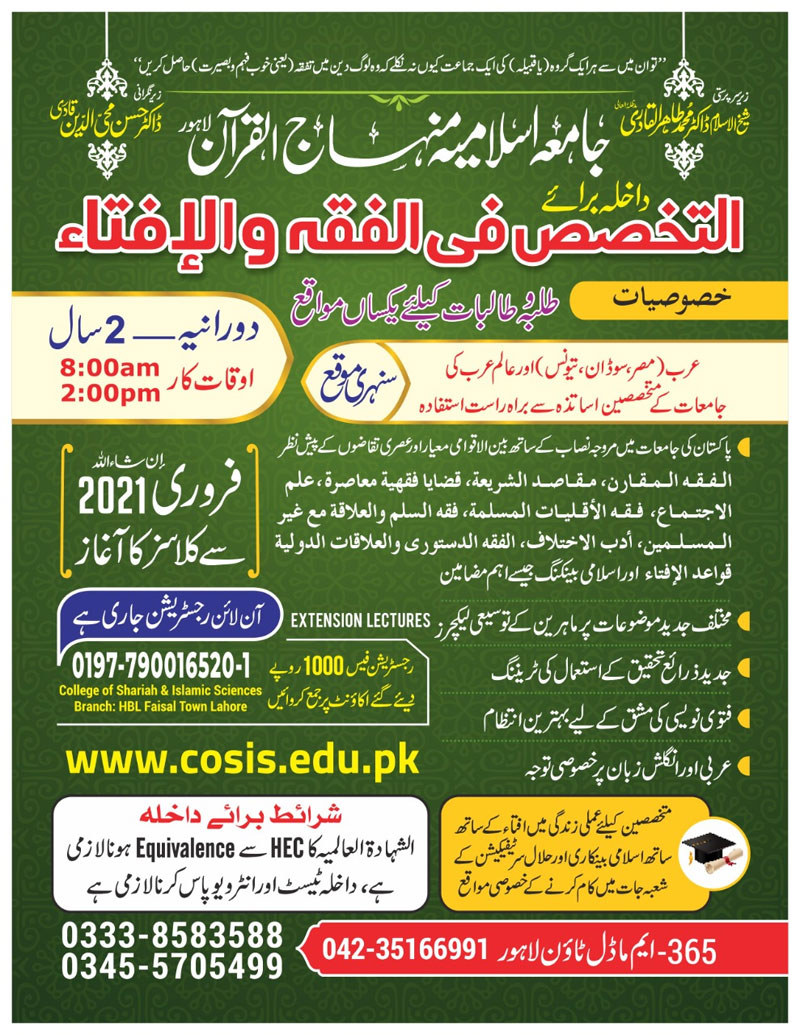 Jamia Islamia Minhaj-ul-Quran has started a two-year Mufti Course (Specialization in Fiqh). Sharing the details of the course, JIMQ Principal Dr Mumtaz-ul-Hassan Barvi said that the course has been designed in a way that it is over and above any sectarian bias and will be taught by the scholars from Egypt, Sudan, and Tunis. He said that the 'halal' industry is expanding throughout the world and for this purpose, there is a dire need for qualified scholars well versed with Islamic laws.
Dr Mumtaz-ul-Hassan Barvi said a Muslim faces a number of jurisprudential and legal issues in life that are related to what is permissible Islam, and what is not and a belief system, and faith. He said when we fall ill physically, we look for qualified surgeons and doctors and stay away from quacks. He added in the same breath that it is equally important to resort to the qualified and educated scholars in matters of Islamic law and jurisprudence. He said that religious 'quacks' can be dangerous for our faith.
Principal JIMQ said that MQI has always prioritized the contemporary needs and requirements in the areas of education and training. He said that the launch of Mufti Course is also a link in the same chain. He said that a team of senior scholars has worked very hard to design the curriculum of the Mufti Course in light of the intellectual guidance of Shaykh-ul-Islam Dr Muhammad Tahir-ul-Qadri and under the supervision of Chairman MQI Supreme Council Dr Hassan Mohi-ud-Din Qadri.
Dr Mumtaz-ul-Hassan Barvi said that the Mufti Course does not correspond to any sectarian interests and is over and above any such biases. He said that it has been designed purely on the touchstone of research and scholarly investigation. He said that the Course ensures to produce religious scholars well-versed in Islamic law who are capable of guiding people in modern-day issues in different parts of the world.
Principal JIMQ further said that English and Arabic are large the language of worldwide communication and transfer of knowledge. He said that arrangements have been made to impart proficiency to the students in these languages. He said they will also be trained in the use of modern tools of research as part of the Course. He said those having 'Ash-Shahadat-ul-Aalamiya' or equivalent degree approved by HEC are eligible to apply for admission. He said written test and interviews will be conducted for the selection of the students. He said that it is the unique course of its kind and there are limited seats available. He said that the students can also register themselves online by visiting www.cosis.edu.pk or seek information by directly calling on 0333 858 3588.