Dr Hussain Mohi-ud-Din Qadri's new book published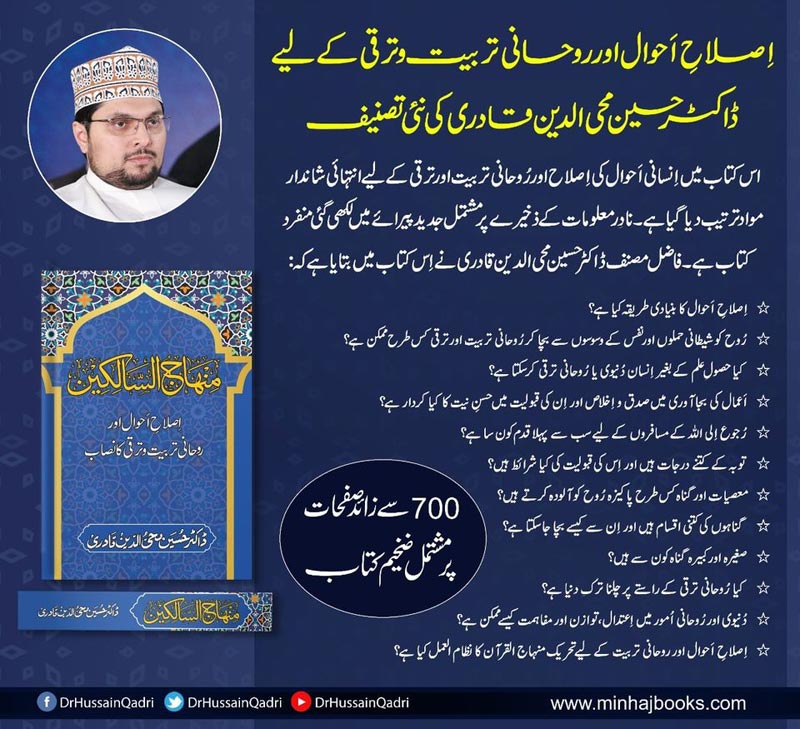 "Minhaj-us-Salikeen", a new book authored by President MQI Dr Hussain Mohi-ud-Din Qadri, has been published. The book covers around 250 topics in six chapters and consists of 700 pages. It has been compiled as a curriculum for spiritual training and development.
Talking about the book, Dr Hussain Mohi-ud-Din Qadri said that there is a dire need of the fact that Muslims develop a special love for knowledge, and purify their souls and focus on their character building so that they can play their role as agents of betterment and reform in the society in an efficient and productive manner. He said that at the same time, it is also of paramount importance that the youth are not only aware of the social problems around them but also know how to address them.
Dr Hussain Mohi-ud-Din Qadri said that it is necessary for a practising Muslim to order his life in line with the code described in the Holy Quran and Sunnah. He should speak the truth, stay away from extremism, earn his livelihood through legal means, and abstain from the acts that have been forbidden by Islam. He indicated another evil deed by stating that people do try not to commit major sins but downplay the committing of the minor sins as if they were insignificant. He warned that these are the very sins that make human beings deviate from the right path.
President MQI said that the book aims to urge the youth not to follow the path of evil and encourages them to become practising Muslims. He said when people chase material acquisitions at the cost of their piety and spirituality and violate the commandments of their Lord, they not only become deserving of His punishment in this world but also in the hereafter. He said that for society to become peaceful, it is essential that those living in it revert to Allah Almighty and mend their ways.
Dr Hussain Mohi-ud-Din Qadri, while throwing light on the book, stated that the book discusses the incidents that the Sufis and the friends of Allah experienced and tells us how we can seek guidance from their way of life to do a mid-course correction in ours. He said that the book is a complete curriculum for character building and is replete with the experiences, epochs, and wise sayings of the exalted servants of Allah Almighty.
The book is available at the Minhaj-ul-Quran Sale Centre.