Cake-cutting ceremony on Quaid-i-Azam's birth anniversary held at MQI secretariat
Quaid-e-Azam Muhammad Ali Jinnah wanted to see Pakistan free from extremism and ignorance. The best way to honour and pay tribute to #QuaideAzam is to ensure better education facilities for poor and deserving children.#WeWantJinnahPakistan

— Dr. Hassan Qadri (@DrHassanQadri) December 25, 2020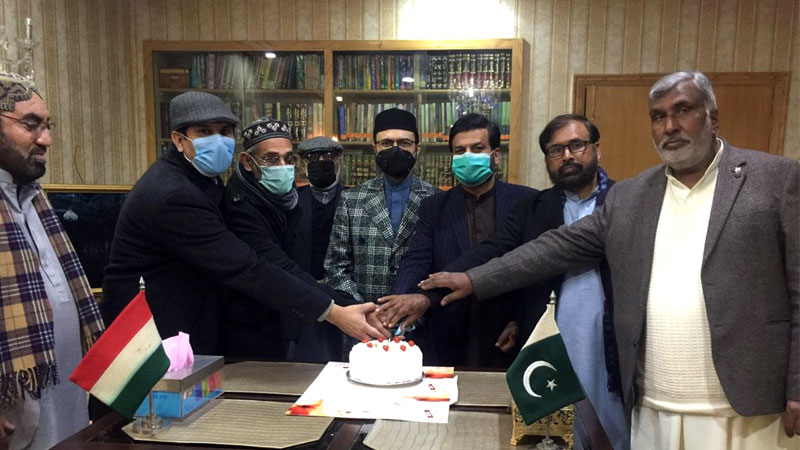 Chairman MQI Supreme Council Dr Hassan Mohi-ud-Din Qadri has said that Muslims of the sub-continent won freedom from the British colonial rule under the inspirational leadership of Quaid-i-Azam Muhammad Ali Jinnah. He said that the youth must adopt the path of knowledge, peace, and research to realize the dreams of the great Quaid.
Dr Hassan Mohi-ud-Din Qadri made these remarks while addressing a cake-cutting ceremony to mark the birthday of the Quaid-i-Azam. GM Malik, Raja Zahid Mahmood, Shahzad Rasool, Sohail Ahmad Raza, Haji Ishaq and Mian Tahir Yaqoob were also present on the occasion.
Chairman Supreme Council said that Pakistan's founding father envisaged a country free of ignorance and extremism. He said the best way to pay homage to the Quaid-i-Azam is that the well-to-do sections of society donate for the education of the children of the underprivileged families. He said the struggle for an educated Pakistan will be to be stepped up. He said MQI has taken it upon itself the mission of spreading quality but inexpensive education that caters to the needs of the middle and lower classes. He said a cluster of educational institutions such as Minhaj University Lahore, College of Shariah and Islamic Sciences, Minhaj College for Women, and Minhaj Education Society are busy spreading education. He emphasized that the darkness of ignorance will not be removed unless every individual, institution, and movement come forward to play their part.