Countrywide Quranic lectures continue in the holy month of Ramadan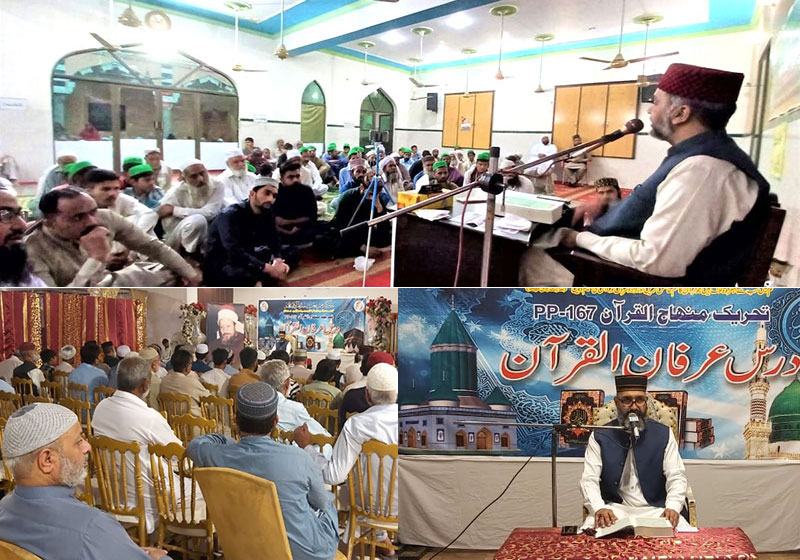 The lectures on the Holy Quran continue to be delivered across the country after every Fajr prayer in this holy month of Ramadan under the banner of Minhaj-ul-Quran International. The scholars associated with the Dawah and Training Directorate of MQI are delivering these lectures daily on various topics. Thousands of men and women are greatly benefiting from these lessons and further embellishing their lives with spirituality and blessings in the holy month.
The MQI scholars are engaged in the efforts to strengthen people's bond with the Holy Book by doing away with the mischief of materialism through the Quranic teachings. As part of the lectures on the Holy Quran, MQI senior leader Allama Rana Muhammad Idrees delivered a talk on the topic of Zakat and its importance. MQI Lahore President Allama Rana Nafees Hussain Qadri threw light on the need for hala livelihood and its importance, whereas Allama Ghulam Murtaza Alvi took up the Oneness of God as a topic for his lectures. Allama Fayyaz Bashir enlightened the audience on the subject of excesses of social customs. Allama Sabir Kamal Wattoo gave a talk on the topic of the mothers of believers and today's women. A large number of people are attending these lectures across the country.
Allama Rana Nafees Hussain Qadri said that Islam is a complete code of life. He said that our great religion offers guidance about the legitimate sources of earning, adding that our earnings will be considered permissible as long as they are within the parameters described by Islam. He said that the Islamic teachings are clear in this respect, which strictly forbid Muslims to earn a living through illegal means.
Allama Rana Nafees Qadri said that if we want to regain our lost glory and achieve successes, then we will have to strengthen our bond with our forefathers. He said that it is equally important to make our young generations aware of the exploits of our forefathers so that they can take inspiration from them and mould their lives accordingly.