4th Genration of Dr. Farid-ud-Din Qadri : A Hope For Youth
Ms. Hadeeqa Batool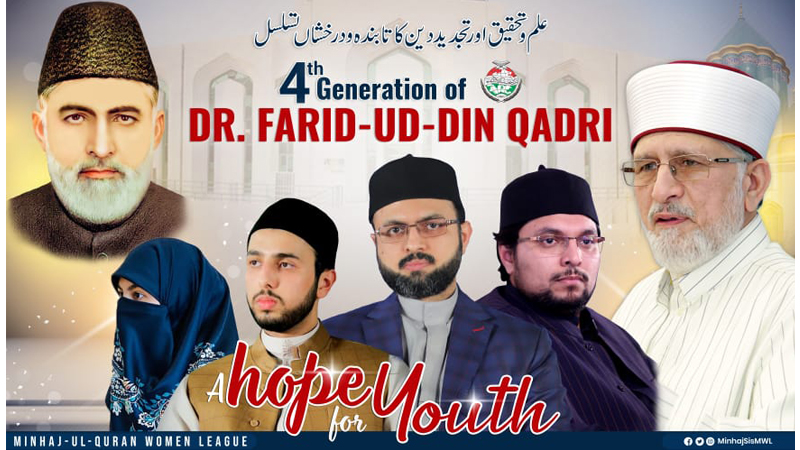 Time management is the most dreadful dilemma of current era. This is something that even leaders and worldly successful personalities cannot handle. Time management becomes a challenge when people struggle to maximize their effectiveness in their career and personal lives. There are so many persons in the world who are successful in their career, mission, ideology, personal life and in achieving their goals. But they could not manage to provide their children with quality time. Therefore, they are unable to raise their generations in a targeted way; let alone their generations, they could not raise their children in an ideal way. Consequently, their children are not as successful as they are. I give some instances to illustrate my point. Let's begin with a doctor. He/she is successful in his/her profession as he/she is a source of healing and consolation for the sick and worried humanity. He/she works hard day and night, but still a doctor cannot nurture and train his/her children in an excellent way to make them succeed and useful for others. Then come to the religious personalities and mentors, as they serve their religion and are busy for the reformation of others. Although he/she is a successful person but almost 80% of mentors are unable to communicate their ideologies to their siblings because they cannot manage their time. This is a fact that despite all these things, there is a personality who not only trained his child but also enabled him to train and prepare next siblings for the Muslim Umma.
Around 8 decades back, there was a practising doctor named Farid-ud-Din Qadri, prayed to Allah Almighty, while holding the Cover of the House of Allah in the Sacred Mosque: O Allah! Bless me with a son who would revive the forgotten values of Islam and serve Your Din. Almighty Allah granted his prayers and blessed him with a son, Muhammad Tahir, in 1951, which proved to be a great blessing for the Muslims and humanity. Being a practicing doctor, it was not easy for him to manage some quality time out of his tough schedule and raise his son according to his own ideology. It was not humanly possible but if we look back at the history, we would be able to know how he raised his most coveted and beloved son. Along with a lot of responsibilities, he brought him up as a legend. After coming back from the professional duties, he would teach him Shariah subjects. His son was used to study Islamic subjects in order to know the true teachings of Islam and to get prepared for the revival of Islam since his early age along with school and college studies. His son was just seven years old when he was done with so many Shariah books written by renowned scholars of early centuries.
When he completed his studies, he started service at the University of the Punjab. He was a successful person in his early age but he had not stopped yet. He established the worldwide organization, Minhaj-ul-Quran International. He was blessed with five children: two sons and three daughters. Although he could not provide them a lot of time but he always managed to give them quality time. Along with these activities, he completed his PhD on the topic of "Punishments in Islam, their Classification and Philosophy". Soon he became a true face of Islam and had been given the title of "Shaykh-ul-Islam" by the renowned scholars of the world. He had presented the true face of Islam in the Eastern and Western worlds at the same time. He has authored 1000 books and delivered around 8000 lectures on a variety of subjects.
As far time management, Shaykh-ul-Islam Dr Muhammad Tahir-ul-Qadri had done his studies, served as professor, delivered thousands of lectures, written hundreds of books and established an organization with chapters in more than 90 countries. But still the question has not been addressed whether he raised his children after his ideology and mission.
The answer is that if we just look at his sons, both of them are successful persons in their fields. The elder one completed his PhD from Egypt in Islamic and Western Constitutional Law. Currently he is the Chairman Supreme Council, Minhaj-ul-Quran International. He is running organizational set-up in more than 90 countries. He is a member of the Board of Governors, and serves as Dean of the Faculty of Law at Minhaj University Lahore. He is the Patron of Nizam-ul-Madaris Pakistan. He also heads the worldwide network of Minhaj Welfare Foundation (MWF). He has authored dozens of books and delivered hundreds of lectures on different topics. The world knows him as Dr. Hassan Mohi-ud-Din Qadri. The younger son, Prof. Dr. Hussain Mohi-ud-Din Qadri is PhD in Economics from Australia. He serves as President Minhaj-ul-Quran International and the Deputy Chairman of the Board of Governors at Minhaj University Lahore. He is the author of fifty books, wrote dozens of research articles and is also a reputed international speaker. He is also the chairman of the Minhaj Education Society (running 610 schools and colleges across Pakistan) and the chairman of Aghosh Orphan Complex.
The story has not ended here. His eminence Shaykh-ul-Islam Dr. Muhammad Tahir-ul-Qadri continued his struggle and is now bringing up another generation for Muslim Umma i.e. the children of Dr. Hassan Mohi-ud-Din Qadri (Shaykh Hammad Mustafa al-Madani al-Qadri, Sister Basima Hassan Qadri and Shaykh Ahmad Mustafa al-Arabi al-Qadri). Shaykh Hammad Mustafa has just completed his Masters in International Relations. Along with formal education, he has been studying Shariah from different renowned scholars. Currently, when this confused generation is unable to decide their career, he is delivering lectures to the youth and has become a great motivation for them.
Dr. Farid-ud-Din Qadri has presented a living example to this Umma that one can go with his job, commitments and can raise his children for a specific purpose. He not only raised Shaykh-ul-Islam Prof. Dr. Muhammad Tahir-ul-Qadri but also enabled him to raise and train next generations. It would not be wrong to say that Dr. Muhammad Tahir-ul-Qadri is a distinguished scholar, a renowned speaker, an author, a founder of an organization and yet a great leader and father. He has established a good example of time management and presented to the whole world how one can be successful in mentoring his siblings after his ideology.
Allah willing, this beautiful, spiritual, intellectual and a blessed journey will continue in next generations.