Launching ceremony of Shaykh-ul-Islam's new book held under MQI Karachi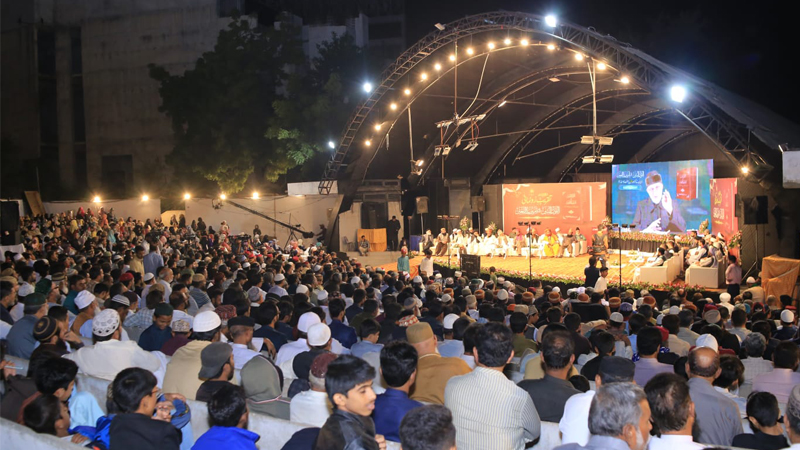 A new book of Shaykh-ul-Islam Dr Muhammad Tahir-ul-Qadri was held under the banner of MQI Karachi. Religious scholars belonging to the various walks of life attended the ceremony and expressed their happiness at the new intellectual contribution by Shaykh-ul-Islam.
They said that Dr Tahir-ul-Qadri has paid scholarly debt owed to Muslim Ummah by authoring the book in defence of the grace and status of the Prophet's household and closed all the doors of mischief, discord and strife. They said that Shaykh-ul-Islam has lighted the lamps of knowledge and enlightenment by offering intellectual guidance for every contentious issue.
The launching ceremony took place in Arts Council Karachi. Khurram Nawaz Gandapur, Qazi Zahid Hussain, Allama Mufti Jamil Azhar Mithra, Mufti Shah Hussain Gerdezi, Syed Usman Shah Ferozi, former provincial minister Rauf Siddiqui, Zafar Abbas Jafari, Pir Syed Arshad Ali Shah, Shamul Mustafa Asadi, Sabir Abu Maryam, Allama Mahmood ul Hussaini, Allama Muhammad Rafique Naqashbandi, Pir Irfan Chishti, Pir Syed Haider Hussain Shah, Wali Mustafai, Mufti Irshad Hussain Saeedi, Pir Amanullah Jan Sirhandi, and Allama Naeem Ansari addressed the ceremony.
In his keynote address, Shaykh-ul-Islam Dr Muhammad Tahir-ul-Qadri congratulated the religious scholars belonging to different walks of life on getting together on a single point which is a common matter of respect and faith for all. He said that the martyrdom of Imam Hussain (RA) was not just the killing of one person but an act that was aimed to hurt the Holy Prophet (PBUH). Allah Almighty says in the Holy Quran that whosoever hurt His Prophet (PBUH), there is great torment in store for such a person. He said that love for the family of the Holy Prophet (PBUH) is not a matter of devotion but one of stability and safety of 'Iman' and treading the right path.
In his remarks, Allama Agha Zain Raza said that the book written by Shaykh-ul-Islam Dr Muhammad Tahir-ul-Qadri is solid in terms of scholarly arguments. He said that Dr Qadri did justice to the need for addressing the matter in the best of manner.
Mufti Syed Shah Hussain Gardezi said that whenever any mentionable book gets published, it creates ripples in the circle of the knowledgeable people. He said that the book of Shaykh-ul-Islam has caused quite a stir among scholars and intellectuals.
Dr Jamil Azhar Vithra said that the scholarly service done by Shaykh-ul-Islam in this age of mischief represents the raining of unity among the various schools of thought. Allama Wali Mustafai said that Dr Tahir-ul-Qadri has removed all the confusions pertaining to the issue of Yazid's being out of the pale of Islam.
PAT central president Qazi Zahid Hussain felicitated MQI Karachi for publishing Shaykh-ul-Islam's book on such an important topic and arranging the launching ceremony for it. He also thanked MQI Secretary General Khurram Nawaz Gandapur and all other guests for making time.