Extremism biggest hurdle in the way of unity of Ummah: Dr. Hassan Mohi-ud-Din Qadri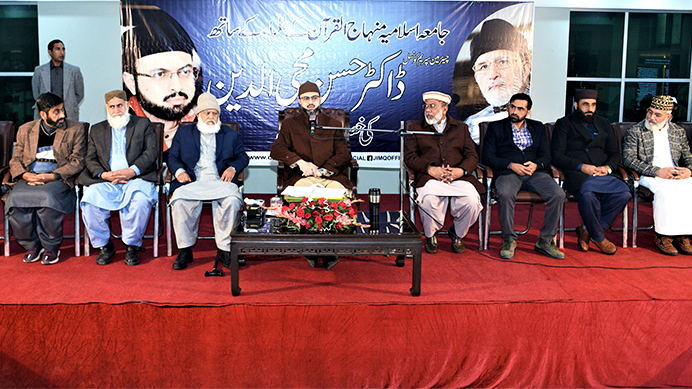 Conservatism is the enemy of enlightenment and unity and one of the biggest hurdles in the way of evelopment. Attacks are being launched on Pakistan's ideology. Our identity as a nation is being erased. Only the youths have the capability and courage to stand up to such attacks to safeguard our religious, cultural, and national identity. This is possible only when we establish and strengthen our relationship with the Holy Quran.
Chairman MQI Supreme Council Dr. Hassan Mohi-ud-Din Qadri made these remarks while addressing an intellectual sitting with the senior students of COSIS. He said that the youths should join the company of the noble and pious people, and spend their time learning productive knowledge. He said that protecting the faith, character, and morality should be the foremost responsibility of the students.
Dr Hassan Mohi-ud-Din Qadri said that the hard work done during the youth benefits the learners till the last breath of their life. He said that MQI is working to promote a culture of dialogue and sharing of ideas through candid exchange by removing ignorance and a narrow-minded approach. He said that the Islamic Cultural Centers are playing a pivotal role in spreading the light of knowledge around the world.
The students of COSIS are the trustees of the ideology of Shaykh-ul-Islam Dr. Muhammad Tahir-ul-Qadri and this ideology is characterized by interfaith dialogue, harmony, and peace," he added.
Dr. Mumtaz-ul-Hassan Barvi, Mufti Abdul Qayyum Hazarvi, Prof Nawaz Zafar, Dr. Shafaqat Ali Baghdadi, Allama Ghulam Murtaza Alvi, Engineer Muhammad Rafique Najam, Muhibullah Azhar and the teachers of COSIS attended the sitting.