Unique exhibition showcases 72 models to pay tribute to Shaykh-ul-Islam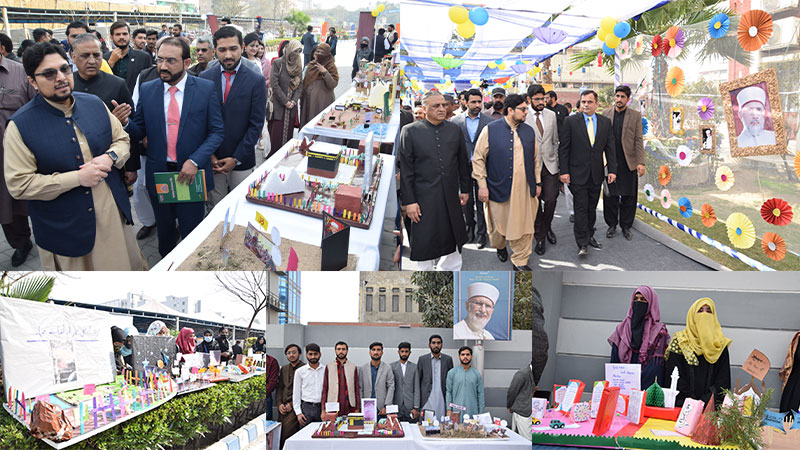 The School of Behavioural Sciences arranged an exhibition at a special event held by Minhaj University Lahore on the occasion of the 72nd birthday of the Chairman of the Board of Governors and the founder of Minhaj ul Quran International, Shaykh-ul-Islam Dr. Muhammad Tahir-ul-Qadri. In this exhibition, more than two hundred students of Life and Learning participated with 72 models.
This exhibition was peculiar and unique because all the models presented showed the contents of different books. This exhibition presented models based on the following topics of life and learning: Sirat ur Rasool (pbuh), Spirituality & Ethics, Economics, Patriotism, Islam and Science, Politics, Sociology, and Leadership. Most of the models presented on Founder's Day were based on the books of Shaykh-ul-Islam Dr. Muhammad Tahir-ul-Qadri. Students were standing on both sides of Shaykh-ul-Islam avenue and presenting their models while answering topic-related questions from the guests.
Deputy Chairman, BoG, Prof. Dr. Hussain Mohi-ud-Din Qadri, Nazim e Aala Minhaj-ul-Quran Khurram Nawaz Gandapur, Vice Chancellor Dr. Sajid Mehmood Shehzad, Registrar Dr. Khurram Shehzad, renowned Journalist Mujeeb-u-Rehman Shami, Dr. Herman Roborgh, other guests, teachers and students showed profound interest in the exhibition.
Deputy Chairman Prof. Dr. Hussain Mohi-ud-Din Qadri viewed all the models one by one and asked questions about them from the students.
Mrs. Fizzah Hussain Qadri also visited the exhibition along with honorable female guests and teachers and praised the students for their creative ideas. The Vice Chancellor praised the hard work of the management of the exhibition and the students.
Nazim-e-Aala of Minhaj ul Quran International Khurram Nawaz Gandapur said that all this work should be presented to the common public for its information. He also said that he has not seen such skill-developing content and its creative presentation. "It is a specialty of Minhaj University. You should exhibit this work in entertainment parks and exhibition festivals so that other people can also see and learn about it," he said.
Head of the Department Dr. Salma Naz congratulated Mr. Haroon Saani, the head of the Life and Learning team, and all his colleagues for presenting the unique idea of this exhibition and its management. He appreciated the students for making such fine models even when they don't belong to the Fine Arts department.
Head of Life and Learning, Haroon Saani appreciated his team members Dr. Ismatullah Cheema, Dr. Zulfiqar Ahmad, Zia-ur-Rehman Ziluj, Miss Uzma, Muhammad Kashif, M. Awais, Mazhar Abbasi, Syed Kazim Kazmi, and Syed Muhammad Rehan-ul-Hassan Gilani for their contribution in holding the exhibition.