Allah likes those who have humility, compassion & empathy: Dr. Hassan Mohi-ud-Din Qadri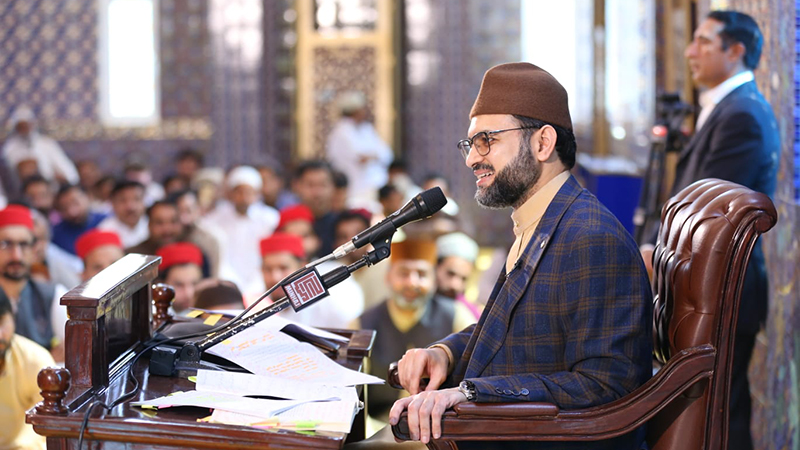 Addressing a Friday congregation on the subject of conviction and faith in Allah in Jamy Shaykh-ul-Islam Mosque, Chairman MQI Supreme Council Dr. Hassan Mohi-ud-Din Qadri has asked the faithful to express their sincere gratitude to Allah Almighty for His blessing of giving them the second ten days of forgiveness during the month of Ramazan. He said that these are precious moments to seek forgiveness from our Lord and we should not waste them at any cost. He said that unflinching faith in Allah is the sign of a strong conviction and stability in Iman. He said that he who prostrates himself before Allah Almighty, He too saves His subject from bowing before everyone else.
Dr. Hassan Mohi-ud-Din Qadri said that one of the major reasons for Muslims' downfall in this day and age is their dependence on worldly resources instead of the faith in Allah. He said that if we are deprived of the faculties to move, see and taste, then what this arrogance is all about. He said that Allah likes those who bow before Him in humility, adding that we should try our best to get rid of the negative attributes of arrogance, conceit, and egotism. He said that the success in this world and the hereafter lies in adopting an attitude rooted in humility, compassion, and empathy.
A number of delegations that came from the various parts of the country called on Dr. Hassan Mohi-ud-Din Qadri after the Friday prayer and discussed matters of mutual interest. Talking to the visiting delegates, he said that the last ten days of Ramazan is a time of Itikaf, a spiritual retreat, and Allah's mercy. He said that Itikaf is such a form of worship that purges man of his internal ills and gives him the power of cleanliness. He said that man separates himself from the worldly pursuits for ten days. He said if we perform worship with utmost dedication and devotion, He enlightens our hearts. He said we should try our level best to attend Itikaf during the last ten days of Itikaf.
President MQI Prof Dr. Hussain Mohi-ud-Din Qadri, Secretary General MQI Khurram Nawaz Gandapur and other senior leaders were also present on the occasion.