MQI's Condolence Reference for late Qamer Javed Malik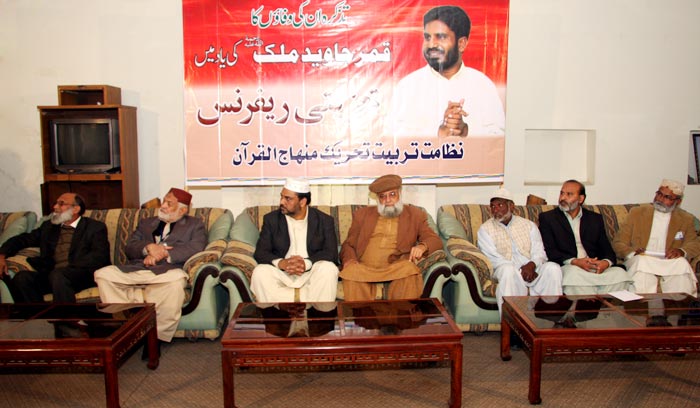 Directorate of Tarbiyyat of Minhaj-ul-Quran International held a condolence reference for late Qamer Javed Malik; Deputy Director, on December 30, 2009, which was presided over by Sahibzada Miskin Faiz-ur-Rehman Durrani; central Amir-e-Tehreek. Qamer Javed Malik breathed his last a few days ago due to cardiac arrest.
The proceedings of the reference got underway with recitation from the Holy Quran followed by Naat. Abdur Razzaq; naib Nazim of Directorate of Tarbiyyat, in his initial remarks said that we were proud of Qamer Javed Malik whose services for MQI were a known fact.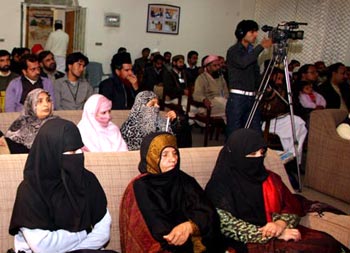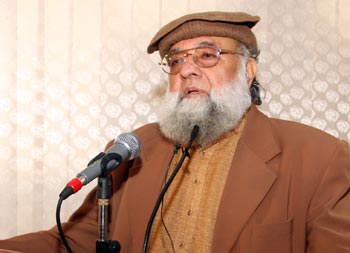 Sahibzada Miskin Faiz-ur-Rehman Durrani said in his speech that Allah Almighty had blessed Qamer Javed Malik with many qualities of head and heart. He continued serving MQI with dedication and consistency despite difficulties. We should not treat his death as a mere memory. Rather his death is a message as well that we should step up our efforts in the service of MQI day in and day out. He said that we held the contributions of Qamer Javed Malik in high esteem.
Sheikh Zahid Fayyaz, acting Secretary General of MQI, said in his speech that late Qamer Javed Malik was a precious asset of MQI. He rendered invaluable services for the mission. His name would also be remembered. He was committed to his work and was a thorough gentleman. It is because of people like him that message of MQI is getting across the rest of the world. "We all pay our rich tribute to him," he concluded.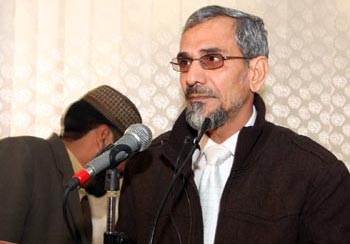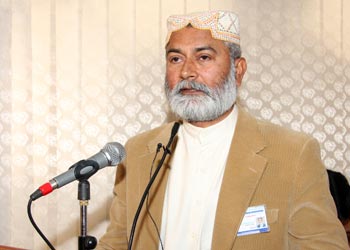 Ahmad Nawaz Anjum; Amir-e-Tehreek of Punjab, said that there were many facets of Qamer Javed Malik's personalities. He would get worried when he used to come to know about the worries of his companions. He was such a cool man that there was no trace of anger in him, something which was demonstrated on more than one occasion. No doubt he was proud asset and ideal worker of MQI. We acknowledge his services at every level and it is our principal responsibility to promote the work of MQI.
Mian Abdul Qadir said in his remarks that Qamer Javed Malik was a man of courage and passion as a worker and leader of MQI. He was a man with a character who devoted his life for projection of MQI's aims and objectives. He would always urge others to do the same.
Dr Tanvir Azam Sandhu; Nazim of Directorate of Tarbiyyat, said in his condolence speech that the untimely death of Qamer Javed Malik had left a huge gap in the Directorate, which would take time to fill. He said that all of us were grieved over the death of our friend. He was a real asset for MQI. Ghulam Murtaza Alvi said in his comments that late Qamer Javed Malik was a pious, dynamic, energetic and plain speaking fellow. He worked in more than six departments of MQI and left deep impressions of his commitment and hard work. He was a paragon of action and sincerity.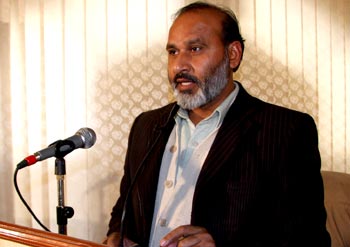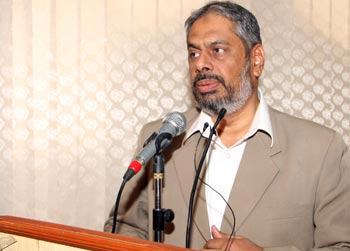 Ghulam Abbas, brother of Qamer Javed Malik, also spoke on the occasion. He said that his death had broken the back of family but the love and affection MQI has showered would help them endure the pain of his death.
G.M. Malik, Sayyid Farhat Hussain Shah, Allama Shahid Latif, Bilal Mustafavi, Mian Zahid Islam, Sajid Mahmood Gondal, Fatima Mash`hadi, and Taiba Tahir also participated in the condolence reference. Fateha Khawani was also done for late Qamer Javed Malik.