Nazim-e-Ala MQI, Dr Raheeq Ahmad Abbasi's Sindh visit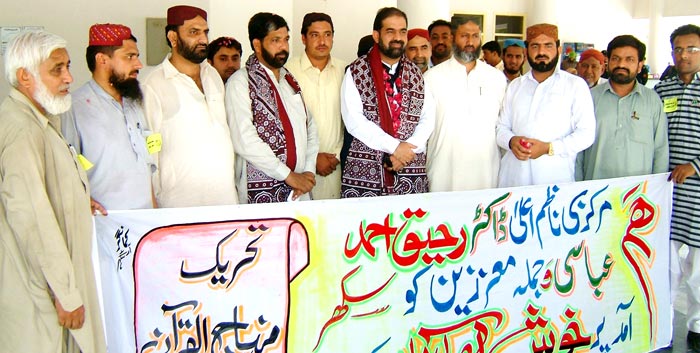 Nazim-e-Ala of Minhaj-ul-Quran International Dr Raheeq Ahmad Abbasi and senior naib Nazim Sajid Mahmood Bhatti visited two divisions i.e. Sukkur and Larkana of Sindh on May 24, 2010. The two-day visit of Nazim-e-Ala began on May 24, whereas Sajid Mahmood Bhatti had reached Sukkur a day earlier to look after the preparations of the visit. The office holders and workers of MQI in Sukkur, Rohri and other areas extended a warm welcome to the respected guests on their arrival. Sayyid Muhammad Salim Shah received Dr Raheeq Ahmad Abbasi at the Sukkur airport and held a meeting with him to discuss matters related to promotion and projection of MQI's work in the Sindh province besides other organizational matters. Other members of the delegation included Hafeez Ullah Baloch (naib Nazim of Tanzeemat), Makhdoom Nadeem Ahmad Hashmi (provincial Amir-e-Tehreek Sindh), Nadeem Ahmad Naqshbandi (provincial Nazim of Tehreek) and Saif Ullah Qadri (president of MQI Daharki).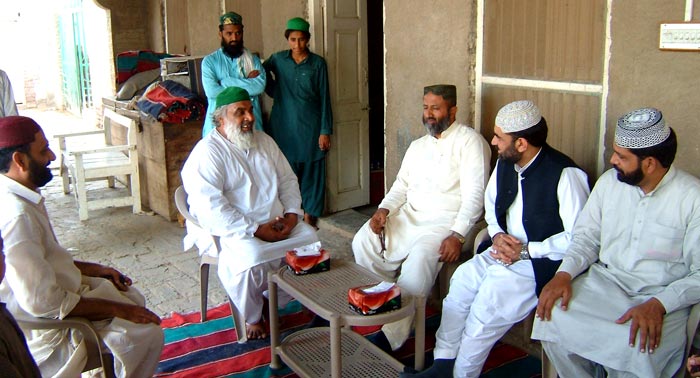 On reaching Larkana, Dr Raheeq Ahmad Abbasi held a meeting with the workers of MQI at the residence of Sheikh Abdul Aziz, president of Minhaj-ul-Quran Larkana. The arrangement for Nazim-e-Ala's press conference was also made here. In his press talk with the journalists, Dr Raheeq Ahmad Abbasi threw light on the national and international services of MQI for promotion of peace, harmony and interfaith dialogue. He also introduced the historic Fatwa issued by Shaykh-ul-Islam Dr Muhammad Tahir-ul-Qadri. The copies of the Fatwa were distributed among the journalists on the occasion. Later on, feast was thrown in the honour of the journalists and local workers.
The delegation of the central leaders paid a visit to shrine of Mashwari sharif, offered Fateha and held a special meeting with Pir Manzoor Ahmad Mashwari. Applauding the services of Shaykh-ul-Islam Dr Muhammad Tahir-ul-Qadri, Pir sahib said that Shaykh-ul-Islam is a rare asset of the Muslim Umma. Dr Raheeq Ahmad Abbasi also emphasized the importance of training and worldly education at the shrine and spiritual seats of learning. Nazim-e-Ala also gifted the Fatwa of Shaykh-ul-Islam to the Pir sahib.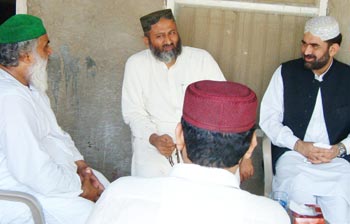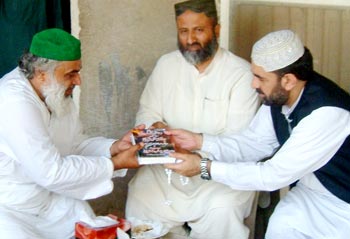 The caravan of central leaders left for Daharki at 6 pm from Larkana. It finally reached Daharki by passing through Sukkur, Shikarpur, Panu Aqil, Ghotki and Mirpur Mathelo. The workers of local chapters of MQI welcomed the caravan on the way at different locations. Nazim-e-Ala and members of his delegation were given red carpet welcome at the Daharki bypass. The reception party included Khadim Hussain Bhutto, Zahid Ali Mustafavi, Saeed Ahamd, Abdur Rehman, Saif Ullah, Muhammad Ishaq, Muhammad Iqbal, Khalid Mahmood and workers of MQI Daharki chapter.
Pir Sayyid Ziaullah Shah Gillani also joined the caravan of the central leaders on reaching Daharki. The respected guests left for shrine of Bharchundi sharif where Sahibzada Mian Abdul Malik and Abdul Majeed Qadri received the guests. Here 'International Hafiz-ul-Millet Conference' had been arranged on the occasion of anniversary of Hazrat Pir Siddique Ahmad Shah.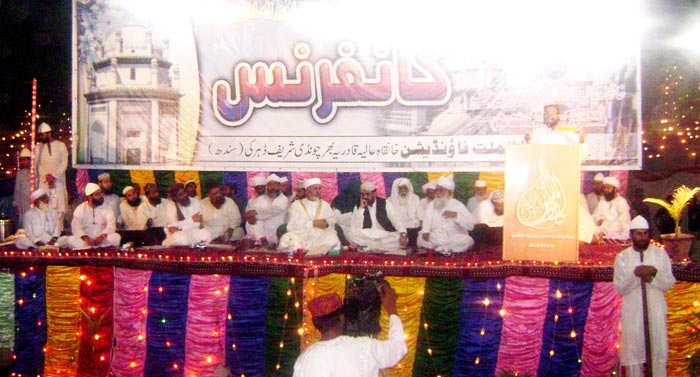 Annual International Hafiz-ul-Millat Conference
Presided over by Mian Abbdul Khaliq al-Qadri, Sajjada Nasheen of Bharchundi sharif, annual International Hafiz-ul-Millat Conference 2010 was held. The organizer of the Conference was Mian Abdul Qadir Al-Malaki. Prof Dr Mohi-ud-Din Muqeeri of Syria attended the Conference on special invitation. Other respected guests included Mufti Muneeb-ur-Rehman, Chairman of Royat-e-Hilal Committee of Pakistan, Mufti Muhammad Ibrahim Qadri, Muhammad Mahfooz Shah Mash'hadi, Sayyid Muhammad Ajmal Shah Gillani, Allama Dr Muhammad Ashfaq Jalali and others.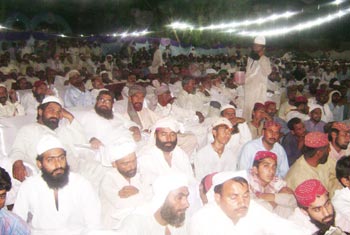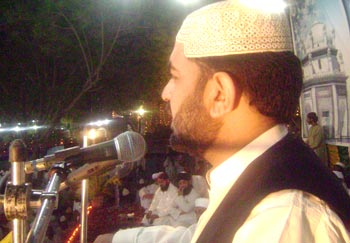 Dr Raheeq Ahmad Abbasi also addressed the Conference. He said that Hafiz-ul-Millat Hazrat Muhammad Siddique was a revolutionary and spiritual personality. 'We on behalf of Minhaj-ul-Quran International have come to pay tribute to him for his matchless services for the cause of Islam. He said that there are many things that we see in our life which have nothing to do with reality. We, human beings, are constrained to look beyond what is visible and on the basis of our seeing; we declare it as the ultimate reality. He said that it is not the matter but soul, which is reality. As soon as soul departs from human body, it becomes a dead body.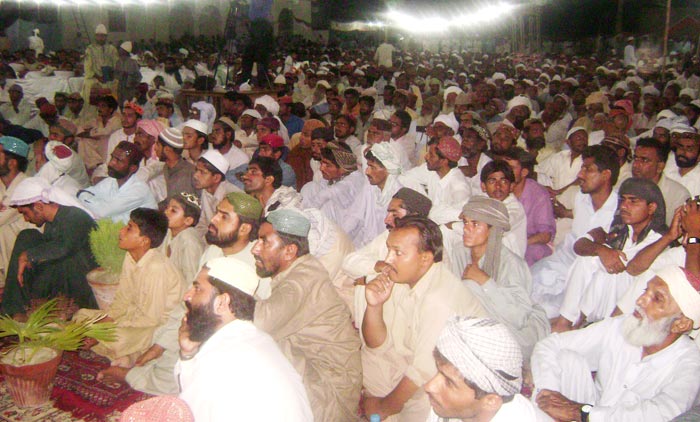 Dr Raheeq Ahmad Abbasi said that Allah Almighty has enjoined us to offer prayers, for it is the vital link to establish our connection with our Creator. In the similar manner, He has ordained us to keep fast. The purpose of doing so is not to stay hungry and thirsty but to win pleasure of Allah. He said that belief in Allah and the final Prophethood of the Holy Prophet (saw) is the real faith and excellence and Iman are realities of Islam. He said that the faith was related to admission, whereas spiritual excellence was marked by teachings of the mystics and Sufis. He said that our journey on the path of Islam could not be possible without recourse to mysticism and spiritualism. He said that MQI is trying its level best to revive the spiritual teachings in this mischievous world under the dynamic leadership of Shaykh-ul-Islam Dr Muhammad Tahir-ul-Qadri. The teachings of Shaykh-ul-Islam represent the combination of three factors of Iman, spiritual excellence and mysticism.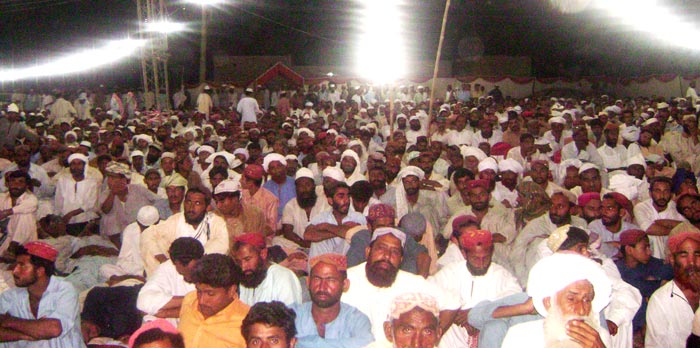 MQI's Convention (Daharki)
The 'district convention' of MQI Daharki was held in the public library hall, which was attended by workers of MQI from Ghotaki, Mirpur Mathello, Daharki and Guddo. Dr Raheeq Ahmad Abbasi and Sajid Mahmood Bhatti briefed the workers about the aims and objectives of MQI. They were apprised about the importance of organization, effectiveness, Dawa and ways to achieve the targets of MQI. Jam Abdul Fateh (Nazim Union Council) organized a luncheon in the honour of respected guests. The journalists were also part of the lunch. Dr Raheeq Ahmad Abbasi held a press talk and later on left for Sukkur with his delegation.

When the delegation reached 'Sarhad' town near Ghotaki, Pir Mazhar Iqbal and others held a meeting with Nazim-e-Ala Dr Raheeq Ahmad Abbasi. The delegation also enquired after the health of Pir Sayyid Mubarak Ali Shah Gillani. Afterwards, the caravan of central leaders left for Sukkur.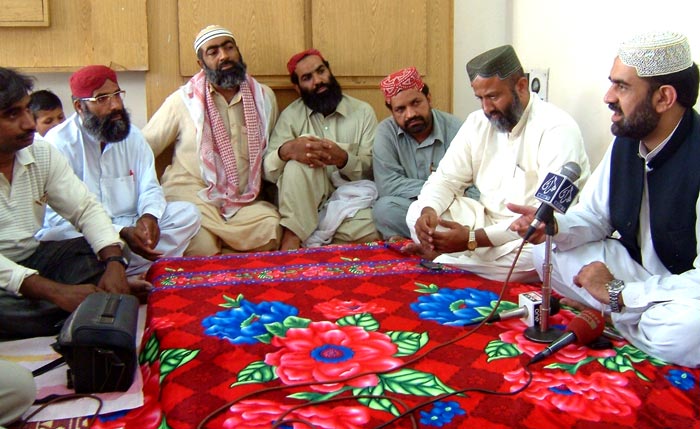 Workers Convention of MQI Sukkur
The Workers Convention was organized in the Red Carpet Hotel under the banner of Minhaj-ul-Quran Sukkur in which a large number of workers of MQI from adjoining cities and towns participated. Dr Raheeq Ahmad Abbasi, Sajid Mahmood Bhatti and Makhdoom Nadeem Ahmad Hashmi talked to the workers on organizational matters.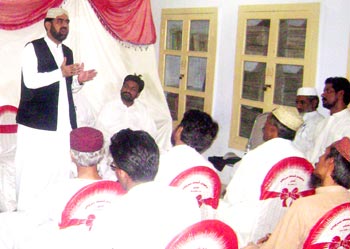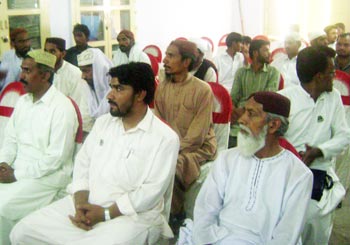 Shahid Mahmood Pathan had arranged a meeting and a feast where proposals relating to promotion of MQI's work came under discussion. Shahid Mahmood Pathan also declared to hot Irfan ul Quran Course in Sukkur. The central leaders then left Sukkur for Lahore via train. Thus the high profile Sindh visit of MQI's Nazim-e-Ala at the head of delegation came to end on a successful note.