Mansehra: More Tent Villages Were Setup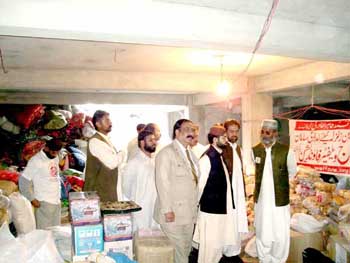 20th October 2005
The delegation reached Mansehra today and setup another Minhaj Tent Village in Mansehra. Fatiha was also prayed for the victims of the earthquake especially at the home of the members and affiliates of Minhaj ul Quran. Many responsible of MQI had lost their loved ones but he ones who were left behind have been helping the teams of MWF with the relief efforts in their areas.
The Greek team visited the medical camps in Balakot, Mansehra and distributed the medicines to the medical camps. The Greek team also met the delegation from Lahore during the journey.
15 more trucks were sent today which were distributed by the delegation in the Minhaj Tent Villages and other parts of Kashmir.
Pictures of the EARTHQUAKE RELIEF AID can be seen on the webpage of welfare www.welfare.org.pk and on the main page of Minhaj www.minhaj.org