Dr Hassan Mohi-ud-Din Qadri speaks on Inter-religious Cooperation and Integration Moot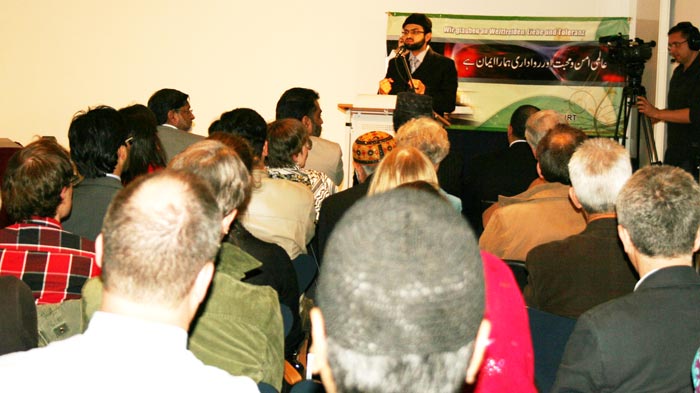 Minhaj-ul-Quran International (Frankfurt chapter) organized an interfaith moot on May 31, 2010 in Haus am Dom Frankfurt. The event started with the welcome address by Dr. Brigitta Sassin. She threw light on the concept of the evening and how it would help form partnership to defeat the forces of extremism and terrorism.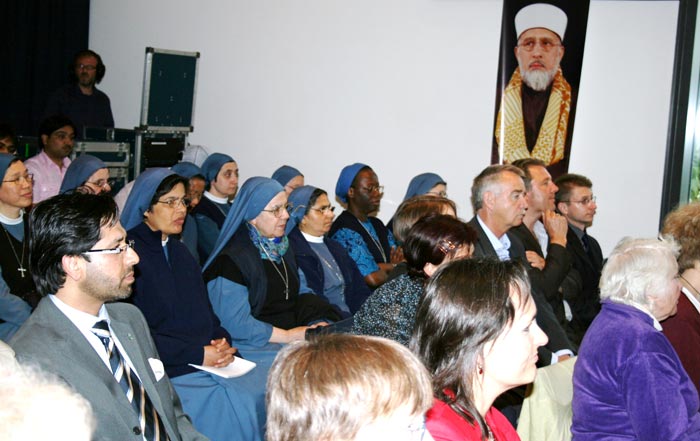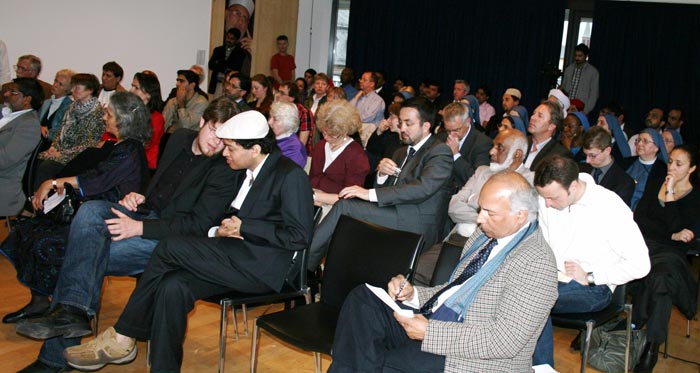 After her introductory discussion, she handed over to Shabbir Ahmed Khokhar. Shabbir Ahmed Khokhar welcomed every member of the audience including chief guest Sahibzada Hassan Mohi-ud-Din Qadri; president of MQI's Supreme Council and other distinguished guests like Prof. Gita Dharampal Frick Head of the University of Heidelberg, Sabine Westerhoff Schroer Head of Media Project Centre Frankfurt (Medienprojektzentrum), Ousami Chami of Parliamentary Party Bündnis 90/Die Grünen, from the Frankfurt City Council Dieter Bürger, Stephan Korte of Parliamentary Party FDP, Andreas Lauen of Parliamentary Party Bündnis 90/Die Grünen, Volker Kusnier from Caritasverband, Head of the Immigration Authority Wiesbaden Hussamuddin Meyer, Board of ther German Islam Conference, Parish Council's Vice President Jean Mier-Böllinger and President Tom Lavell, Representatives and deputies of various religious communities (Christian, Jewish, Buddhistic, Hindu & Sikh) especially Daniel Schulz German Islamic Scholar, Dieter Heesemann Head of the evangelical Church Frankfurt, Rainer Frisch Pastor of the Frankfurter Cathedral, Head of the Frankfurt Police Department Andreas Kubin and D. Waldschmidt, Claudia Karas, Ursula Artmann & Mechtild Saxler Weltladen Bornheim, Dagobert Ossa Head of the Buddhistic Organisation Germany Pagode Phat-Buddhas Weisheit and many other participants from parliamentary parties, business people, Frankfurt's municipal authority and German Islam interested people.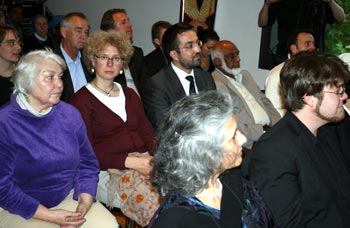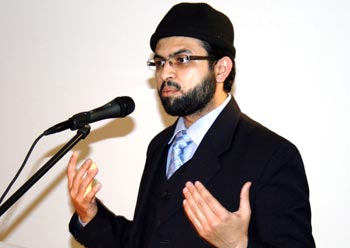 It was totally a non-Asian gathering besides 7 main members of MQI Frankfurt and some Pakistani Doctors who also helped and contributed to this event.
Shabbir Ahmad Khokar also mentioned some important facts about MQI and its centre in Frankfurt. After his welcome, he handed the floor over to Boujemaa Tajjiou (Student), a native German and English speaker. He was the Moderator/Host of the evening.
The programme was attended by approximately 100 people from different areas of Frankfurt and Germany, and together with Pakistani Participants it was about 120 people.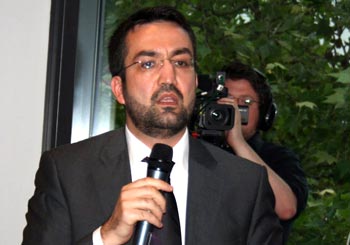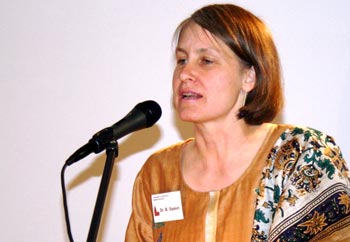 Boujemaa also welcomed the participants. This was followed by recital of the verses from the Holy Quran by Allama Shoukat Awan. After the Quranic recitation, Boujemaa introduced Shaykh-ul-Islam Dr. Muhammad Tahir-ul-Qadri and Sahibzada Hassan Mohi-ud-Din Qadri. Before the start of Shaykh Hassan's speech, the documentary of Minhaj Welfare Foundation was shown, dubbed in German language. Akash Ahmed Khokhar translated it from Urdu into German and Shabbir Ahmed Khokhar edited the German version of the documentary.

Sahibzada Hassan Mohi-ud-Din Qadri introduced MQI and its contributions to the field of peace, interfaith dialogue and harmony the world over. He explained the real meaning of Islam and also threw light on the salient features of the Fatwa authored by Shaykh-ul-Islam Dr. Muhammad Tahir ul Qadri. He said that the entire world was passing through critical phase and there is a greater need for communities and civilizations to engage with one another. He said that terrorism and extremism emanated from perverse and bigoted mindset and unless the mindset was reformed, these scourges would continue to rear their head and vitiate the peace of the world. He said that Islam espoused peace and harmony and those who invoked the fair name of Islam to justify their actions were in fact enemies of Islam. Sahibzada Hassan Mohi-ud-Din Qadri said that an idea can be cancelled by a superior idea and the world could ill-afford the battle of ideas. He highlighted the contributions of Shaykh-ul-Islam Dr Muhammad Tahir-ul-Qadri for the cause of peace and promotion of interfaith dialogue in the world. He said that we needed scholars that promote what is best in all religions.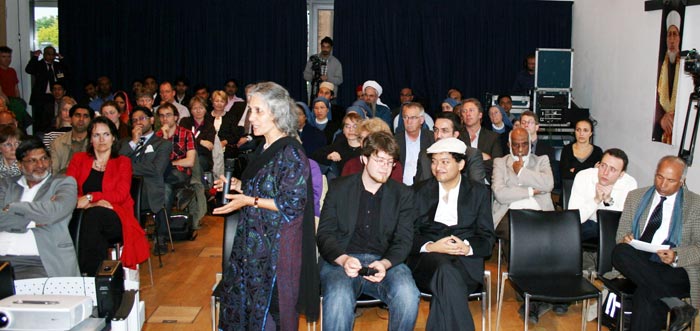 After his speech, which continued for 50 minutes, the boards of various communities and organizations had the opportunity to ask him questions regarding different aspects of Islam and MQI. The question and answer session continued for about 30 minutes.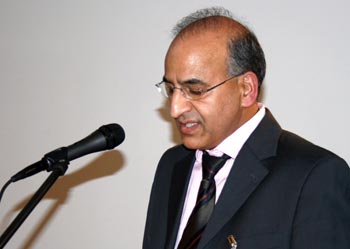 Moderator Boujemaa Tajjiou thanked Sahibzada Hassan Mohi-ud-Din Qadri for his time and wonderful discourse, he delivered. The participants took keen interest in the speech and appreciated its lucidity and eloquence, saying that they never heard a better speech about Islam. They said that the speech would help them understand the real meaning of Islam. People expressed their desire for frequent interactions and repeats of such scholarly exchanges.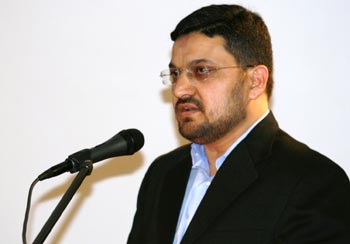 After Boujemaa's acknowledgment Dr. Brigitta Sassin invited everyone to a Pakistani Dinner.
The dinner was followed by social interaction and socialization between the participants and Sahibzada Hassan Mohi-ud-Din Qadri.
Later, the participants visited an exhibition about "Christian and Islamic Calligraphics".
The Event was held in "Haus am Dom in Frankfurt". "Haus am Dom" is one of the main halls in Frankfurt. It is so renowned a place that when people say "Haus am Dom", everyone knows what it means. Germany's biggest religious and cultural events are held here.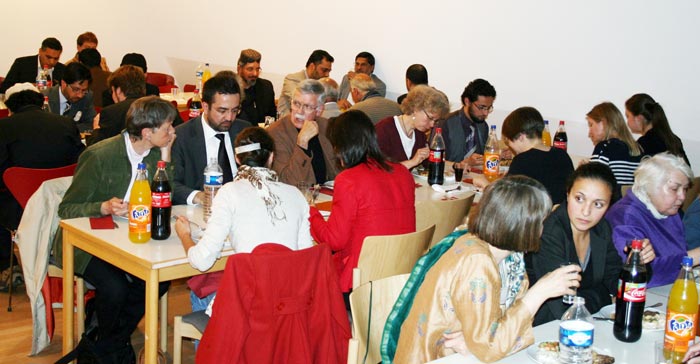 The house at the Cathedral is an institution of the diocese of Limburg in Frankfurt. It is a platform between the church and society, and as a hub of urban and social discourse.
The house at the cathedral serves as an interfaith conference and meeting center. Cultural, scientific, social, political and economic debates are held here.
It is hoped that this evening represents a start of an interfaith dialogue with the German community.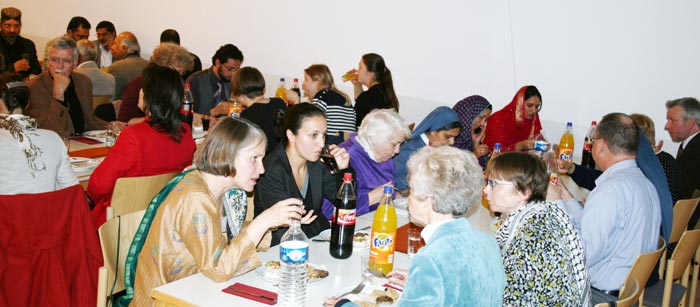 The whole event was recorded through a professional Camera Team of a German TV Channel. It will be broadcast on Offener Kanal, Hessen Rundfunk and Rheinmain TV.
People who helped organize such a great event included Dr. Brigitta Sassin (Consultant for native communities and the Christian-Islamic dialogue), Ilona Klemens (Rev. for Interreligious Dialogue), Office for Multicultural Affairs Mrs Vera Klinger and Magdalena Modler, Ünal Kaymakci (vice-chairman of the Islamic Religious Community Hessen), Mustafa Shahin (President of the organization Green Crescent)
Sameer Mohammad Murtaza (member of parliamentary party SPD Mainz), Boujemaa Tajjiou (Student, Master of Media Science)