Seerat-un-Nabi (S.A.W) Conference held in Stockholm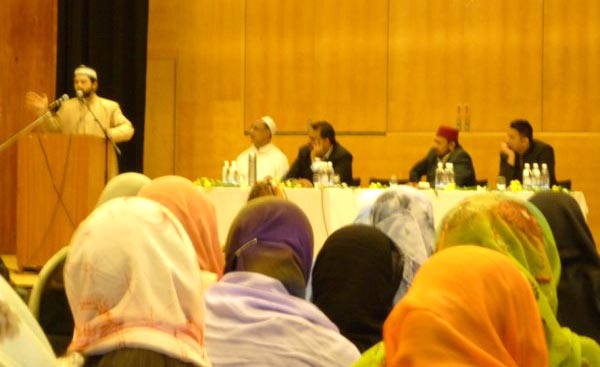 Minhaj-ul-Quran International (Sweden) organized a Seerat-un-Nabi (S.A.W) Conference on June 14, 2010, which was attended by over three hundred people from all walks of life. The prominent among the audience included Pakistan's Ambassador to Sweden. The Conference, presided over by Sahibzada Hassan Mohi-ud-Din Qadri, was held at Tensta Träff in Stockholm. Sahibzada Hassan Mohi-ud-Din arrived at Arlanda airport in Stockholm at about 10:30 am. He was accorded a red carpet welcome by the members and associates of Minhaj-ul- Quran in Sweden. He was conducted to residence for rest.
The proceedings of the Conference got under way at 06:30 pm with the recitation from the Holy Quran followed by Naat, which was presented by Mohammed Nadeem, Sayyid Shah and Ali Ahmed.
Serkan Koose, a politician from the Social Democrat Party, in his speech on the occasion, dilated on the situation in Pakistan. He condemned the bombings and suicide blasts in Pakistan as well as elsewhere. He emphasized the need of forging unity to fight off the scourge of extremism and terrorism jointly, saying that no single country or community could eliminate it on its own. He said that it was the joint responsibility of civilized people to act in unison by plugging their differences for the larger cause of humanity.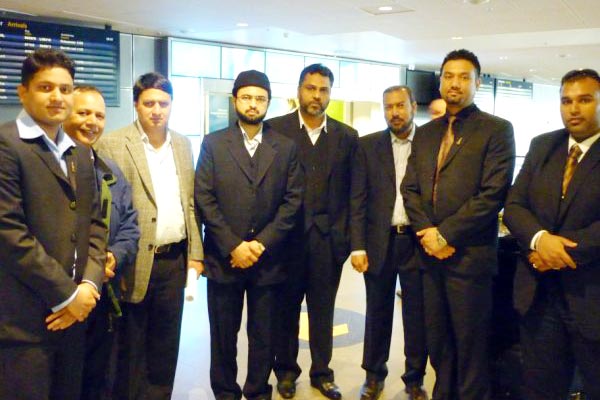 Sahibzada Hassan Mohi-ud-Din Qadri arrived at the conference around 07:30 and he was given standing ovation upon his arrival. Sheikh Zahid Fayyaz, Deputy Secretary General, introduced the work and contributions of Minhaj-ul-Quran International under the inspiring leadership of Shaykh-ul-Islam Dr Muhammad Tahir-ul-Qadri.
Allama Hafiz Umar Murtaza invited Sahibzada Hassan Mohi-ud-Din Qadri to deliver his keynote speech to the Conference. Shaykh Hassan quoted a number of references from the Holy Quran, Hadith and Juristic commentaries to prove that peace was essentially the message of every religion including Islam. He said that the Islamic teachings on the subject were manifest and there was no confusion about their interpretation. He, however, regretted that the religious scholars whose job was to protect the faith against every internal and external attack, failed to fulfill their duty.
That is why, he explained that the phenomenon of extremism and terrorism emerged thereby filling the void left by the abdication of duty by the Ulama. He said that it was time that we gave up our personal comforts and took up a clear stand against those who wanted to impose their puritanical agenda. Shaykh Hassan referred to the example of Shaykh-ul-Islam Dr Muhammad Tahir-ul-Qadri who came out in the open to defend Islam against both extremists and those who wanted to prove that Islam, God forbid, sanctioned violence against its opponents. He said that MQI was trying its level best to propagate the Seera of the Holy Prophet (S.A.W), for it was the pivot which could connect all and sundry from within the Muslim Umma.
After the conference, the guests were served dinner. Sahibzada Hassan Mohi-ud-Din Qadri had meetings with office bearers of MQI at Allama Hafiz Umar Murtaza's place. On the next day, Sahibzada sahib left for Oslo, Norway.
Minhaj-ul-Quran Stockholm has now a new body, consisting of the following:
President: Haji Mukhtar sahib
Vice president: Amman Ullah Gill
Deputy Secretary: Zeeshan Afzal
Treasurer: Mohammad Nadim