MQI Glasgow organizes 'Restoring Peace and Ending Extremism' moot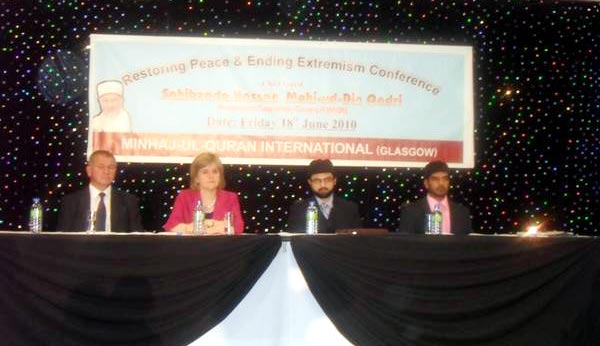 The event titled 'Restoring Peace and Ending Extremism' organized by Minhaj-ul-Quran International, Glasgow jointly with the Muslim Youth League UK was held at one of Glasgow's finest restaurants, Kabana, on Friday the 18th of June 2010, which catered for over 200 people. Attended by distinguished guests of which a few included Deputy First Minister, Nicola Sturgeon, Alan Burnett, who was part of the former counter anti-terrorism squad and guest of honour, Sahibzada Hassan Mohi-ud-Din Qadri, son of Shaykh-ul-Islam Dr. Muhammad Tahir-ul-Qadri.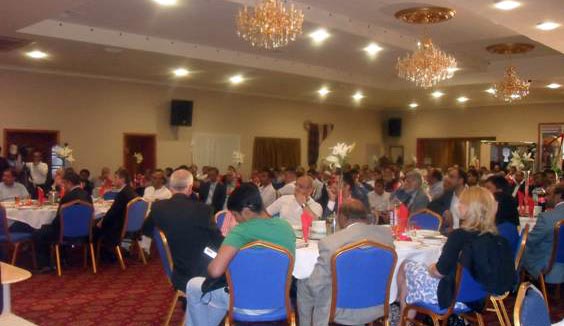 The conference was hosted by Rehan Ahmed Raza Qadri, who has studied under Shaykh-ul-Islam Dr Tahir-ul-Qadri who recently launched the renowned Fatwa against terrorism.
The event unfolded with the recitation of the Holy Quran by Shaykh Muhammad Abbas as-Somali. This was followed by Naat performed by Muhammad Milad Mustafa Raza Qadri.
The host, Rehan Raza Qadri delivered a brief introduction of Minhaj-ul-Quran International (MQI) and emphasized that this organization is engaged in promoting the values of peace, love and harmony at global level. The aim of this organization is to educate people on the true beliefs and doctrine of Islam, distorted and wrongly labeled as an extremist ideology due to atrocities committed by a group of people calling it Islam. He also questioned why this injustice was being done to Islam, whereas there are Christians who commit acts of terrorism yet the religion of Christianity hasn't been labeled as a religion of terrorism.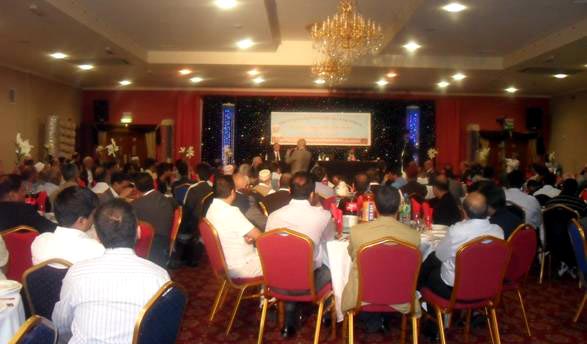 He then called upon Sweba Khan to say a few words. Sweba highlighted that previously we lived in a society where multiculturalism was unknown but now we have come to accept other people from different races, cultures values etc. However, she mentioned that to deny the Holocaust or to speak against the Queen is punishable but when someone denigrates the Prophet of Islam, Prophet Muhammad (SAW), this is known as 'freedom of speech'! In order that people understand Islam, they are required to educate themselves on Islamic culture and faith to see why certain things offend the Muslims. Shaykh-ul-Islam Dr Muhammad Tahir-ul-Qadri's Fatwa clearly shows that Islam is a religion, which promotes inter-civilizational and inter-faith dialogue, peace and tolerance.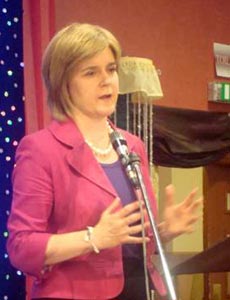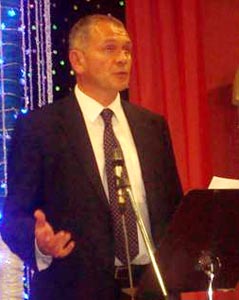 Special guest from the former counter Anti-terrorism squad, Alan Burnett stated that we must respect all people regardless of religion, creed, and race, etc. He stated he was impressed by Dr Tahir-ul-Qadri's recent work on the Fatwa. Shyakh-ul-Islam has shown to the extremists that committal of terrorism will in no way guarantee them heaven; rather they will be punished in the hell fire.
He concluded by stating "Islam does not look at faith or creed but respects humanity".
Sahibzada Hassan Mohi-ud-Din Qadri, commenced his discourse with the question: "What does Muslim mean?" The Holy Prophet (SAW) said: "A Muslim is someone from whose hands and tongue the whole of mankind are safe". So a Muslim means the one who does not harm anyone with his tongue or hands. Sahibzada Hassan Mohi-ud-Din Qadri said about terrorists; "They are not the heroes of the world but are the heroes of the hellfire".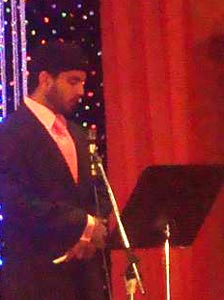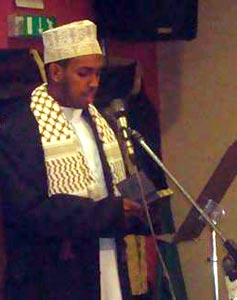 He went on to discuss that when the Holy Prophet (SAW) emigrated to Madina he formed a Political Government, which was characterized by the devolution of power. The Holy Prophet (SAW) gave the people a system of peace, and brought all faiths together; he respected other's customs and traditions, and gave women their rights and he also gave rights to the animals.
Shaykh Hassan recited a well known Quranic verse, which states that when someone kills a person it is as if he has killed the whole of mankind. The verse does not refer to the killing of a Muslim; it is used generally for any person regardless of his colour, creed or religion. Shaykh Hassan also gave examples of how the Holy Prophet (SAW) respected the Jews and Christians.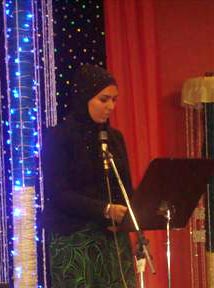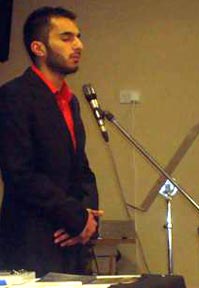 He concluded his talk by thanking all the guests who had taken time out from their busy schedule to attend this conference. He also requested the Government officials to join hands to fight terrorism as terrorism has no faith, no religion, and no creed. He stated finally, "If he is peaceful he is a Muslim and if not, he cannot claim to be a Muslim".
The final speaker of the evening, Nicola Sturgeon, Deputy First Minister, said that she was pleased to lend her support to the Scottish Government so that terrorism could be eradicated. We all need to recognize that every community has its bad apples but this does not mean that we then label the whole of community in the like manner due to a few who commit terrorism.
Tahir Mohammed, General Secretary of MQI UK thanked the guests especially the Scottish Government Officials, for attending the Conference. He also thanked Strathclyde Police, Global Authorities, members of the Parish, lawyers and the general public who cooperated and took time out to attend the moot.
Then the dinner was served and the dignitaries that attended the evening were presented with a gift bag containing the summary of the Fatwa given by Shaykh-ul-Islam Dr Muhammad Tahir-ul-Qadri its DVD.