Commons Seminar presents solutions to tackle non-violent extremism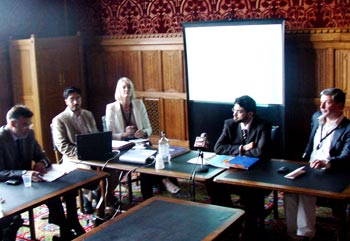 [Thursday, 24 June 2010]
Minhaj-ul-Quran International UK held a seminar at the House of Commons to explore solutions to tackle non-violent extremism and radicalism in Britain. The audience included representatives of think tanks, police, FCO, DCLG, embassy officials and different organisations.
The seminar was addressed by Paul Goodman (Conservative party), Sahibzada Hassan Mohi-ud-Din Qadri (President Supreme Council of Minhaj-ul-Quran International), Lyn Brown MP, Margot James MP and Sahibzada Maqsood Ahmed from DCLG.
This seminar also highlighted the significance of the Fatwa on Terrorism in tackling non-violent extremism and suggested to use it as a tool to counter arguments which brainwash the youth.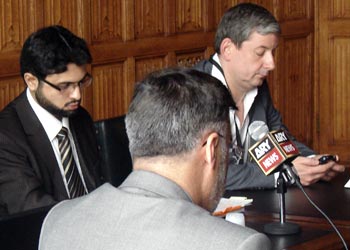 The keynote speaker Sahibzada Hassan Mohi-ud-Din Qadri from Cairo University said "There is a need to recognize the importance of effectively dealing with non-violent extremism which leads to radicalism. We need to clarify the concept of Jihad which has been hijacked by the extremists."
"Only a state can declare the jihad which involves taking up arms to defend the state or the oppressed people. Individuals, organizations or groups have no authority to declare this form of jihad. This is the message we need to convey to our youth to tackle non-violent extremism."
Sahibzada Hassan Mohi-ud-Din Qadri shed light on the concept of Jihad and how it is being misused by jihadis and why the Fatwa is an important tool to combat non-violent extremism.
Paul Goodman said that it is crucial for the new Government to face the challenges we all are facing today. He highlighted the work which Minhaj-ul-Quran UK is doing in this regard.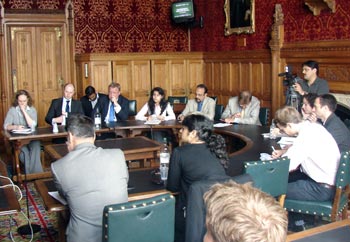 Maqsood Ahmed said that the Government is committed to dealing with extremism and will promote community integration and cohesion.
Shahid Mursaleen, spokesman of Minhaj-ul-Quran UK said "The seminar provided solutions for the new Government to effectively deal with the challenges. We need to promote shared values and integration in order to tackle this issue. We will present a paper on the solutions to deal with this issue to the Government soon."
Lyn Brown MP and Margot James MP both praised the work of Minhaj-ul-Quran UK in dealing with this issue.