All-Italy Peace Conference under MQI South Italy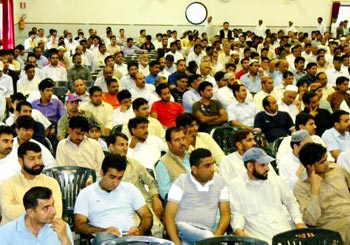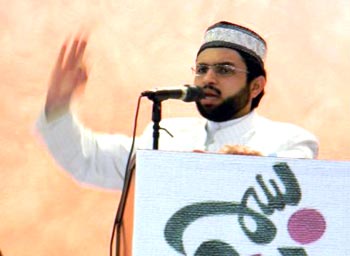 Minhaj-ul-Quran International (South Italy chapter) hosted an All-Italy Peace Conference on June 6, 2010, which was presided over by Sahibzada Hassan Mohi-ud-Din Qadri, president of MQI's Supreme Council. Sheikh Zahid Fayyaz, Senior Deputy Secretary General of MQI, and Allama Hafiz Iqbal Azam, Director of Minhaj Welfare Foundation (Europe) were the guests of honour. The following high-ranking individuals from the Italian community also participated in the Conference: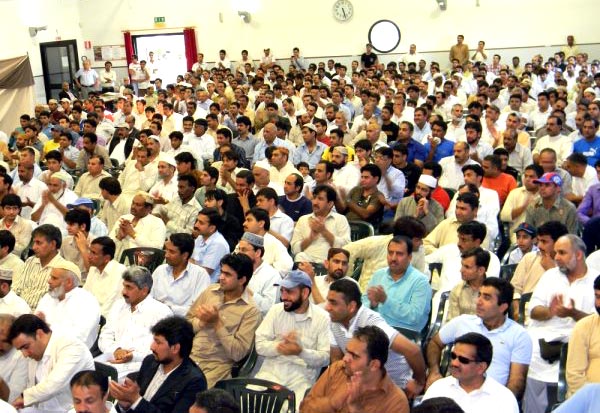 Cigarini Roberto (Azione Catolica Della Diocesi Di Carpi)
Fcci Raffaele (Representative Chiesa Cattolica)
Pasquale Coscia (Segretario Anolf Cisl Mondena)
Andrea Maccari (Coop. Social "II Mantello" Modena)
Maria Filippi (Assessore Alle Pari Oppurtunita' Istruzionia Comune Di Carip)
Fontanesi Alberto (President Consulta Comune Di Carpi)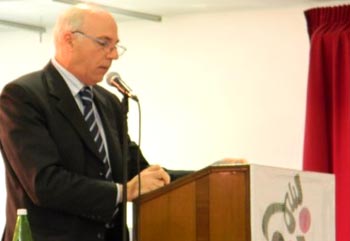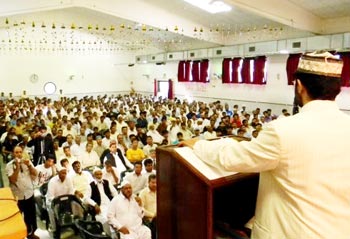 The distinguished personalities from the Pakistani community who participated in the Conference included Sayyid Arshad Shah, Sajid Mahmood Tahir Saang, Ijaz Piyara, Shabbir, Shafique Butt, Chaudhry Amjad, Arshad Javed and Sufi Muhammad Ashraf. Besides other known religious, social and human rights activists, a large number of representatives of MQI from different cities of Italy also attended the programme.
The formal proceedings of the Conference got under way with the Quranic recitation followed by Naat. Chaudhry Iqbal Warriach was the moderator of the programme.
Hafiz Iqbal Azam (Director of Minhaj Welfare Foundation) also spoke in the Conference before the keynote speech of the chair.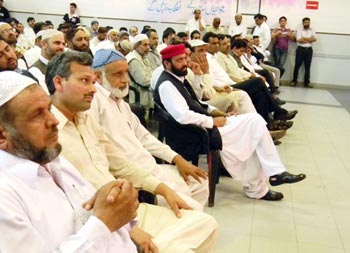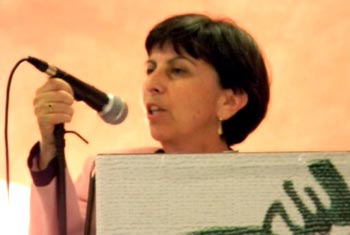 Sahibzada Hassan Mohi-ud-Din Qadri, president of Supreme Council of MQI, in his English speech said that Islam is a peaceful religion and terrorism does not have even an iota of association with Islam in any manner. He said that the essential message of Islam is peace, harmony, and love. He said that a handful of extremists cannot succeed in causing a clash of civilizations. However, he added that there is an equal amount of need to highlight the shared teachings of every religion so that those exploiting presumed differences of religions should be singled out and their designs frustrated.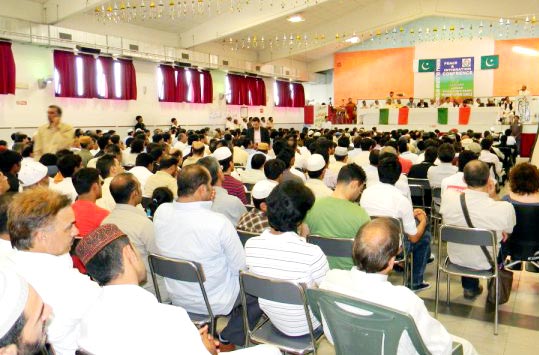 Sahibzada Hassan Mohi-ud-Din Qadri also delivered a speech in Urdu for the Pakistani community and highlighted the services of MQI under the leadership of Minhaj-ul-Quran International for the cause of peace, interfaith dialogue and harmony in the world. He also answered questions of the audience.
Zaheer Anjum, Secretary General of MQI South Italy, thanked all guests for their time and participation. He also congratulated the office holders of MQI who made strenuous efforts to make Conference a success.