President of MQI Australia passes away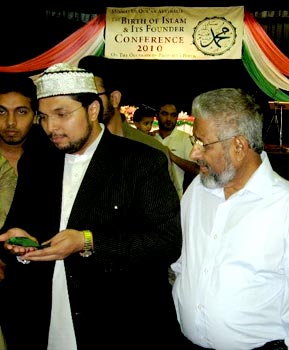 Minhaj-ul-Quran Australia is in mourning over the loss of their President, Haji Mohammed Janiff, who passed away on Friday 20 August (10 Ramadhan). انا لله وانا اليه راجعون
Haji Mohammed Janiff has served Minhaj-ul-Quran International for over 20 years. In Australia Janiff Sahab has been instrumental in bringing cultural diversity to MQI. This was evident from the various communities that offered their final respects during his funeral service, the most conspicuous being a funeral congrigation of 5000 present to offer funeral prayers, held after the Jumma prayers.
Haji Mohammed Janiff will always be remembered as the stalwart of MQI, as name of MQA and that of Janiff Sahib are inseparable. His ardent love for the beloved Messenger of Allah (SAW) and Shaykh-ul-Islam has brought about many achievements for MQI. Respected Sahibzada Hussain Mohiuddin Qadri personally called Janiff Sahab's family to offer his and Shaykh-ul- Islam's condolences.
May Allah bless Haji Mohammed Janiff with peace in Jannah , give patience to his family to bear the loss.
Meanwhile, Sahibzada Hassan Mohi-ud-Din Qadri, Faiz-ur-Rehman Durrani, Dr Raheeq Abbasi, Sheikh Zahid Fayyaz, Raja Jamil Ajmal and G.M. Malik have expressed their grief and sorrow over the death of president of MQI Australia.