MQI's representatives meet the British Prime Minister at 10 Downing Street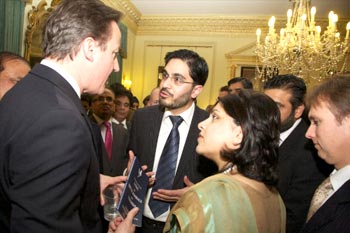 On the occasion of the Eid al Adha, the British Prime Minister David Cameron hosted British Muslims to celebrate the Islamic festival at 10 Downing Street on Monday 22nd of November 2010. More than 100 British Muslim leaders from different walks of life attended the Eid al Adha reception in which the Prime Minister congratulated the British Muslims on this auspicious occasion and met various British Muslims leaders across Britain.The reception was also attended by the Deputy Prime Minister Nick Clegg and various other cabinet members were also present. The Conservative Party chairman and cabinet Minister, Baroness Warsi also spoke at the event.
Minhaj-ul-Quran International UK spokesman, Shahid Mursaleen and General Secretary of Peace and Integration Council, Ishtiaq Ahmed attended the reception. Shahid Mursaleen briefed the Prime Minister David Cameron about the work of Minhaj-ul-Quran and the historic Fatwa on terrorism by its founder Shaykh-ul-Islam Dr Muhammad Tahir-ul-Qadri. He also presented the Fatwa book to the Prime Minister who said that he was already aware of the Fatwa. Ishtiaq Ahmed and Shahid Mursaleen met with various officials and ministers, MPs and guests and briefed them about the work of Minhaj-ul-Quran.
Report: Aftab Baig