Shaykh-ul-Islam visits the offices of MYL UK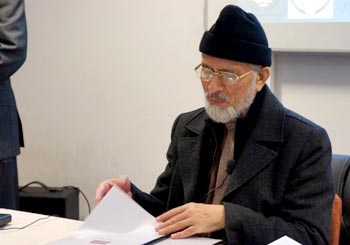 Monday, 21st February 2011, was indeed a very blessed day for the Muslim Youth League as Shaykh-ul-Islam Dr Muhammad Tahir-ul-Qadri visited the Muslim Youth League UK headquarters and the Seekers Academy.
Shaykh-ul-Islam was given a comprehensive briefing on the working of the Academy, the facilities of the centre and update on the book translation work currently being done by MYL UK.
President of MYL UK, Tahseen Khalid, informed Shaykh-ul-Islam about the progress of the Seekers Project. He mentioned that the seekers project has only been established for 19 months and since its inception, it has introduced a network of University events, an Academy and an online distance learning project.
Shaykh-ul-Islam Dr Muhammad Tahir-ul-Qadri appreciated this project and gave further guidance for the future development of this project. He also instructed that the network of MYL and its offices/centers should be established across the country in a similar way such as the mother canters of Minhaj-ul-Quran International.