MQI Denmark organizes Peace Walk to mark Mawlid-un-Nabi (SAW)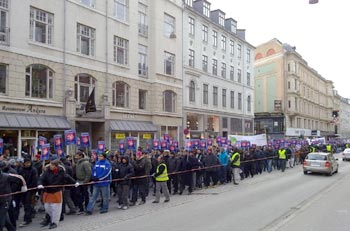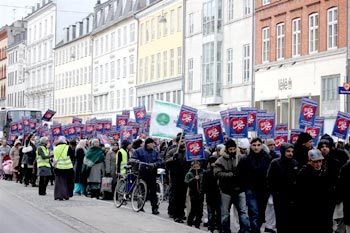 To celebrate the beautiful month of Rabbi-ul-Awwal, over 2000 people gathered on February 13th 2011, to participate in a peace march organized under the banner of Minhaj-ul-Quran in cooperation with numerous local organizations. The participants arrived at 1.30 in the afternoon, to the serene location of Sondermarken to walk to Raadhuspladsen, the central town square of Copenhagen.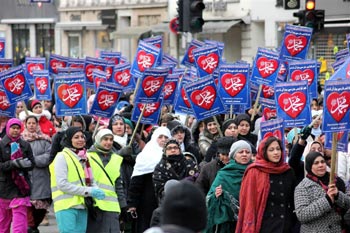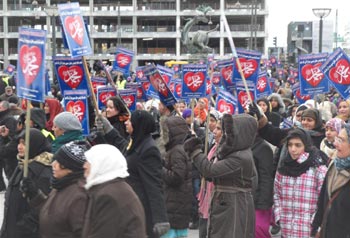 People of all ages from across the country attended the march to express their love and respect for our beloved Prophet Muhammad (PBUH), and spread the message of peace and tolerance. Scholars and religious leaders from the local mosques and organizations also attended the event by special invitation. Year after year this Meelad Peace ,The organizers handed out beautifully painted placards with the Prophets name 'Muhammad'(PBUH) written in Arabic, enveloped in a red heart. Once aligned on the main road, participants held up large banners with the message of peace and love and glad tidings in honour of the birth of our beloved Prophet (PBUH). Soothing sounds of Durood and beautiful nasheeds echoed in the streets of Copenhagen. The march was led by prominent MQI scholars and representatives of other organizations and religious centres. A coach was arranged for the elderly and the youth walked with the procession, followed by cars decorated with vibrant colours and banners to mark the occasion.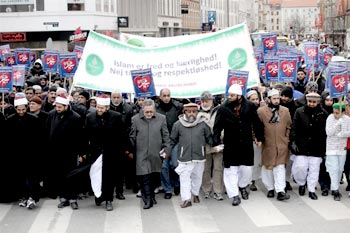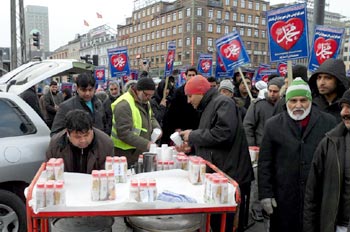 Everyone was well aligned and grouped by the organizers, and as the march moved ahead, police escorts throughout the procession ensured clear and safe roads, The march moved through the heart of Copenhagen, as shop owners and onlookers curiously watched. Local food stores and outlets distributed warm drinks and sweet snacks to all participants, as they recited Durood encapsulating warmth amongst the crowd. The march continued on for approximately four hours before reaching its final destination in central Copenhagen. Journalists and photographers from numerous TV networks and newspapers covered the procession.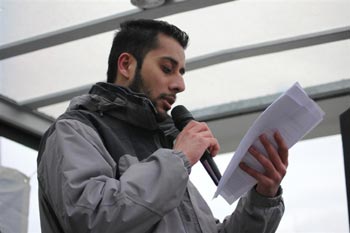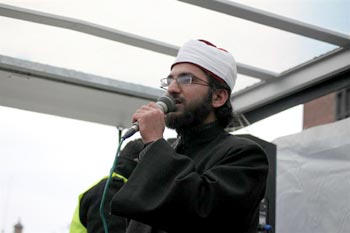 Once all participants reached the central square and gathered around the stage, beautiful Quranic recitation was delivered to enlighten their hearts. Thereafter a speech about peace, integration and co-existence in Islam was given. Focal points in the speech included the teachings of our beloved Prophet (PBUH) and finally, the organizers thanks participants for their participation, and their expression of love for our beloved Prophet (PBUH). To mark the joyous occasion of Mawlid-un-Nabi, local restaurants and shops distributed free refreshments and drinks. The Peace March was concluded by a beautiful and heartfelt Dua.
Report: Bilal Uppal