Mawlid Conference hosted by Minhaj-ul-Quran Women League (Glasgow)
On Sunday the 13th March 2011, another grand conference was hosted by Minhaj-ul-Quran Women League Glasgow alongside Muslim Youth League, to celebrate the great occasion of Mawlid-un-Nabi (SAW). A large number of women participated from surrounding areas within Pollokshields. On this occasion, sister Ambreen Mehmood (President of MYL-Sisters) conducted the proceedings of the programme in an impressive manner by welcoming the participants wholeheartedly and thanked everyone for attending such a blessed and spiritual gathering. The programme commenced with the blessed name of Almighty Allah, which was beautifully recited by sister Ismat Ahmed. After recitation of the Holy Quran sisters; Maheen Kauser, Tasmia Younis , Ruhi Ahmed and the youth from the Glasgow Minhaj Naat council beautifully recited the praises of our Holy Prophet (SAW).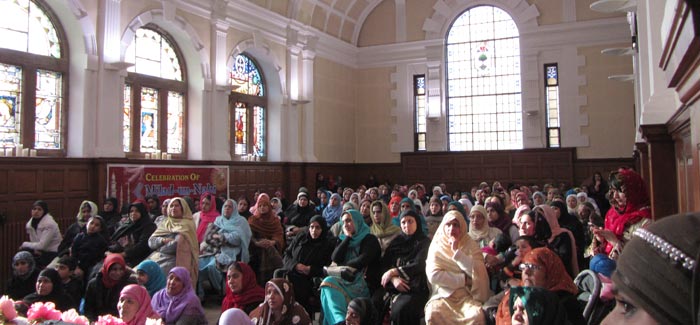 One of the chief guests from Walsall, sister Sweba Majid-Khan, delivered a speech in English on the topic "The importance of having a link with the Holy Prophet (SAW)." She supported her speech by giving beautiful examples from Hadith on the greatness of Hajre-Aswad which is also known as the 'Black Stone'. She asked "why do the entire Ummah kiss this great stone"? This is because our Prophet (SAW) kissed it, this stone has a link to the Holy Prophet (SAW) thus it is granted importance.She stated that Allama Iqbal (RA) explains this concept very beautifully when he states; "As long as a leaf is attached with the tree, it remain green, when it breaks off it will die". This can also be applied in our case; as long as the link is there we'll remain strong and progress or vice versa. Every single aspect of Deen is linked with Prophet Muhammad (SAW). We don't want to be amongst those who have forgotten Prophet (SAW) and became like a leaf that has withered away. Therefore, as your link with the Holy Prophet (SAW) strengthens, your Iman too becomes stronger and safeguarded.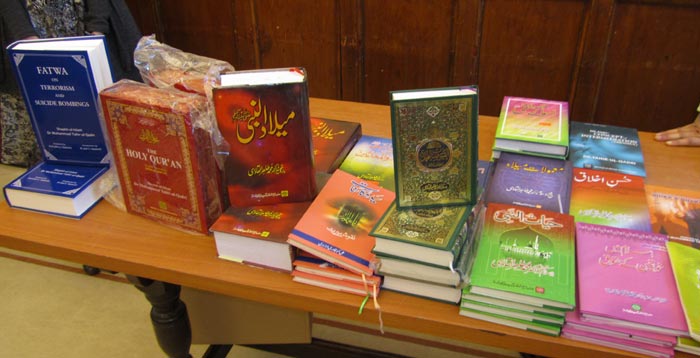 The second chief guest, Sister Saba Fatima (Former President of Minhaj-ul-Quran Women League Pakistan) delivered her speech in Urdu. This was based on the importance of developing divine love for our beloved Holy Prophet (SAW). She supported her speech by giving examples of Alim-e-Arwah and Misaq-e-Mustafa (SAW). She emphasized the main aim of Minhaj-ul-Quran, which is to create extreme love for the Holy Prophet (SAW) and promote peace, dialogue and harmony in the world. His eminence Shaykk-ul -Islam Dr Tahir-ul-Qadri is calling us towards Allah Almighty and his Beloved Prophet (SAW). Propagating the message of Islam was the message of our Holy Prophet (SAW), believing and helping the Holy Prophet (SAW) is Allah's command for all Prophets (AS). This is also a command for the Ummah to pass on the message we received and this is what Minhaj-ul-Quran is doing. She concluded by inviting everyone to join Minhaj-ul-Quran so that they too could pass this beautiful message of Islam on to others. The gathering concluded with greetings and salutations on the Holy Prophet (SAW) by Sister Ruhi Ahmed (Vice President of Women League Glasgow) and Maheen Kauser and supplication was made in the court of Allah Almighty by all participants.
Reported by: Zahra Siddique, Humaira Sabir