Mawlid Seminar 2011 – Minhaj Youth League Norway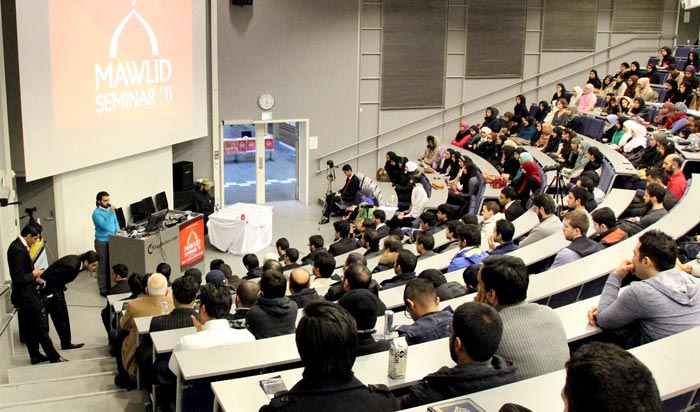 For the first time in the Norwegian history an official Mawlid seminar took place, professionally organised, planned and carried out with such devotion and passion, that the main auditorium of the Oslo University College was filled with the love towards Prophet Muhammad (PBUH).
After the success of their last year seminar, "Islamic Concept of Peace and Harmony", Minhaj Youth League Norway took the initiative to celebrate "The Best of Men", for the first time in Norway. The celebration took place in a form of a seminar, where famous scholars participated, presentations, stands and nasheed were the main attraction.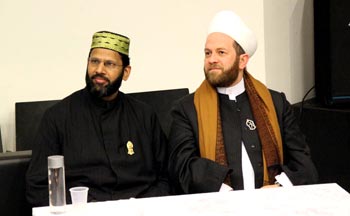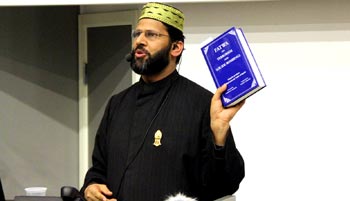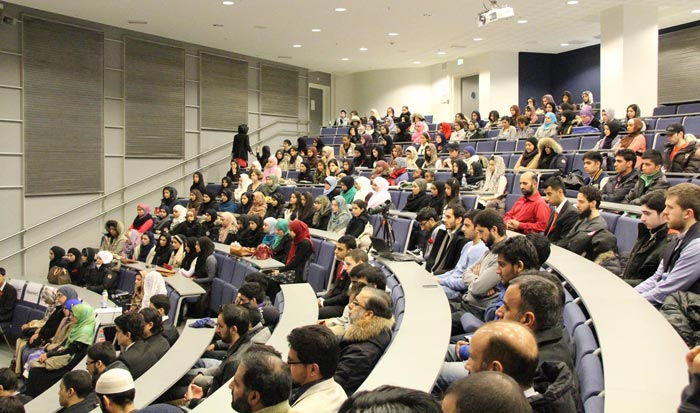 The weekend of 12th and 13th March 2011, was divided in two parts, with the main event taking place on the 12th, and the other part on the 13th. Both days the scholars, Shaykh M. Bin Yahya al-Ninowy and Shaykh Ramdan al- Qadri al-Azhari delivered speeches on the greatness of Prophet Muhammad (PBUH).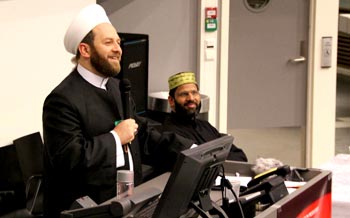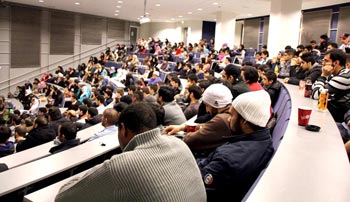 Saturday 12th March both scholars held speeches on the love for Prophet Muhammad (PBUH) and why the Prophet (PBUH) was the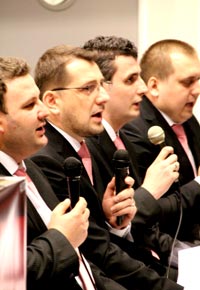 excellent symbol of justice. Further on leading to why one could say that the last Prophet (PBUH) was such a blessing for the Muslim Ummah. The evening continued with a presentation of the work done by MYL Norway and Minhaj-ul-Quran. This presentation was held by MYL President, Atif Rauf Qadri. MYL Norway also showcased a promotion video made especially for the Peace conference (Peace for Humanity) taking place 24th September 2011. The stage secretary duty was obtained by Awais Ejaz Waraich, also a member of the MYL board.
Lastly, a local nasheed group performed praising words towards Prophet Muhammad (PBUH). The group entertained everyone with nasheeds performed in various languages, for instance, English, Urdu, Bosnian and Arabic. The amount of people present at the seminar was around 400, with most of them being students.
 At last, MYL Norway gave everyone red rose and a box filled with sweets to celebrate the greatest blessing of all time. This as a symbol to convey the right message of Islam, rightly so the message of Love, Peace & Knowledge!
Sunday 13th March, the second leg of the weekend took place in Minhaj-ul-Quran Oslo. The topic for this event was the greatness of Prophet Muhammad (PBUH) and a small question and answer session.
Report by: Hassan Naveed
Minhaj Youth League Norway