Shaykh-ul-Islam to speak at U.S.-Islamic World Forum in Washington DC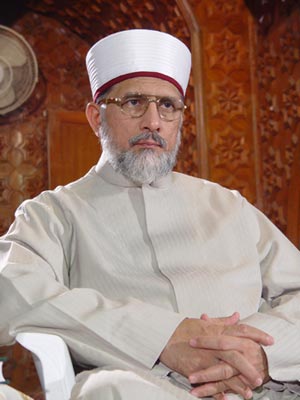 Shaykh-ul-Islam Dr Muhammad Tahir-ul-Qadri will speak at the U.S.-Islamic World Forum 2011 in Washington DC which is due to start tomorrow for 3 days (12 to 14 April) which has been jointly organized by the Brookings Institution, Qatar Government and the OIC.
Dr Tahir-ul-Qadri is representing the Muslim world at this important conference which will also be attended by the Secretary of State Hilary Clinton, Senator John Kerry, Congressman Howard Berman, Ahmad Bin Abdullah Al-Mahmoud (Minister of State for Foreign Affairs, Qatar), Prof Ekmeleddin Ihsanoglu (Secretary General of OIC) along with many dignitaries, officials from the State Department and Whitehouse and foreign diplomats, senior journalists and anchors as well as Jewish and Christian religious leaders and academicians.
Dr Qadri will speak at five different closed-door sessions on issues like integration and identity, the impact of media and politics, security and counter-terrorism, the treatment of minorities, and interfaith relations. He will also have meetings with academics and US-Government officials during the 3 day conference.
Dr Qadri is one of the leading Muslim authorities who is regarded as the most outspoken on counter-terrorism, promoting integration, interfaith dialogue and harmony among various faiths, and tackling Anti-Islam sentiments in the West. Therefore his participation at the U.S.-World Islamic Forum is seen by experts as a significant step which will help to tackle terrorism from an ideological and intellectual perspective and tackle anti-Islam views.
He will also speak about his recently released English version of the 500-page Hardback 'Fatwa on Terrorism & Suicide Bombings' which has been an unprecedented direct ideological blow to terrorist groups and completely rejects the notion that suicide bombers will enter paradise.
Dr Qadri said "I feel it is my duty to save the younger generation from radicalization and wave of terroristic recruitment in the West." He requested the younger generation "follow the Prophet Muhammed, don't follow bin Laden!"
International Media Coverage