Fatwa on Terrorism and Suicide Bombings being launched in the US today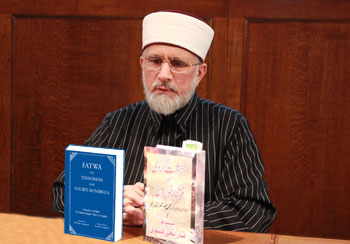 Minhaj-ul-Quran International USA is going to launch Fatwa against terrorism and suicide bombing issued by Shaykh-ul-Islam Dr. Muhammad Tahir-ul-Qadri at a Fatwa launching dinner & press conference on Saturday, 28th May, 6:30 PM at Soundview Broadcasting Hall 36-01 37th Avenue, Long Island City, NY.
Shaykh-ul-Islam Dr Muhammad Tahir-ul-Qadri, the founder and the patron-in-chief of Minhaj-ul-Quran International and leading authority on Islam, issued a detailed and comprehensive Fatwa against terrorism and suicide bombing in March last year. A matchless scholarly work, this is the only Fatwa of its kind in terms of its intellectual value, authentic reference work and trenchant research that has brought to light the historical background of the current unabated surge of terrorism in the world and proved that terrorism and terrorists are out of the pale of Islam. The Fatwa is a unique contribution of its kind to the body of Islamic literature in that it knocks the bottom from under the feet of terrorists and their handlers who invoke Islam and the Quranic texts to justify their other acts of terror.
Following his historic anti-terror Fatwa, Dr. Muhammad Tahir-ul-Qadri was a 2010 guest of the United States Institute of Peace, a US think tank. He was a speaker at the 2011 World Economic Forum in Davos, Switzerland and has been featured on international media including Sky News, BBC News, ITV, EuroNews, Al-Jazeera and CNN. In an interview with Sir David Frost Dr. Qadri has stated that the "purpose of his life is to bring peace and harmony in the world."
Media Coverage