PAT delegation visits MQI Bradford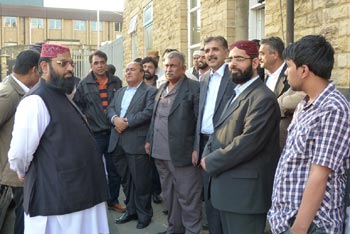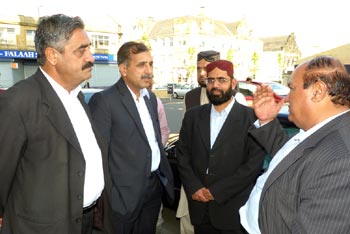 Sunday, 10th July 2011, Minhaj-ul-Quran International (Bradford) organised a programme in the honour of Lahrasib Khan Gondal President of Pakistan Awami Tehreek (Punjab, Pakistan), Vice Chairman Punjab Bar Council, Mumtaz Mustafa (Member Punjab Bar Council) and Malik Ghulam Abbas (Member Punjab Bar Council) in Minhaj-ul-Quran Bradford.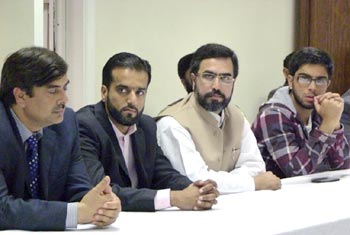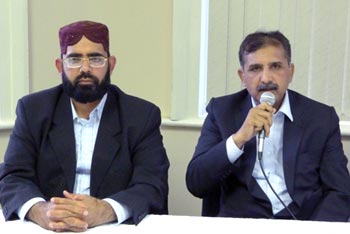 The Punjab Bar Council delegation which consisted of 16 members was warmly welcomed by President MQI UK National Executive Council - Shaykh Muhammad Afzal Saeedi, Vice President NEC - Moazzam Raza, Secretary Welfare NEC - Seerat Ali Khan, Media Secretary NEC - Shahid Janjua, President Minhaj-ul-Quran Bradford - Mahmood Qadri, Welfare Secretary - Mansoor Raja and many other members of Minhaj-ul-Quran Bradford and surrounding areas.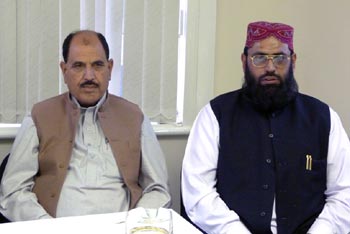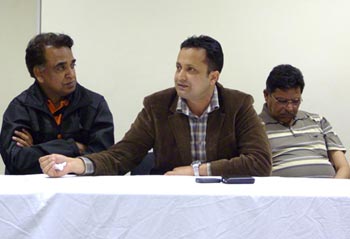 The delegation consisted of following people:
• Lahrasib Khan Gondal
• Mumtaz Mustafa
• Malik Ghulam Abbas
• Shafqat Ali Bhatti
• Rana Abdur Rahman
• Chaudhary Noor us Samad
• Muhammad Bashir Paracha
• Chaudhary Awais Ahmad Qazi
• Muhammad Javid Akbar
• Jamal Khan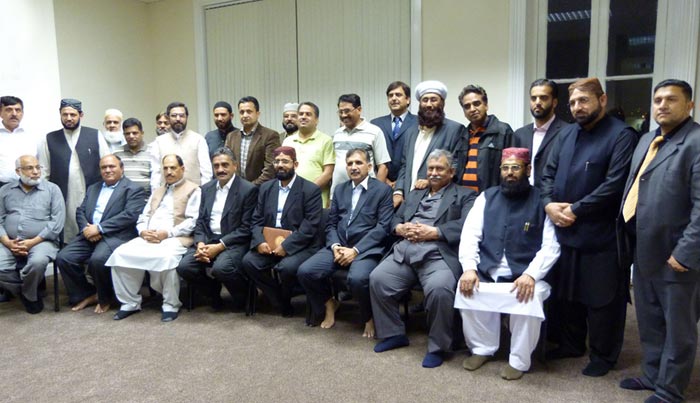 The delegates briefly updated the attendees about the current circumstances of Pakistan. Lahrasib Gondal said that time had come for the public to raise their voice against the corrupt politicians where selection is not based on one's ability but on how much bribery one can pay. The tickets for Parliament's seats are sold for millions of rupees and in these circumstances, he stated, how could people expect the honest leadership people to come forward? Given this situation, Pakistan Awami Tehreek has stepped up its campaign against the corrupt and out-dated system. It has initiated its campaign throughout Pakistan reaching out to the smallest villages. The message of love, peace, tolerance, and integration by Shaykh-ul-Islam is being spread to every nation and every generation in the East and West.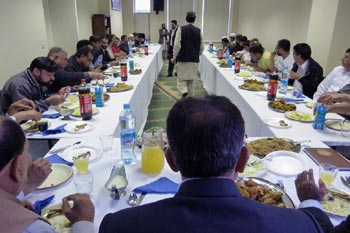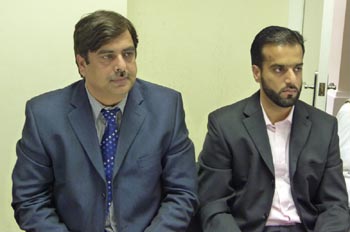 Mumtaz Mustafa expressed his opinions on the current affairs of Pakistan and expressed his appreciation of the works of Minhaj-ul-Quran International. He stated, if after Imam Shah Ahmad Raza Khan Brailvi anyone has worked on Fiqh, Aqeeda and Tasawwuf, it is Shaykh-ul-Islam Dr Muhammad Tahir-ul-Qadri. President NEC Shaykh Muhammad Afzal Saeedi said that today the leaders of the Pakistani nation have become bandits, but the Pakistani people must not be dishearted. Minhaj-ul-Quran, which has the qualities to lead the nation, is ready to fill in the leadership vacuum. He said that our platform is open for every religion and for people from all walks of life .The audience had interaction with the delegation through a session of Q&A and had dinner together .The delegation thanked Minhaj-ul-Quran Bradford for organizing this extraordinarily warm welcome and programme.
Reported by: Mozzam Raza