MQI Bradford holds its 2nd cooking competition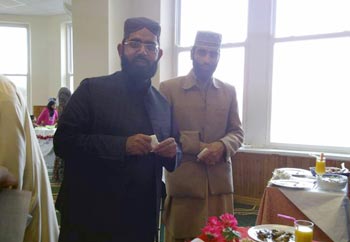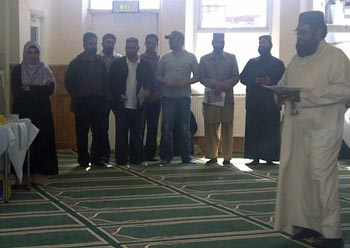 Hosting a cooking competition is no easy work, especially when the dishes vary from Chicken Pilau with Raita to Rasmalai and Carrot Cake. This year, the cooking competition was even bigger and better than the last one. The cooking competition was organized by Ash-Shaykh Hafiz Muhammad Abdul Saeed. He arranged for the students of his three classes, Pearls of Knowledge, Essence of Islam and junior class of Islam Made Easy to cook in MQI Bradford. Thankfully there were two kitchens to work in. It was an extraordinary day, and the atmosphere was absolutely buzzing. There were sisters chopping chillies, peeling onions, mashing potatoes and preparing exotic juices whilst some were busy making samosas, kebabs, chaat and preparing ingredients for the lasagne.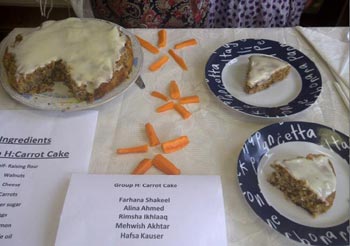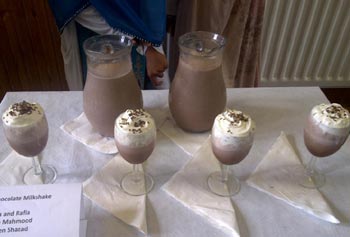 The younger girls were peeling mangoes, cutting up strawberries and breaking up chocolates for mango lassi, chocolate and strawberry milkshakes. Later that day, the girls elegantly presented their dishes to both male and female judges. They were scored by the ladies for their management in the kitchen, their use of ingredients and their culinary knowledge. Surprisingly, one group forgot to add garlic to the list of ingredients which the judges quickly spotted! The men had the more enjoyable task. They were to judge the quality of the food by tasting it and scoring the presentation of the dishes. The president of NEC UK, Shaykh Muhammad Afzal Saeedi commented "The food is delicious and very tasty". The General Secretary of MQI Bradford congratulated each of the participants on their cooking skills and for producing great quality food. The day ended in a mini buffet and everyone remarked how well other groups had done. First prize for starters went to the delicious Samosa Chaat. The Lasagne bagged the first prize for main course and, of course as was to be expected, mango lassi won in the drinks category. The winners received a book of Shaykh- ul- Islam Dr. Muhammad Tahir-ul-Qadri and the runner ups received a DVD of theirs.
Reported By: Mariya Mobeen Qadri