Former Prime Minister of Australia hosts Dr Muhammad Tahir-ul-Qadri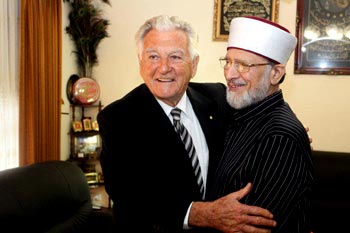 During the recent Australian lecture tour of Shaykh-ul-Islam Dr Muhammad Tahir-ul-Qadri, he spoke at the New South Wales Parliament, University and community events on subjects related to Islam and peace, and Islamic view on terrorism. He also had various meetings with dignitaries and politicians and was interviewed by the national flagship news program News Line with Jim Middleton.
Surprisingly, during his visit he was approached by a leading Australian politician, Mr. Bob Hawke who was the longest serving Prime Minister of Australia between 1983 and 1991. By the time Mr. Hawke contacted Dr Tahir-ul-Qadri, he had already gone to Melbourne. However, Mr. Hawke was determined to meet Dr Qadri and took the next flight from Sydney to Melbourne to meet him. He had a 3 hour meeting over lunch with Dr Qadri in which he mainly focused on his fatwa against terrorism and how to counter violent extremism.
Following that Mr. Hawke extended a special invitation to Dr Qadri for a dinner at his house before his departure back to Canada, and both leaders met again along with some other dignitaries and intellectuals who were invited to meet Dr Qadri. The aim was to learn from a leading scholar on how to tackle extremism and terrorism.