Dr. Tahirul Quadri is coming to Hyderabad in March first week
February 22: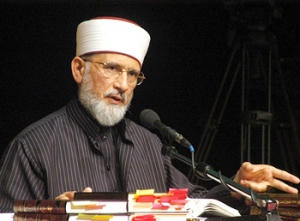 (Siasat News) According to a press note issued by Md. Shaik Maqdoom Ali, Secretary, Minhajul Quran, India, Hyderabad Branch, Dr. Mohammed Tahirul Quadri, founder of Minhajul Quran, International is visiting India as part of his Islamic campaign.
He has arrived in the morning of Tuesday 21st February in Delhi. He was received by the office-bearers of Minhajul Quran. His first programme is at India Islamic Cultural centre. Auditorium at Lodhi Road, New Delhi today at 6.30 p.m. Dignitaries from All over India will attend this programme. On this occasion, his universally acclaimed decree (Fatwa) on "Terrorism and the mischief of Khawarif" (English Version) will be released.
Dr. Tahirul Quadri will be in Hyderabad from 2nd to 5th March 2012. For further details interested person may contact on Phones: 9848020085 and 9396560983.
Source : http://www.siasat.com/english/news/dr-tahirul-quadri-coming-hyderabad-march-first-week