Success of Muslim Ummah lies in Unity: Dr. Tahir-ul-Qadri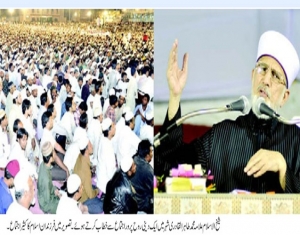 March 03: (Siasat News)Shaikul Islam Dr. Mohammed Tahirul Quadri stressed the need for unity and integrity of Muslim Ummah and said that Allah (SWT) and Prophet Mohammed (SAWS) have laid stress on Unity repeatedly. By unity, they can achieve success and can refrain from sins. He was addressing a gathering on the topic of the Unity of Muslim Ummah. Quoting verse 103 of Surah Aal-e-Imran, Prof. Quadri said that Allah (SWT) has clearly told us to hold the rope of Allah (SWT) firmly and not to get ourselves divided into broken pieces. He further told that the sustenance of the nation is in integration whereas disintegration is the death of a nation. Quoting hadith he said that the Prophet Mohammed (SAW) told that whosoever wants to reach the highest degrees of Heaven, it is obligatory on his part to be integrated with the Ummah. He quoted the Prophet's (SAWS) saying as quoted by Hazrath Abdullah Bin Omer, which says that the Prophet Mohammed (SAWS) had told "Oh-! Muslims refrain from disintegration. It is obligatory on your part to be integrated, because if a Muslim is left alone, it becomes easier for Satan to get closer to him.
Prof. Quadri divided his speech in three parts. In the first part of his speech, he stressed the need to obey Prophet Mohammed (SAWS). In the second part he emphasized the need to follow the Prophet (SAWS) and become the messengers of peace. This is the only way for the Muslims to lead their lives in this world. In the third part of his speech he explained various feats of our association with the personality of Prophet Mohammed (SAWS). He said that the land of India is full of love for the Prophet (SAWS). The status of the land of Hyderabad is unique in the entire India.
Source : http://www.siasat.com/english/news/success-muslim-ummah-lies-unity-dr-tahir-ul-quadri