Shaykh-ul-Islam reaches UK after his visit to India
Shaykh-ul-Islam Dr Muhammad Tahir-ul-Qadri, founding leader and Patron-in-Chief of MQI, reached the United Kingdom on March 20 after his successful visit of India. The central leaders of MQI (UK) extended him a warm welcome at the Heathrow Airport London. The reception party included Allama Muhammad Afzal Saeedi, Dawood Hussain Mashahdhi, Shahid Mursaleen, Hafiz Nazir Ahmad Khan, Allama Muhammad Sadiq Qureshi, Haji Abdul Ghafoor, Sohail Butt and others. They presented bouquets of flowers to Shaykh-ul-Islam upon his arrival.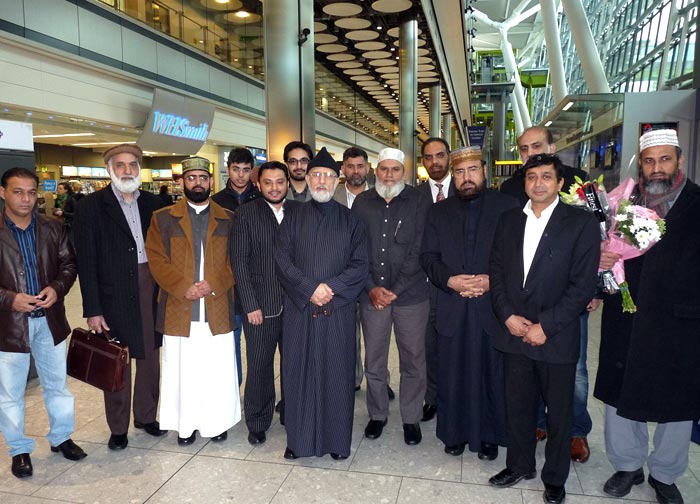 Talking to the newsmen at the Airport, Dr Muhammad Tahir-ul-Qadri said that his visit to India was a major success and the hearts of the Indian Muslims were full of love for Allah Almighty and the Holy Prophet (SAW). He said that he addressed mammoth gatherings consisting of millions of people in Gujrat, Hyderabad, Mumbai, New Delhi and other cities of India. He further added that despite the fact that those programmes were held in huge stadiums or open spaces, still the participants could not be accommodated there and the arrangements fell short of the need.
Shaykh-ul-Islam told that he was given the status of state guest throughout the visit and excellent arrangements for his public meetings were made including the provision of fool-proof security.
Replying to a question, Dr Muhammad Tahir-ul-Qadri said that some people did not like him winning the hearts and minds of the Indian Muslims. However, he made it clear to such elements that the youths of the 21st century were beholden to logic and argument. He said that gone were the days when people resorted to churning out religious edicts and slogans to spread the message of faith. He said that the religious scholars would have to employ modern methods of communication and keep themselves abreast of what was happening in a globalized world.
Later on, Shaykh-ul-Islam Dr Muhammad Tahir-ul-Qadri reached the central secretariat of MQI in a large caravan of cars.