Grand Finale of the MYL-S Executive Tour
The grand finale of the Muslim Youth League UK – Sisters Executive Tour took place in Birmingham. The Birmingham sisters had made all the necessary arrangements at the Saltley Leisure Centre. Present on the MYL-S Executive panel were Ambreen Mehmood (President), Tanzeem Begum (Senior Vice President), Sweba Majid Khan (Vice President), Jabeen Ali Tahiri (General Secretary), Fathema Khan (Finance), and Marinah Syed Shah (Public Relations).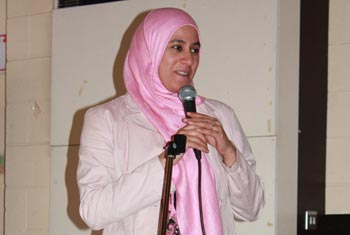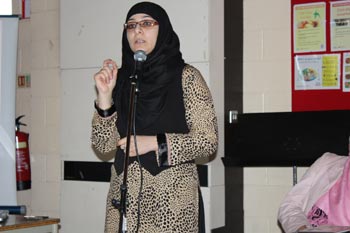 The event started by Jabeen making everybody aware that this was the last leg of the MYLUK-S Executive Tour which had started off from the North, Glasgow, and had worked its way across the whole of the UK and ended in the Midlands. She thanked everybody for attending and welcomed Mrs Rukhsana Iqbal, Vice President of Women's League Birmingham and Mrs Rabia who is the Welfare Secretary. Jabeen invited Sana Ayyaz to officially start the final program with a recitation of the Quran. Sana's recitation of Surah Yaseen was beautiful and heart touching. This was followed by a Nasheed of the holy Prophet (PBUH) by Fatima Yasmeen.  After the recitations, Jabeen gave an overview of the day followed by an explanation of the aims and objectives of the organization. She stated that these aims and objectives would allow us to become a representative of all Muslims regardless of race, colour or nationality. MYLUK-S aims to raise awareness of not only the religious aspects of life but just as the deen of Islam it covers the secular aspects of life as well and despite having been around for only four years MYLUK-S has managed to achieve a lot especially through its projects.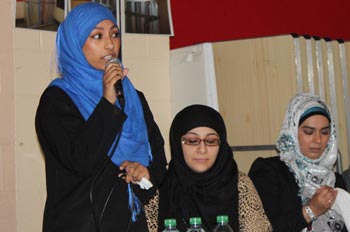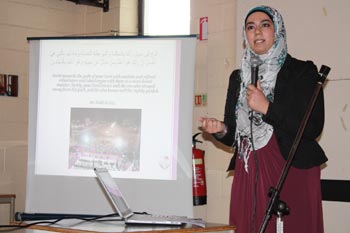 Ambreen took to the stage to discuss the achievements and projects of MYLUK-S. She explained how MYLUK-S has gone from a handful of areas to over 14 areas in the UK and, moreover, it has been approached by various other areas that would like an MYL-S body set up. She stated that throughout its existence MYLUK-S has gone from strength to strength and it is becoming the organisation that can cater for the youth of the UK to bring them closer to Islam and enable them to correctly understand their religion. She explained how each and every project was set up with the aim of highlighting the reality of Iman and that the main people within the organization were those workers that were distributing that knowledge.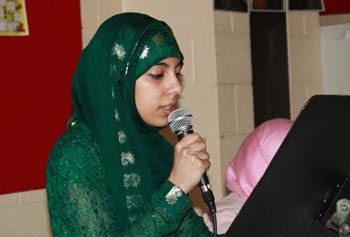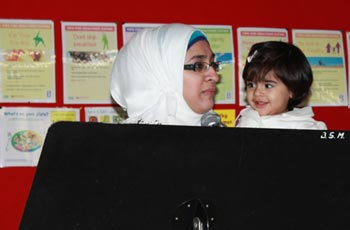 This was followed by an interactive session, where the participants were divided into groups and led by an executive. They were asked for their ideas regarding funding, PR, training and ideas for future projects of MYLUK-S. Everybody participated enthusiastically by giving his/her views and ideas. All the ideas were noted down by the executives with the promise to review the feasibility of each idea and to insha'Allah implement any viable ideas in the near future. After the interactive session a short break followed where the audience could perform their prayers and enjoy the lovely refreshments provided by the local Birmingham team. After the interactive session, Marinah was invited by Jabeen to speak about PR. Marinah started off by saying that MYLUK-S is an organization that wants to be known as an organization that did something good for the youth of the UK and that is why it lives by the slogan 'Be good and tell people about it.' She then went on to speak about the online presence of MYLUK-S and explained that nowadays, social networking sites like Facebook and Twitter have made it possible to reach people worldwide which would have been impossible before.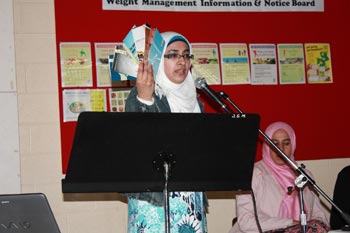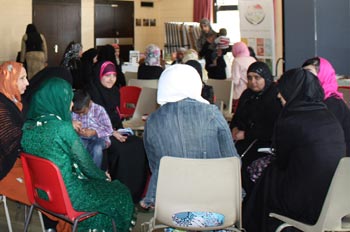 She mentioned that the MYL Brothers had welcomed the MYLUK - Sisters to Birmingham through Twitter. She said that it wasn't possible for them to be physically present as it is a sister's event but they had managed to do it via their online presence and she thanked the brothers for their message. Marinah finished off by stating that it is imperative that an organization focuses on the positive image that it presents to people, hence why MYL UK Sisters has been focusing on the overall image of the organization as well. Fathema then took to the stage to discuss finance. She started off with a little anecdote about how she told her brother that knowledge was power and that is why she was studying. He in turn showed her a bundle of cash and stated that money is power. This got her thinking and she realized to some extent he was right because in order for any organization to become powerful it needs money.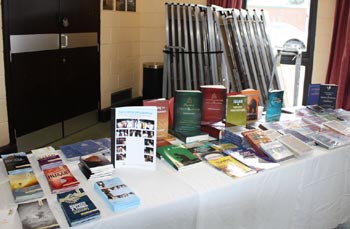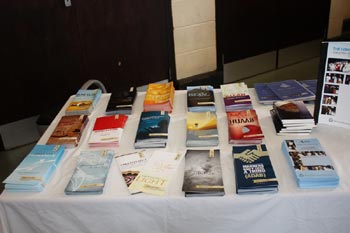 She stated that MYLUK-S is an organization that has the ability to make a difference to the thinking of the coming generations so that they stay on the correct path but in order to do that we need money. She explained how we all love free things, such as the ABSTRACT leaflet. However, there is a cost involved in producing those and MYLUK-S has to cover those costs somehow as we don't make any profit from it. She encouraged the participants to sign up to the £1 scheme so that they can reap the benefits of the work that MYLUK-S is doing. After Fathema's finance session, Jabeen invited Sweba to the stage for the final session of the day. Sweba started off by stating that the term da'wah, as all other Arabic words, has a variety of meanings and these include to teach, to raise awareness and so forth. However, the explanation that MYLUK-S uses is from the Quran in Surah an-Nahl. She stated that the aim of MYLUK-S was to invite people towards Allah Almighty through imparting true knowledge of Deen. She told the participants that MYLUK-S was providing them with various platforms to fulfil their obligation of da'wah. She stated that the reason why one should join an organisation is that with less effort one gets more work done. For example, an ABSTRACT leaflet has 9-10 stages and if 9-10 different people carry out the work it is much easier than just one person doing it. However, the reward for every single person would still be as if he has completed the full leaflet alone.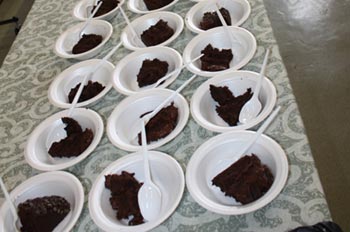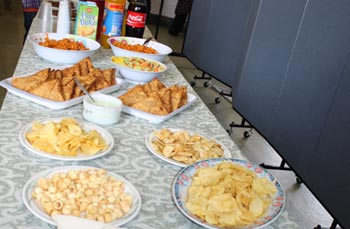 Sweba congratulated Asma Parveen and Tanzeem Begum who had been working on this project. She then stated that being in a group gave us strength and was the example that fingers alone are weak but when they come together into a fist they are strong. Similar to this, she stated that as an individual we may be weak and unable to do the work but when we come together with an organization like MYLUK-S, we become strong and have a greater impact. She mentioned that during the Peace for Humanity Conference people were in awe of the true personality of the holy Prophet (PBUH) that was put forward to them by Shaykh-ul-Islam Dr Muhammad Tahir-ul-Qadri and she stated that this defined MYLUK-S perfectly because the sole aim of MYLUK-S was to bring forth the true reality of Islam. The session was concluded by a du'a by Ambreen Mehmood. Before her supplication she stated that she would like to announce that the whole of the tour and its reward was presented to the father of senior vice president Tanzeem Begum who had passed away in March. The MYLUK-S executive would like to extend their gratitude to the Birmingham sisters for organizing the event and providing the delicious refreshments. If you would like to support the projects of MYL UK Sisters, please set up a standing order of just £1 to the following account:
Account name: MYL-S, Account number: 84536282, Sort code: 40-11-18
Reproted By: Sweba Majid Khan