Shaykh-ul-Islam addresses a peace conference in USA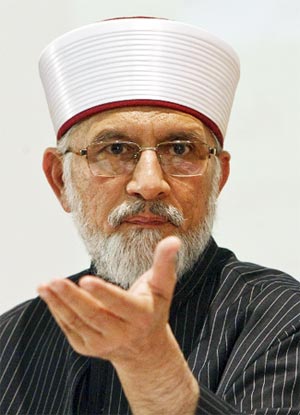 Peace and Integration Council of America and Salt Lake Interfaith Roundtable organized a conference on the subject of "Islam and Peace" on June 16, 2012. Shaykh-ul-Islam Dr Muhammad Tahir-ul-Qadri was the keynote speaker at the conference, which was attended by a large number of participants.
The proceedings of the Conference got underway with the recitation from the Holy Quran followed by Naat.
Addressing the interfaith moot, Dr Muhammad Tahir-ul-Qadri, author of hundreds of published works including world-renowned religious ruling condemning terrorism, said that the Prophet of Islam (SAW) practiced peace and tolerance both in words and deeds.
He said that Islam is a religion of peace, tolerance and abhorred all forms of violence. He said that Islam prescribed peaceful means to register one's dissent and hence any resort to use of arms and shedding of blood unjustly was prohibited in Islam.
Shaykh-ul-Islam said that the non-Muslims who based their opinions of the Islamic teachings on the media accounts were not likely to know the reality of what Islam stood for. He added in the same context that the misguided elements who commit acts of terrorism do so because of their narrow and literalist understanding of Islam.
"Many people today don't know much about the religion they belong to. How many Christians, for example, can tell us the number of books in both the Old and New Testaments?" he asked.
Dr Muhammad Tahir-ul-Qadri's two-hour lecture, that he delivered on "Islam and peace" on Saturday afternoon at the University of Utah's Orson Spencer Hall auditorium, was though-provoking and served to allay many misunderstandings and confusions in the minds of the audience.
Shaykh-ul-Islam quoted at length both from the Quran and hadith, to back up every point and assertion that he made during his highly incisive speech.
"Religion is easy, and no one overburdens himself in his religion but he will be unable to continue in that way. So do not be extremists,' "Dr Tahir-ul-Qadri said, quoting a hadith attributed to the Holy Prophet (SAW). "This is not a speech given after 9/11. The Prophet Muhammad delivered these words to mankind centuries before," he made it clear.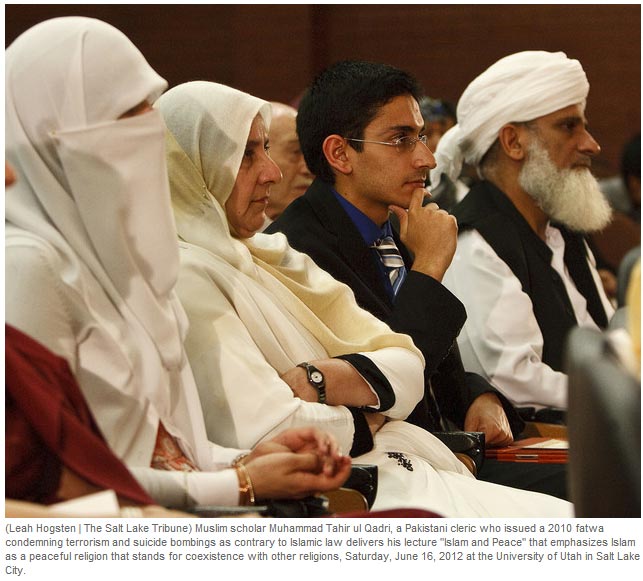 Dr Muhammad Tahir-ul-Qadri spoke to many curious non-Muslims and scores of Utah Muslims, who were glad to hear their faith portrayed accurately by a respected scholar of international standing.
"This means a lot," said Shazia Faizi, events director of the Al Mustafa Foundation of Utah. "Through him we're able to express our real feelings to the community."
Shaykh-ul-Islam was introduced by Alan Bachman, assistant attorney general at the Utah Attorney General's Office and chair of the Salt Lake Interfaith Roundtable. Commenting on 600-page religious ruling of Dr Muhammad Tahir-ul-Qadri, Bachman said — "That might come from the lawyer in him" — but admonished the audience to take the scholar's message to heart.
The Conference ended on Dua.