MQI takes part charity Mela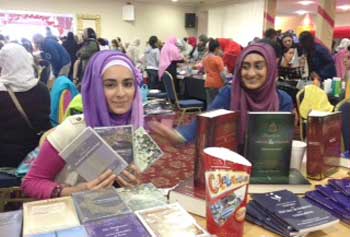 On Saturday the 5th of May, Muslim Youth League UK Glasgow took part in the Charity Mela for Palestine at Kebana function suite organized by the 'Friends of al-Aqsa' Glasgow team – a UK based non-profitable organization first established in 1997 making NGO concerned with defending the human rights of Palestinians and protecting the sacred al-Aqsa Sanctuary in Jerusalem.
The Mela was organized in order to raise money for Palestine and hence was an advantageous opportunity to help other organisations at their event as well as raise awareness of the Muslim Youth League UK. MYL UK Glasgow teamed up six volunteers who rotated and looked after the stall. The stall consisted of the in-depth version of the Fatwa against Terrorism by Shaykh-ul-Islam Dr Muhammad Tahir-ul-Qadri as well as the newly translated Al-Minhaj al-Sawi in English. Also available were the new transcriptions of books written by Shaykh-ul-Islam and English DVD lectures.
For free distribution, the stall displayed the twenty different MYL UK Abstracts and copies of the Introduction to Fatwa on Suicide Bombings and Terrorism. Apart from speaking to visitors about the literature available, MYL UK Glasgow also took the opportunity to ask people to sign the 2011 London Declaration for Global Peace & Resistance against Extremism. Furthermore, the new scheme that has been introduced by Minhaj Welfare Foundation – HelpFeed – was also advertised.
At the Mela, there were stalls ranging from beauty, children's toys, hand-made ornaments made by Palestinians, food, henna & make-up, cupcakes, bouncy castles, home decorations, hijabs & clothing, educational charities, and much, much more. Alhamdulillah the turn out was great and the venue remained busy right from the beginning to the very end. The MYL volunteers managed to sell many copies of the three newly translated books because they are concise and simple to understand for the youth.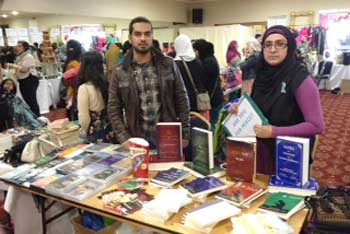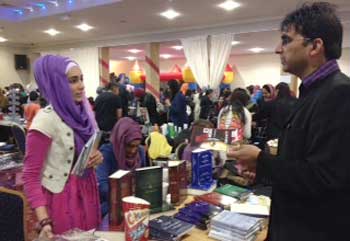 During the event, Mr. Mirza the Chief Editor, of Shaboroz Newspaper approached the MYL volunteers and asked if they were willing to work with him to organise an event in which there would be a speaker to talk about a certain issue or topic in Islam and deliver it to the community. The MYL volunteers informed the editor that they had Shaykh Rehan Ahmad Raza, student of Al-Azhar University, who is more than capable for this task. Sister Ambreen Mehmood, President of MYL UK Sisters, exchanged contact details with him and he also requested to interview Sister Sweba Majid Khan, Vice President MYL UK Sisters, Sister Ambreen Mehmood, President MYL UK Sisters and Shaykh Rehan Ahmed Raza, President MYL UK, to which they agreed to. Live updates of the event were also provided on the MYL UK Sisters twitter account and coverage of the event was also given in Shaboroz Newspaper. The event was a great success in raising money for Palestine as well as MYL UK Glasgow raising awareness of its work and socializing with other groups of people.
Reported by: Habeeba Asghar