MQI (Blackburn) holds Dars e Irfan-ul-Quran
A Dars-e-Irfan-ul-Quran and Iftari programme was held by Minhaj-ul-Quran International (Blackburn, UK) on July 22, 2012 at Haji Yaqoob's residence. This programme was the second Dars-e-Irfan-ul-Quran of the series which has been started by MQI Blackburn recently. The First Dars was held at Abid Hussain's Residence in Blackburn and Allama Shams ur Rehman Aasi, Imam of M.Q.I Nelson UK, delivered the keynote lecture on the topic of 'maqsid e hayaat'(Aim of life) on July 01, 2012.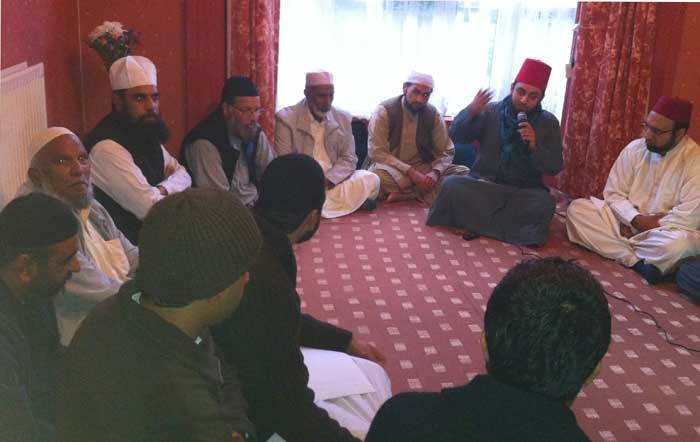 Programme started at 20:00 with the recitation of Glorious Quran by Qari Imtiaz. The responsibilities of the Stage Secretary were performed by Brother Hassan Qadri. The Recitation was then followed by the Naat-e-Rasool Maqbool (SAW) by Muhammad. Nasheed artist Hussain Qadri recited some nasheeds which were deeply enjoyed and applauded by respected listeners. By this time the guests had arrived. Amongst them were respected Sufi Iklaaq Naqshbandi, President M.Q.I Blackburn, Hafiz Junaid Anjum, the son of Ahmed Nawaz Anjum (Ameer-e-Tehreek Punjab) who is a PhD candidate at the University of Cambridge and former Councilor and Mayor of Blackburn Mr Muhammed Khan.
At around 20:45, Brother Mohammed Shoaib Khan who is currently studying in College of Shariah and Islamic Sciences (Minhaj University) Lahore started his keynote lecture on the topic of 'Fasting, Its Philosophy and Aims' and provided many references from The Glorious Quran and Blessed Hadith in his speech. Brother Shoaib also spoke about the relationship between Allah (SWT) & man. At around 21:15, 'Khatam' was recited by Qari Imtiaz and Durood o Salaam was sent to Prophet Muhammad (SAW). On this blessed evening, the 'Chadir Mubarak (Blessed shrine cloth) of Roza E Ghous e Azam Shaykh Abdul Qadir Jillani was shown to the audience. The breaking of fast was at 21:30 and special arrangements were made by Haji Yakoob for the Iftari programme. Namaz e Maghrib was offered at Haji Yaqoob's house. The programme finished at around 22:15 once everybody had their dinner and last Dua was made by Qari Imtiaz. Date and time of next Dars e Irfan ul Quran will be announced in the due course.
Reported by: Arsalan Ali