European Peace Conference 2012 - Denmark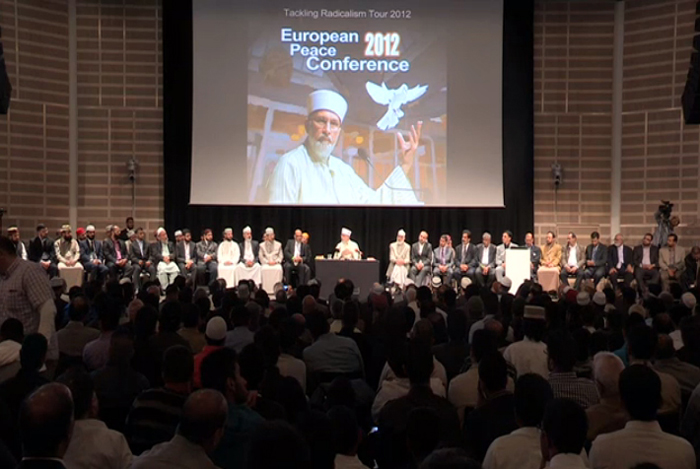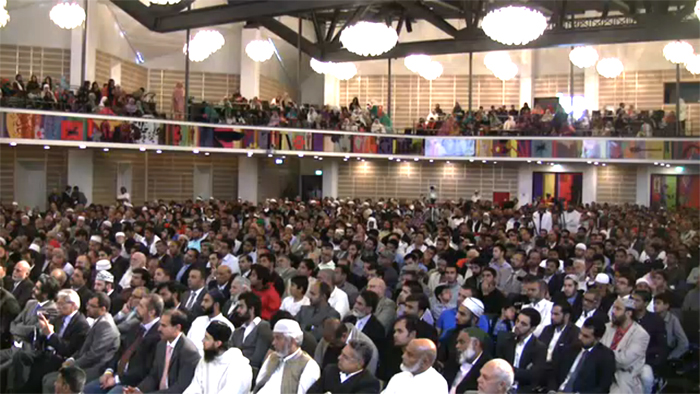 European Peace Conference was opened by the beautiful recitation of the Holy Quran by Qari Allah Bakhsh Naqshbandi in his melodious voice. The Conference took place at Tivoli Congress Centre, Copenhagen on September 9, 2012.
Addressing the participants of European Peace Conference, Shaykh-ul-Islam Dr Muhammad Tahir-ul-Qadri termed the conference as being of immense importance for the Muslims and the non-Muslims, particularly the youth.
Dr Muhammad Tahir-ul-Qadri extended his congratulations to all executives and members of MQI DK on arranging and conducting such successful series of conferences, seminars and events to tackle extremism. He ranked the entire tour as being historic in nature. He mentioned that the tour was conducted in an extremely professional manner. As the main venue was full to its capacity, screens were deployed outside the Congress Hall in order to enable late comers to follow the proceedings on TV monitors.
Shaykh-ul-Islam noted that in any society, there are certain individuals having extreme radical thoughts. They darken the true face of religion by giving it a bad name through their actions. He went on to explain that terrorism has no religion and in order to combat terrorism, all religions and faiths must come together.
He explained that the world today seeks peace, whereas Islam has gone far beyond peace. Islam teaches not only peace but also mercy and compassion.
Shaykh-ul-Islam explained how the Holy Prophet (S.A.W) not only came as a mercy for the Muslims but also for the whole of mankind and every living creature. It is therefore the duty of every Muslim and believer to exercise the same mercy and love to every human being and living creature.
Shaykh ul Islam explained that there are some very important incidents in the Holy Prophet's life, which demonstrate that he was a mercy for all.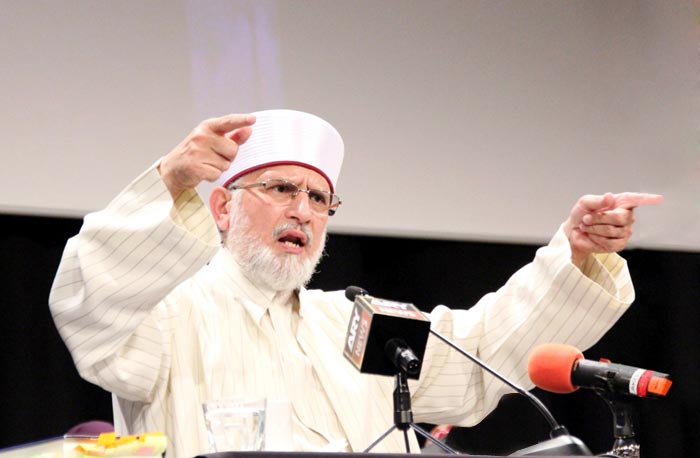 Dr Muhammad Tahir-ul-Qadri further said that the message of peace was not given in Islam by anyone else but from the Divine revelations from Allah SWT. He said that the message of peace, love and peaceful co-existence and democratic values was not given by either Socrates or Aristotle nor was it a concept recently invented. It is rather the message given by the holy Prophet (S.A.W) 1500 years ago.
The Holy Prophet (S.A.W) taught us which things to stay away from and which things were permissible. He taught us the rights of women, and the rights of the poor, and the rights of the weak in the society. The Holy Prophet (S.A.W) taught mankind human values. He spoke up against injustices in society, and inhumane values and conducts of life.
Shaykh-ul-Islam went on to tell the crowds that if you wish to present the true face of Islam, the face of peace, mercy, tranquillity, and beautiful values, then every person must become an example of the Seerah of the Holy Prophet (S.A.W). We must become peaceful, loving, compassionate, and merciful people having beautiful character.
He continued to say that Islam stands for peace, kindness, gentleness, compassion, love, and harmony. In a changing world the teachings of the Holy Prophet (S.A.W) do not change. He said that the Holy Prophet (S.A.W) always stood against every kind of terrorism, killing, brutality, injustice, and harshness,
He said that the reason why Islam is being targeted and depicted as an extremist religion is due to misguided youngsters and youths who have misinterpreted and misunderstood Islam and Quranic teachings.
Shaykh ul Islam, while throwing light on the extent of peaceful conduct of the Holy Prophet (S.A.W), explained how every war and battle fought against enemies during the times of the Holy Prophet (S.A.W) were all fought as defensive battles. Not a single time, was a war initiated by the Muslims.
The acts of peace, love, mercy, and forgiveness performed by the Holy Prophet (S.A.W), are unprecedented in the history of mankind, and a similar example cannot be found.
Speaking on women's rights, Shaykh-ul-Islam explained that Islam has granted equal rights to men and women. He also described how the Holy Prophet (SAW) practiced the equal rights of women through matrimonial life.
Speaking on the rights of non-Muslims, Shaykh-ul-Islam explained how Islam granted all religions the right to worship and practice their own religion according to their own customs and traditions.
He said that in the early days, wherever Islam was spread to, minorities and non-Muslim were always granted safety and security under the rule of Muslims, and as proved through the Prophetic traditions, even animal rights were granted by Islam.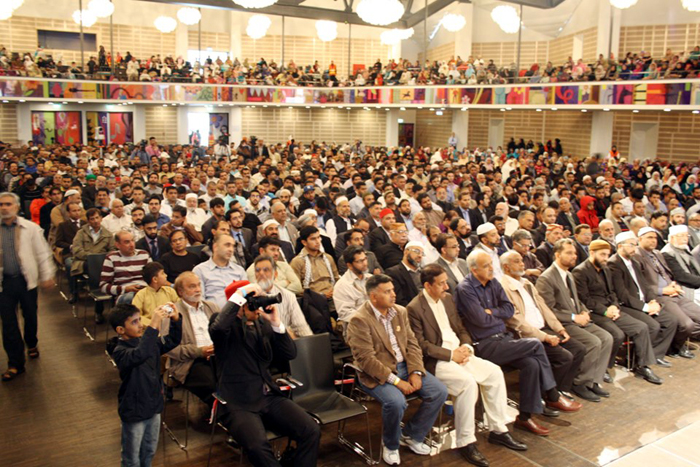 Shaykh-ul-Islam explained that his message is always peace and dialogue and he has dedicated his life to this cause. He asked the youths to change their personalities, bend them in accordance with the life of the Holy Prophet (S.A.W); to become beautiful in their appearances and in their inner selves; to be kind and compassionate to everyone, to be just and truthful, to observe prayer, and weep in remembrance and yearning of Allah (SWT)
Concluding his talk, Shaykh-ul-Islam Dr Muhammad Tahir-ul-Qadri urged youths, Muslims and non-Muslims, media persons, and governments, to study and understand the true Islam in order to propagate the real teachings of Islam and remove all misinterpretations and misconceptions.
Earlier, MWF representative Adnan Sohail and Secretary General of MQI Denmark Bilal Uppal gave a presentation on Minhaj Welfare Foundation and the efforts of Shaykh ul Islam in propagating charity work around the world. They spoke about Shaykh-ul-Islam as being the torch-bearer of our time in regard to looking after the needs of the poor and the rights of different minorities.
A presentation was given on the various projects and activities currently underway around the world under the aegis of Minhaj Welfare Foundation. The audience was given an insight into the numerous ongoing MWF humanitarian projects, which are being established, including the Aghosh project and the newly launched Bait-ul-Zahra project in Pakistan.
Mr. Zahid Iqbal started by welcoming all delegations from across Europe. He continued by telling the crowd about Shaykh-ul-Islam's intellectual and spiritual efforts for the Muslim community. He explained how Shaykh-ul-Islam has, throughout his life, fought against misconceptions and misinterpretations of the Holy Quran and Hadith and always tried to show the Muslim youth and youngsters, the true picture of Islam and spread the Islamic message of peace and harmony.
Mr. Zahid Iqbal continued to explain how Shaykh ul Islam has almost single-handedly revived the spiritual dimension of Islam. His efforts for interfaith dialogue are unprecedented. He is the biggest benefactor for Christian communities and people of other faiths in Pakistan, he said.
He ended his talk by encouraging people to follow in the footsteps of Shaykh-ul-Islam and spread his message of peace, love and interfaith harmony.
Mrs. Khadijah Atkinson spoke to the gathering about Shaykh-ul-Islam's work and efforts for womens rights and the rights of minorities. She explained how Shaykh-ul-Islam has always been at the forefront in the struggle of fighting for the rights of women, and how he has always tried to change the hearts and minds of people through education, and thereby fighting against major issues such as forced marriages, and cultural traditions, which have no basis in Islam and the Quran.
MQI's fight for the rights of women is reflected by the organisational structure of MQI, as women are represented in every council, body and department of the MQI organisation, she said.
Mrs Atkinson further explained how interfaith dialogue on the Indian subcontinent, initiated by Shaykh-ul-Islam Dr Muhammad Tahir-ul-Qadri, has developed into close relations between MQI and communities of other faiths and religions.
She ended her talk by telling the audience how Shaykh-ul-Islam has always and continues to propagate the classical teachings of the Holy Quran and the teachings of the Holy Prophet (S.A.W.)
After her talk Minhaj Naat Coumcil led by Qari Zaheer Ahmed recited beautiful nasheed.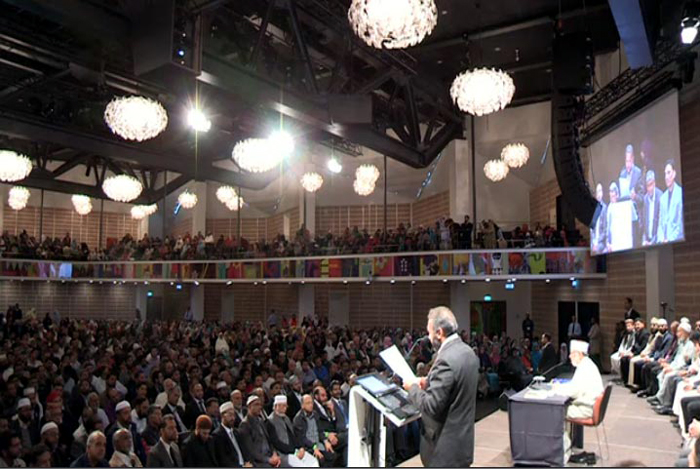 President of MQI Denmark, Mr. Sayyid Mahmood Shah, addressed the gathering by congratulating everyone on the successful events held in Denmark under the subject of "Tackling Radicalism Tour 2012". Sayyid Mahmood Shah praised Shaykh-ul-Islam for his unprecedented efforts in the struggle for peace and interfaith dialogue. He continued to say that Shaykh ul Islam has worked and spoken on all fields and aspects of life in order to give a clarification of the Islamic code of conduct taught by Holy Prophet (S.A.W). Muslims and non-Muslims across the world are currently benefiting from Shaykh ul Islam's teachings, and his knowledge and wisdom.
Presidents of the MQI centres of Denmark namely Mr. Moazzam Butt, Mr. Hafiz Sajjad Ahmed, Mr. Zahid Mahmood Kiyani and Mr. Raja Akbar received the shield awarded to MQI Denmark for their accomplishments in recent years and purchase and establishment of the new MQI HQ in Denmark.
Mr. Mohammed Jamil presented a beautiful nasheed, spell-binding the audience with his melodious voice. Mr. Nadeem Younis invited Shaykh-ul-Islam to deliver his talk to the audience.
The conference ended with dua by Shaykh ul Islam Dr Muhammad Tahir-ul-Qadri.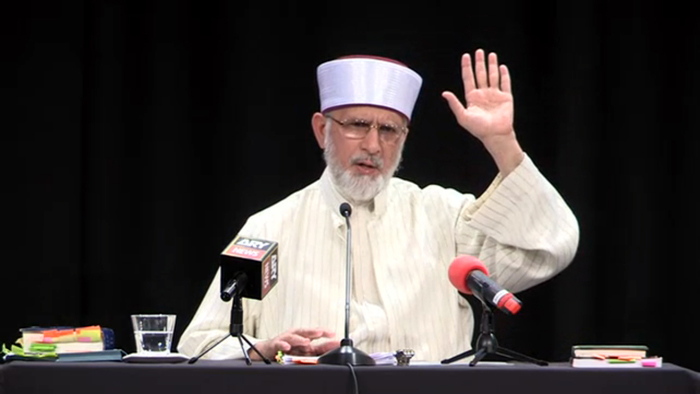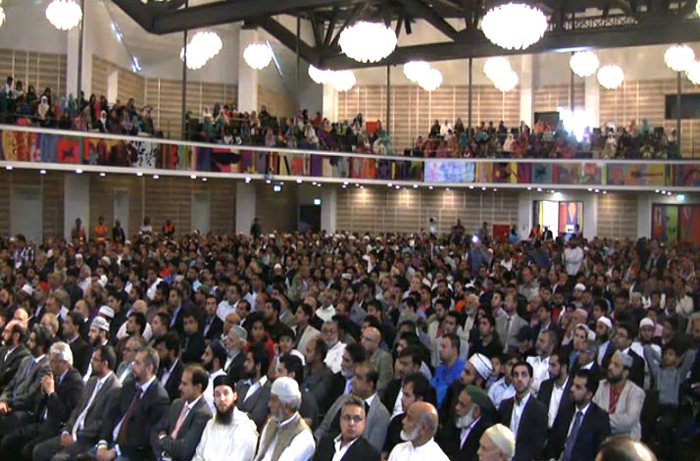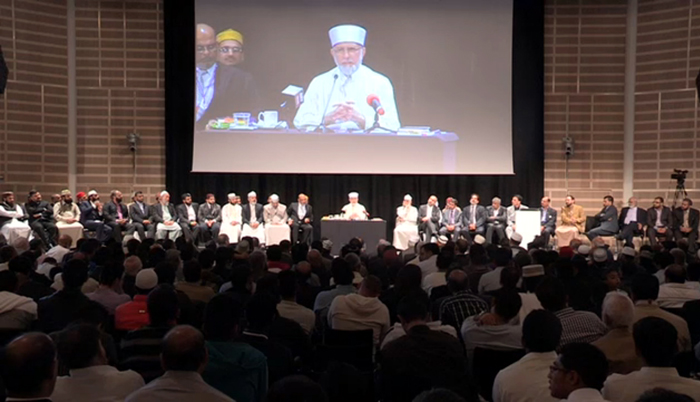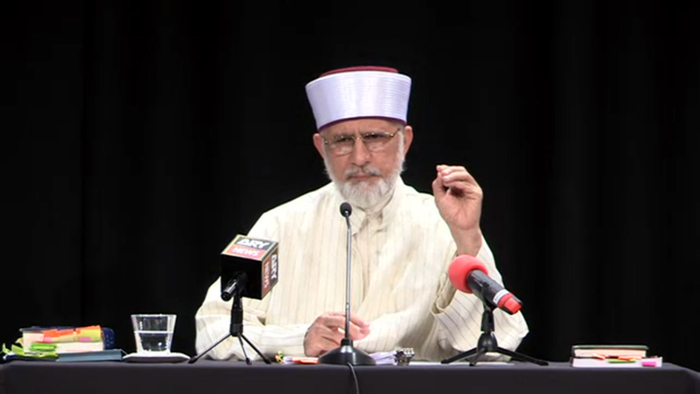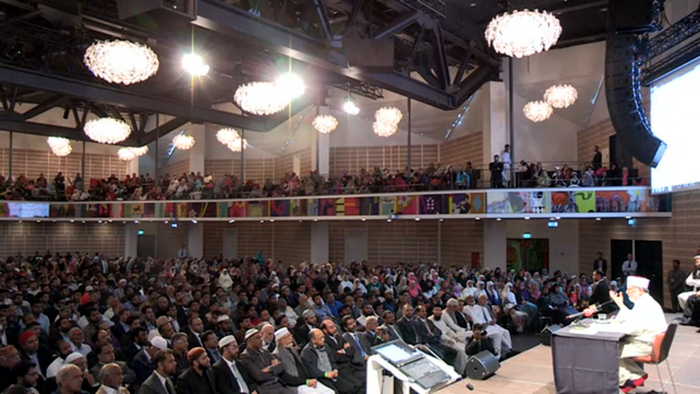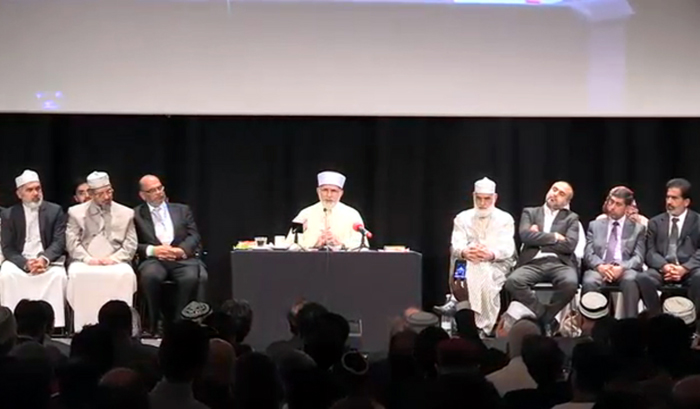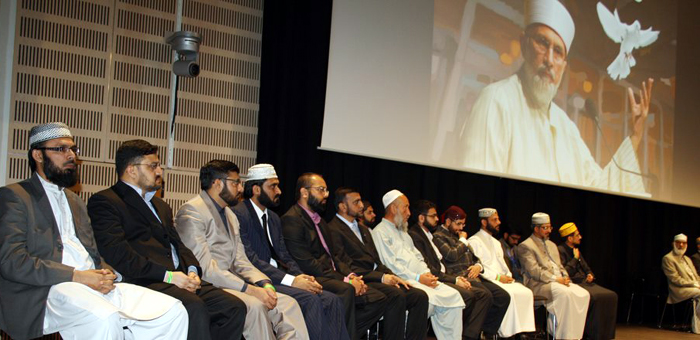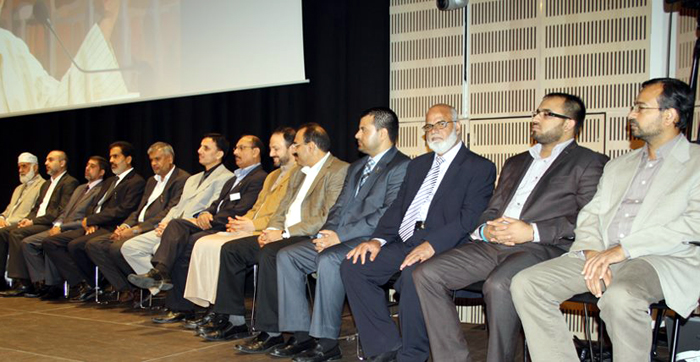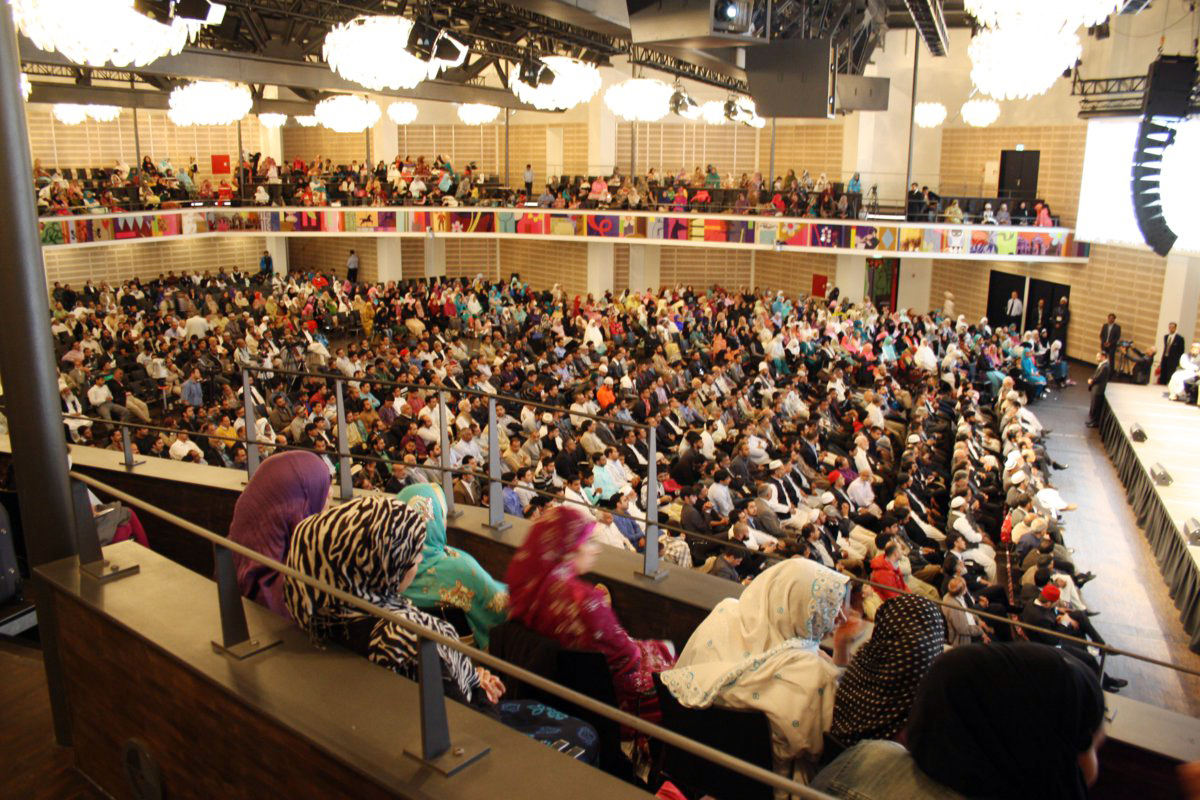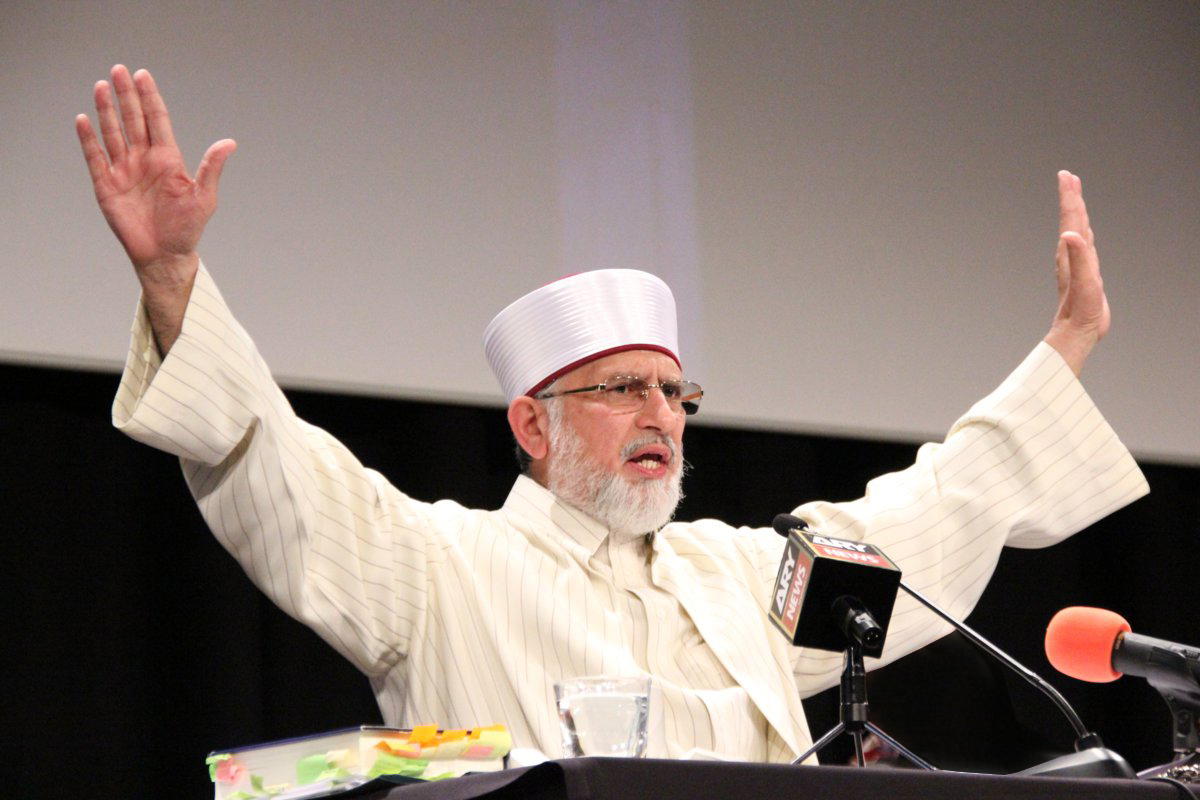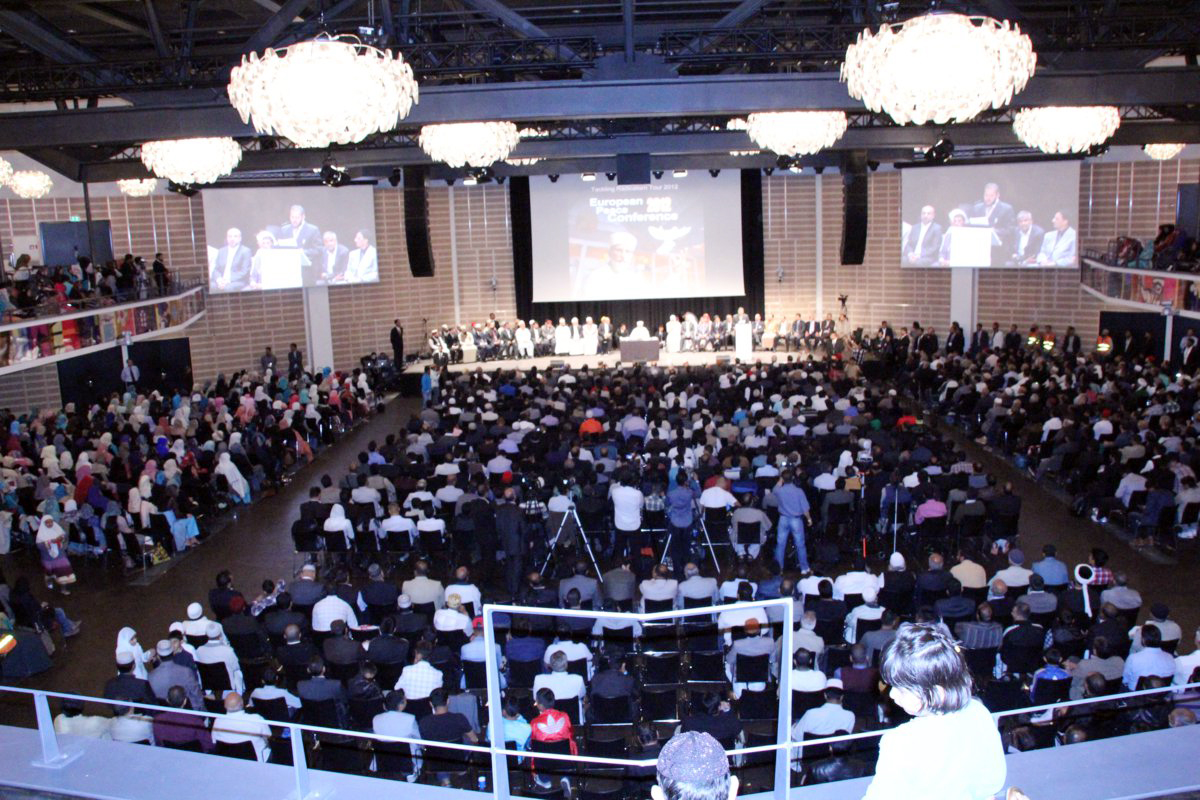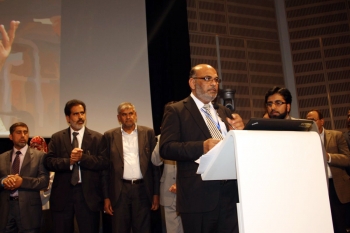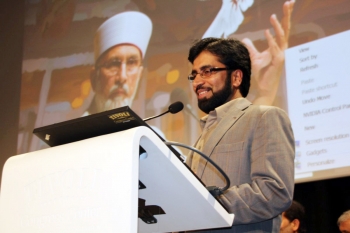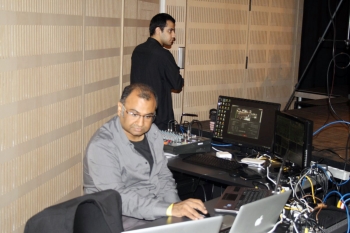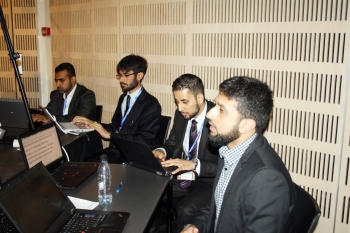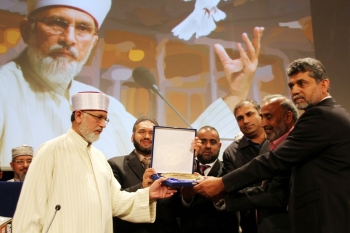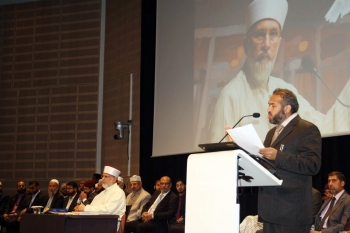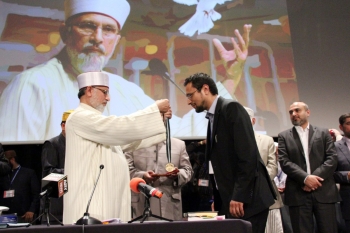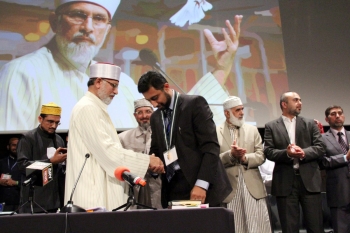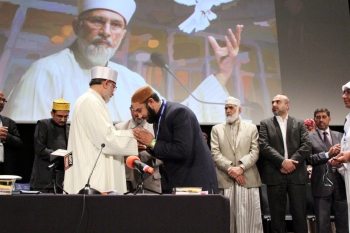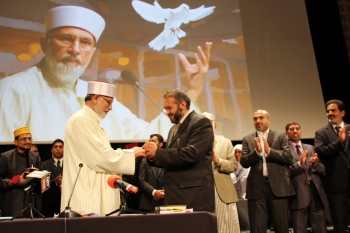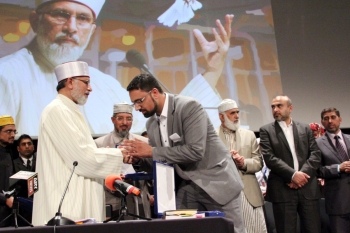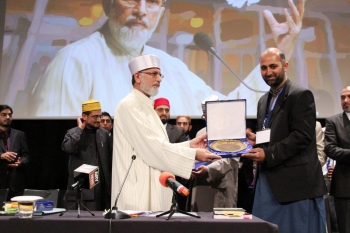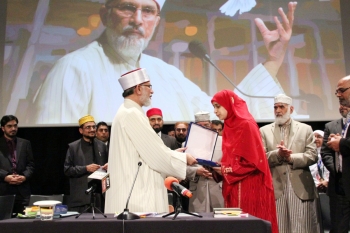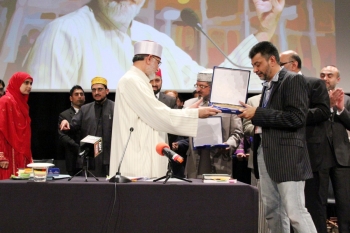 A large gathering attended the ceremony at Central Secretariat of MQI Lahore (Pakistan)