Expert on Tahir-ul-Qadri: He is not an extremist
This Article was published in
www.metroXpress.dk
Publiceret 2012-09-11 4:43 p.m.
Page edited by Jesper U. Larsen
A Pakistani Islamic scholar has been Minister of Social Affairs to cancel an anti-radicalization conference in Copenhagen tonight. His views are not extreme, think Islam researcher.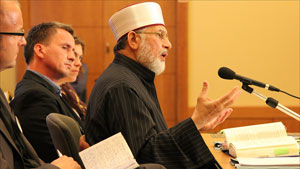 The Pakistani Muslim leader Muhammad Tahir-ul-Qadri has become tonight's central character at the Ethnic Youth Council's anti-radicalization conference at CBS in Copenhagen, after Minister of Social Affairs Karen Haekkerup (S) a few days ago announced that she would not share a platform with him.
The religious leader is best known for issuing a fatwa - and thus condemn - radicalization of young Muslims, which can lead to terrorism. But he is also known to contribute to Pakistan's blasphemy law, which an 11-year-old Christian girl was recently convicted by, and risk the death penalty.
It was on the grounds of the latter, the Minister of Social Affairs sent her apologies.
But the two positions are not necessarily contradictory, believes Islam researcher Jørgen Baek Simonsen, who is a professor at the University of Copenhagen. For Muhammad Tahir-ul-Qadris main message is that Pakistani Muslims must abide by the laws of the country where they live, he explains.
"In the Pakistani context, he helped to implement a blasphemy law, and in this connection he maintains that the legislation in a Pakistani context must be implemented by Pakistani correlation. And it is not for us to decide what the constitution should be in Pakistan, nor is it other than Danish citizens to determine the laws of Denmark, "he says.
Can you call Muhammad Tahir-ul-Qadri for extremist?
"I, as a researcher, can't label people, but I take notice ofhim clearly talking against radicalization that lead to terrorism, and that he also encourages Pakistanis in Denmark to abide by this country's laws. And so far, I have not seen examples of something about him, that appears in an opposing direction", he said, adding that he will not evaluate whether Minister of Social Affairs Karen Haekkerup was properly informed before she denied attending the conference.
The conference, which aims to reject the radical Muslim groups in Denmark, starts tonight at 18 o'clock. Other speaker's of the evening haven't found any reason to cancel.
Jakob Scharf, head of the Danish Security and Intelligence Service (PET), is according to TV2 News justifying his presence with that one should encourage a dialogue with people who represent controversial views to strengthen the dialogue as a whole.
Also researcher Rene Karpantschof and Copenhagen Mayor of Employment and Integration affairs Anna Mee Allerslev (R) participate in the conference. The politician explains that she participates because the conference is about renouncing terrorism and extremism.
"In a democratic society it is possible to focus on the main issue, while we strongly distance from a person's position on other things. We must remember that we politicians can't solve the problem alone. We need to work with experts and organizations, if we want to ensure that young people understand the message that Islam and terror are not compatible. And this is precisely this message that is crucial to me, that we are fighting extremism and terrorism in Copenhagen and Denmark, "she wrote in an email to metroXpress.dk.
Ekspert om Tahir-ul-Qadri: Han er ikke ekstrem (Danish)
En pakistansk islamisk lærd har fået socialministeren til at melde afbud til en antiradikaliseringskonference i København i aften. Hans holdninger er dog ikke ekstreme, mener islamforsker.
Den pakistansk-muslimske leder Muhammad Tahir-ul-Qadri er blevet aftenens hovedperson på Ny-Dansk Ungdomsråds antiradikaliseringskonference på CBS i København, efter at socialminister Karen Hækkerup (S) for et par dage siden meddelte, at hun ikke ville dele talerstol med ham.
Den religiøse leder er blandt andet kendt for at udsende en fatwa – og dermed fordømme – radikalisering af unge muslimer, som kan lede til terrorisme. Men han er også kendt for at være medvirkende til Pakistans blasfemi-lov, som en 11-årig kristen pige for nylig blev dømt efter og dermed risikerer dødsstraf.
Det var med begrundelse i sidstnævnte, at socialministeren meldte afbud.
Men de to holdninger er ikke nødvendigvis modstridende, mener islamforsker Jørgen Bæk Simonsen, der er professor på Københavns Universitet. For Muhammad Tahir-ul-Qadris hovedbudskab er, at pakistanske muslimer skal efterleve lovene i det land, de opholder sig, forklarer han.
»I pakistansk sammenhæng har han været med til at gennemføre en blasfemi-lov, og i den forbindelse fastholder han, at lovgivning i en pakistansk sammenhæng skal gennemføres efter pakistanske forhold. Og det er ikke os, der skal bestemme, hvad grundloven skal være i Pakistan, ligesom det ikke er andre end danske statsborgere, der skal bestemme lovgivningen i Danmark,« siger han.
Kan man kalde Muhammad Tahir-ul-Qadri for ekstremist?
«Jeg giver mig som forsker ikke i kast med at kategorisere, men jeg tager til efterretning, at han klart vender sig mod radikalisering, som kan føre til terrorisme, og at han i øvrigt opfordrer herboende pakistanere til at efterleve landets love. Og indtil videre har jeg ikke set eksempler på noget, der giver grund til at skyde ham det modsatte i skoene,« siger han og tilføjer, at han ikke vil vurdere, om socialminister Karen Hækkerup var ordentligt informeret, før hun meldte afbud.
Konferencen, der har til formål at komme med modsvar til radikale muslimske grupper i Danmark, begynder i aften klokken 18. Og aftenens andre talere har ikke fundet anledning til at melde afbud.
Jakob Scharf, chef for Politiets Efteretningstjeneste, begrunder ifølge TV2 News sin tilstedeværelse med, at man skal styrke 'den uenige dialog med personer, der repræsenterer kontroversielle holdninger' for at styrke dialog i det hele taget.
Også forskeren Rene Karpantschof og Københavns beskæftigelses- og integrationsborgmester Anna Mee Allerslev (R) deltager i konferencen. Den Radikale politiker forklarer, at hun deltager, fordi konferencen netop handler om at tage afstand fra terrorisme og ekstremisme.
» I et demokratisk samfund er det muligt at fokusere på bolden, samtidig med at vi tager skarpt afstand fra en persons holdninger til andre ting. Vi skal huske, at vi politikere ikke kan løse problemet alene. Vi er nødt til at samarbejde med eksperter og organisationer, hvis vi vil sikre os, at de unge forstår budskabet om, at islam og terror ikke er forenelige størrelser. Og det er netop det budskab, der er afgørende for mig, at vi bekæmper ekstremisme og terror i København og Danmark,« skriver hun i en mail til metroXpress.dk.
Source : http://www.metroxpress.dk/nyheder/ekspert-om-tahir-ul-qadri-han-er-ikke-ekstrem/KOblik!Oh0mYVW5yS5Ww/