Shaykh-ul-Islam visits Al-Azhar University on invitation of Shaykh-ul-Azhar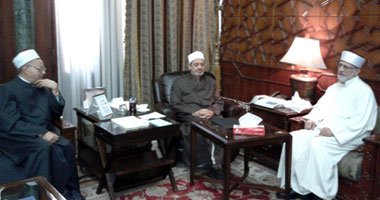 Shaykh-ul-Islam Dr Muhammad Tahir-ul-Qadri, who is currently on 10-day tour of Egypt starting from October 19, visited the world renowned Al-Azhar University, an ancient seat of learning, on the special invitation of Vice Chancellor and Shaykh-ul-Azhar Dr Ahmad Tayyab.
Shaykh-ul-Islam was accompanied by Dr Hassan Mohi-ud-Din Qadri, President of Supreme Council of MQI. Shaykh-ul-Azhar extended a warm welcome to Dr Muhammad Tahir-ul-Qadri and Dr Hassan Mohi-ud-Din Qadri on their arrival at the University.
The visit of the University was followed by a meeting between both scholars of the Muslim world in which they discussed contemporary challenges facing the Muslim world. They highlighted the need of unity within the Muslim ranks to fight off these challenges. They agreed that Islamic principles of pluralism, moderation, tolerance and inclusiveness which are also the core themes advocated by Al-Azhar University as well were relevant to the present-day world and needed to be employed vigorously. The issue of setting up a representative body of Al-Azhar graduates in Pakistan also came under discussion.
Shaykh-ul-Azhar underscored the importance of work the Al-Azhar University was carrying out for the solution of intellectual and scholarly problems facing the Muslim world so that people could benefit from Islam teachings and traditions of moderation and tolerance and bring about constructive changes in their collective and individual lives.
Dr Muhammad Tahir-ul-Qadri apprised the Vice Chancellor on the steps he and MQI were taking worldwide to promote peace, interfaith harmony and dialogue.
Shaykh-ul-Islam Dr Muhammad Tahir-ul-Qadri thanked Shaykh-ul-Azhar for invitation to visit the University and warm welcome extended to him on his arrival.