Sheikh Rasheed Ahmad visits MQI London
Sheikh Rasheed Ahmed, President of Awami Muslim League (Pakistan) during his current visit to UK, was invited by MQI London on 8 Feb 2013 for a get-together and discussion on the current issues in Pakistan. President, Director and executive members of Minhaj-ul-Quran International along with a large number of the general public were present on the occasion. On request of MQI London, Sheikh Rasheed Ahmed accepted our invitation and on one day's notice MQI London managed to arrange about 300 people.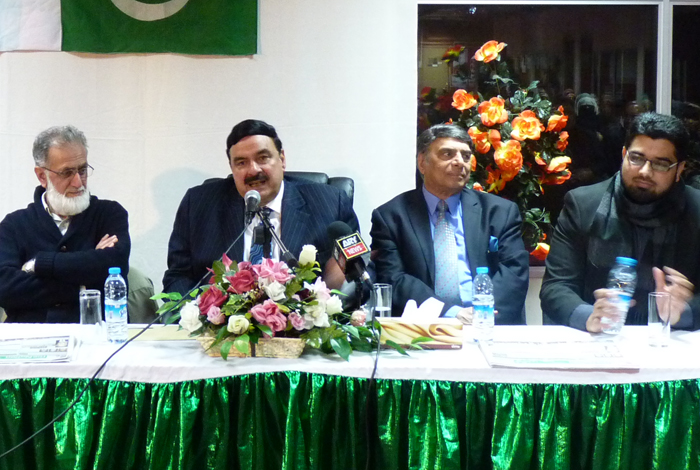 On his arrival, all executive members received the honourable guest and he was conducted to various departments of MQI Secretariat. Dawood Mashadi introduced all executive members and briefed him about with MQI London's daily activities. Light refreshment was also served to the participants. During the discussion, some important current issues were discussed. On a point raised by Khurram Shahzad, Sheikh Rasheed Ahmed suggested that MQI should get more support from religious parties and he wished if all the religious parties join together it would have been different story. He praised the efforts of Dr Muhammad Tahir-ul-Qadri for public mobilization and raising awareness among the masses about the need for fair, free and transparent elections in the country. He said that the Long March was a major success, which made PAT and Dr Tahir-ul-Qadri a stakeholder in the system. He said that PML-N imitated PAT's sit-in but ended up making a joke of itself.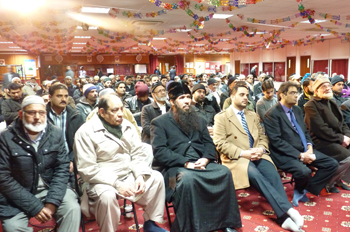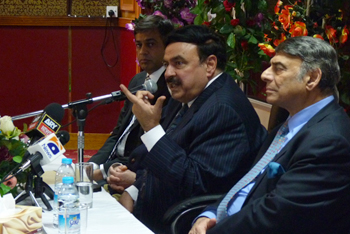 At 5.45 he was conducted to main hall where a large number of people awaited his talk. Allama Hafiz Muhammad Zeeshan started the proceedings with the recitation of Holy Quran and after a brief introduction Shaikh Rasheed Ahmed was invited. He spoke out on the current situation in Pakistan and said that Pakistan was hijacked by the elite class (few families) to the detriment of 180 million people. During his speech he also mentioned that this year's election will be "a bloody election. He added that judiciary and military were committed to support democracy and ensuring that elections were held on time. He also spoke about the sacrifices of his party candidates during the by-elections adding that he could see that the following year would be very bright for Pakistani politics. He said that we welcomed Dr Tahir ul Qadri and would continue to support him on every platform.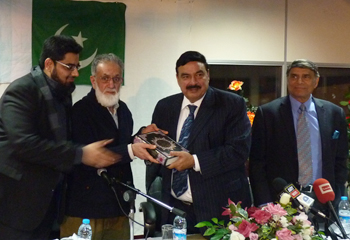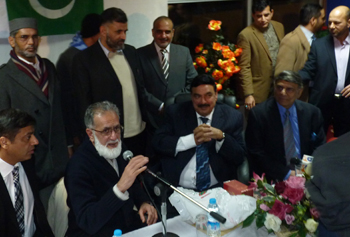 At the end of programme, there was a question and answer session as well. In replying to a question from the audience, he said AML has extended its support to Long March participants and said because of change in route his party did not support the marchers as much as they could or wanted. He said that his party was new to political process and did not have enough resources, but still it was able to provided logistic support to the Long March. On a question to the evacuation of Radio Pakistan building, he said the senior media reporters perhaps did not know the real situation. The audience asked him questions on all issues and he responded to all of them. He said that he supported the Kashmir cause personally as he is a Kashmiri and his soul and heart are imbued with spirit of Kashmir. He said that the day was not far when efforts and sacrifices of Kashmiri people will win them freedom from Indian subjugation. At the end of the programme, Sheikh Rasheed Ahmad was presented a beautiful gift of Irfan Ul Quran Urdu translation by Shaykh-ul-Islam Dr Muhammad Tahir-ul-Qadri). He also added at the end that he congratulates MQI London on this gathering and was very pleased with the order of the programme. A number of local media representative were also present on the occasion including some prominent print and electronic media channels such as GEO, ARY, Express, Jang London, Nation London, UK Time, Urdu Time, Ausaf London etc and the event was highlighted locally.
Reported By: Ghulam Nabi