Imam e Ka'ba visits MQI Centre in Japan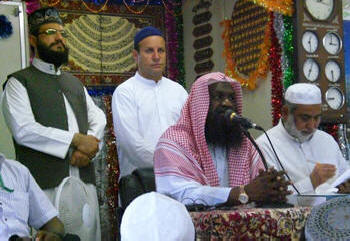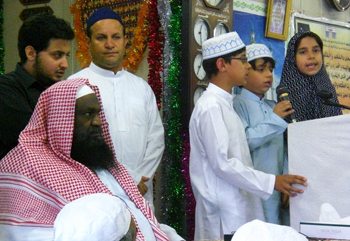 June 30 was a lucky day for the hundreds of the faithful living in Japan. Imam e Ka'ba Sheikh Adil Al-Kalbani led a prayer in Ibaraki-ken in MQI Centre Bandu City. He recited the verses of the Holy Quran in his melodious voice and gave a brief talk on religion to an eager gathering of hundreds of people on the occasion.
The story has it that when As-Sheikh Adil Kalbani visited MQI centre at the time of Zahr prayer during the final phase of his tour, a good number of people from Tokyo and other cities had gathered there. After the offering of Zuhr prayer, Hafiz Muhammad Owais recited the verses from the Holy Quran while Saleh Muhammad Afghani joined a group of children to recite Qaseeda Burda Shareef. Muhammad Inamul Haq conducted the proceedings of the programme.
On arrival of the respected Imam in the MQI's centre, small children, who are students at the Centre, delivered a welcome address in Arabic language. Sheikh Nimatullah also joined children in welcoming the respected guest. They presented bouquets of flowers to the esteemed guest. Allama Muhammad Shakeel Sani, Director of MQI Ebarkikane, and Allama Irshad Hussain Saeedi, Director of MQI Centre Nagoua, were also among the welcoming party.
Sheikh Adil al-Kalbani spoke to the people in Arabic language. Dr Salim-ur-Rehman Nadvi translated his talk for the understanding of the audience. The services of Shaykh-ul-Islam Dr Muhammad Tahir-ul-Qadri were also highlighted in the meeting. The Imam e Ka'ba shook hands with everyone present and proceeded to residence of Saleh Muhammad Afghani to attend a luncheon.