Imran Khan should trust cunning rulers only after thinking deep and hard: Dr Tahir-ul-Qadri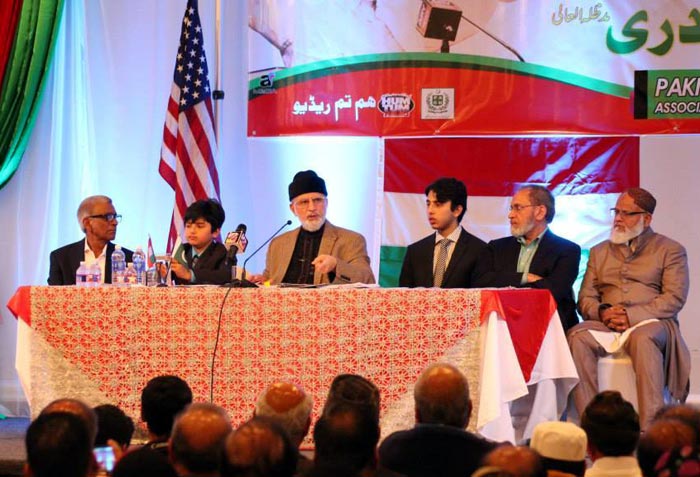 PAT chairman Dr Muhammad Tahir-ul-Qadri has said that Imran Khan should trust the shrewd, cunning and deceptive rulers only after thinking deep and hard. He said that it is a matter of routine for these rulers to set up judicial commissions and then refuse to accept their recommendations. He said that these rulers do not have any credibility, adding it was for this reason that PAT decided to wrap up Islamabad sit-on on its own and convert it into a countrywide movement instead of trusting the rulers. He said that we would force the rulers to submit themselves to law, justice and constitution through public pressure now. He said that the poisonous gas shelled by the police on the intervening night of August 30 and 31, thousands of workers including himself were so affected by it that they have not been able to come out of its poisonous effects so far. He said that he did not care about the sufferings and difficulties strewn in the way of revolution, adding that there is nothing that can stop him from achieving the destination of revolution in Pakistan.
Dr Muhammad Tahir-ul-Qadri expressed these views while addressing the Pakistani community on the last day of three-day Convention in the American state of Taxes on November 10.
Dr Qadri recalled that during the Islamabad Long March in January 2013, the then rulers also signed a written agreement regarding electoral reforms, implementation of the Constitution in letter and spirit and protection of fundamental human rights but turned their back on it soon after. He said that keeping this precedent in view, we have adopted the strategy of not believing in any undertaking or commitment of the rulers and have presented our case in the court of the people.
Dr Tahir-ul-Qadri thanked the Pakistani expatriate community for a very welcome extended to him during his visit of the US and their massive and passionate participation in the conventions in New York, Dallas and Houston. He paid a glowing tribute to the overseas Pakistanis for their patriotism, saying that they feel far more strongly for Pakistan than their compatriots living in the country. He said that PAT's struggle is aimed at gifting every Pakistani irrespective of whether he lives abroad or inside a country that is peaceful and where law holds sway.
He said that Prime Minister Nawaz Sharif backtracked from his commitment of conferring 'right to vote' on the overseas Pakistanis, adding that we would make them get this right. He said that overseas Pakistanis have always risen to occasion and have been forefront in the efforts to help their fellow countrymen, be it earthquake, flood or other disasters. He said that foreign remittances of the Diaspora community are a major source of revenue in the country. He vowed not to let anyone exploit them anymore.
Dr Qadri said that he spent 55 years of his life serving the people of Pakistan and his services are spread in multiple fields such as education, human welfare, moral training, religion, and politics. He said that he served the overseas Pakistanis by living in Canada for eight years where he successfully pleaded Pakistan's case against terrorism, militancy and extremism. He said that he has now settled in Pakistan for ever where he has committed to bringing about revolution. He said that he visited Pakistan off and on during his stay abroad and now he would visit overseas Pakistanis off and on but his permanent stay will be in Pakistan. He said that the movement of revolution he has started, he would take it to its ultimate and logical end.
Dr Tahir-ul-Qadri said that the Article 3 of the Constitution envisaged an end to every kind of exploitation of the citizens but the rulers have been breeching this Article through their addiction to and demonstration of VIP culture where common citizens are treated as sub-humans. He said that these powerful people get the roads blocked for their passage and induct their incompetent kith and kin in top government positions in manifest violation of merit. He said that the poor people have to pay for excesses of their rulers and consequently the country's economy remains trapped in debt and slow-down mode due to profligacy and flawed policies of rulers. He said that now the masses would use the power of vote to send these political oligarchies home for good, adding that revolution is a ray of home amid darkness of disappointment.
Dr Qadri said that no new legislation is required to end VIP culture in the country as only implementation of Article 3 in letter and spirit will be enough for this purpose. He said that the so-called democratic parties that come into power with the mandate of people establish family dynasties, adding that it explains why people get fed up so soon and start a movement for end of the government.