MQI & Newham police launch joint initiative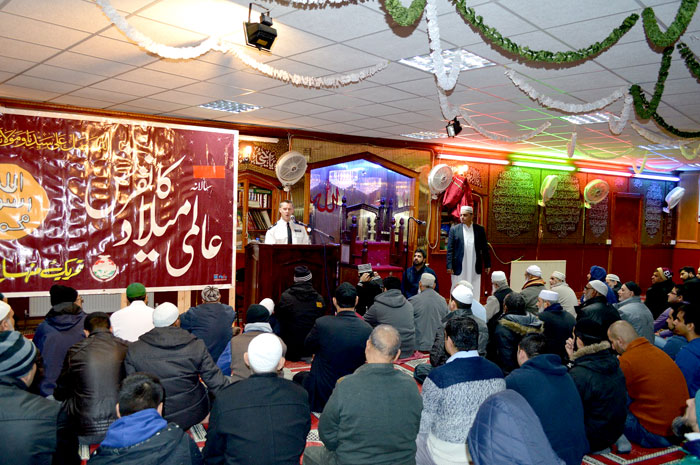 As part of its new community initiative, Minhaj-ul-Quran London will be working with the local Police in the following areas:
Quarterly talk by a representative of the Police at Friday prayers
Regular workshops with the youth, women and members of the mosque
Open surgery with your local police
Visits by members to the local police
Speaking at the Friday prayers, Superintendent Ian Lardner (Met Police) said "we have been working with Minhaj-ul-Quran International since September 2014. It is excellent that we are now constructively working towards areas which will benefit our community"
Supt Lardner announced a joint partnership between MQI London and Newham Police for 2015, "We will be visiting and addressing the congregation at Friday prayers every three months. We will also be organising workshops with women, the youth and members of the mosque. Our focus will be to concentrate on areas such as domestic violence, extremism and issues affecting the local youth in that area. He further added, there will also be an 'Open Surgery' at the end of every month at the mosque, a great opportunity for members to discretely speak to a member of the local police about a concerning matter."
Speaking to the congregation, Mr Lardner wished 'a Happy Eid Milad Mubarak' on the occasion of the birth of the Holy Prophet (PBUH).
There was also a stall outside the MQI London mosque, in which the congregation had the opportunity to speak at first hand to members of the Police about crime and prevention. Leaflets and detailed information was distributed amongst the people. Almost 1000 people participated in the event.
Shaykh Muhammad Zeeshan, Director MQI London, thanked the Newham Police for their time and spoke of his interest in 'working together'. Speaking at the event Shaykh Zeeshan said "it is the teachings of Minhaj-ul-Quran to promote community cohesion. We welcome this decision very much."