Medical Team Arrives From Greece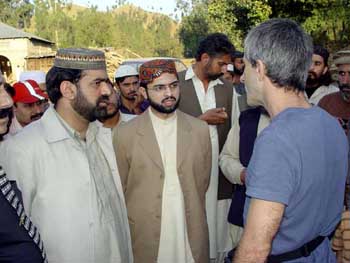 18th October 2005
A team of 4 Greek arrived today in Islamabad to work in collaboration with MWF in Pakistan for the victims of the earthquake.
The Greek team represents the pharmaceutical companies in Greece. MWF Greece had managed the distribution of medicines to the medical camps in Pakistan with the collaboration of MWF Pakistan. The team today visited the central camp of MWF in Rawalpindi. They highly appreciated the efforts of MWF. Tomorrow they will be leaving for a 3 days visit to Muzafarabad, Mansehra, Balakot and Bagh. During their visit MWF and the Greek team will be distributing medicines in the medical camps set up by MWF and other organizations.
25 more trucks were also sent today for different places in Kashmir and NWFP. The strategy of the relief aid is now entering the 2nd stage of its efforts. in the 2nd phase of the MWF relief efforts MWF will establish Minhaj Tent Villages.
Pictures of the EARTHQUAKE RELIEF AID can be seen on the webpage of welfare www.welfare.org.pk and on the main page of Minhaj www.minhaj.org