Dr Hassan Mohi-ud-Din Qadri addresses Halal Summit in Malaysia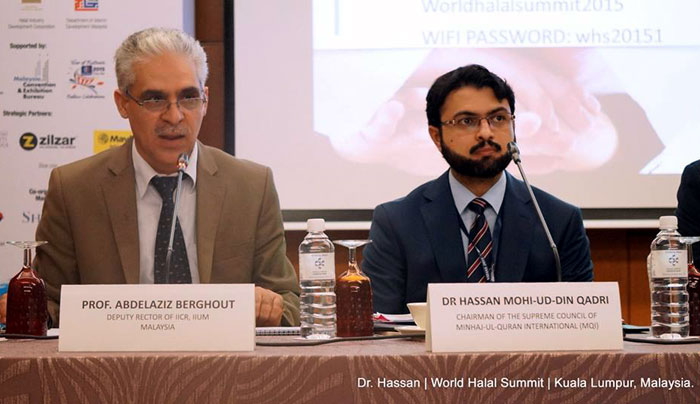 Dr. Hassan Mohi-ud-Din Qadri, Chairman Supreme Council of MQI, has underlined the need of employing ethics as a guiding principle for commerce and trade at global level. He said that implementation on ethical code of Islam serves two purposes namely compliance with quality controls and satisfaction of consumers. He said that interests of the consumers are given paramount importance in business transactions.
The Chairman of MQI Supreme Council expressed these views while speaking at the Scholar Forum of Halal Summit currently underway in Kuala Lumpur, Malaysia. He represented Pakistan and spoke on the breakout session of the Scholar Forum on the subject of "The need for ethics in global commerce."
Dr. Hassan elaborated on the global Islamic approach with reference to the ethical perspectives. He explained the moral principles and ethics underlining the commerce and trade at the global level. He said that fair competition is at the heart of mutually beneficial trade partnerships. He dubbed the Halal Summit at a timely initiative that brought together scholars from various parts of the Islamic world to discuss the subject of trade and commerce in the light of Islamic perspective. Dr. Hassan also spoke about the Islamic tenants concerning the area with reference to Islamic sources as well as the prohibited matters which Islam has explained in relation to commerce.
Dr. Hassan represents #Pakistan at the World Halal Summit (Scholars Forum) in Kuala Lumpur, Malaysia. pic.twitter.com/iQlyZ410q1

— Dr. Hassan Qadri (@DrHassanQadri) April 2, 2015