Leader's 57th Birthday Anniversary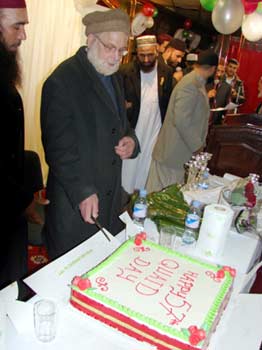 MEMBERS of the public and workers of Minhaj al-Quran International organisation gathered at the Minhaj al-Quran centre on Romford Road in London, UK to commemorate the birth anniversary of the organisation's founder Dr Muhammad Tahir al-Qadri. 
Dr Muhammad Tahir al-Qadri a renowned Muslim scholar and prolific author reached the age of 57 on Tuesday 19th February 2008. Born in 1951 in the Pakistani province of Punjab Dr Muhammad Tahir al-Qadri founded the Minhaj al-Quran International Organisation in 1979 with centres established in over 82 countries of the world. The organisation aims to provide non-political education and training and campaign for social justice for the communities it works in. Internationally acclaimed scholar Dr Qadri heralds over a million followers and holds the highest degree in classical Islamic scholarship. Dr Qadri also holds the highest authorisations in prophetic tradition.  On a recent stop off in East London Dr Qadri met with East Ham MP Stephen Timms, Councillor Dr Zulfiqar Ali Chairman of the Newham Alliance of Islamic Associations and ex-mayor of Newham, Councillor Abdul Karim Shaikh.
M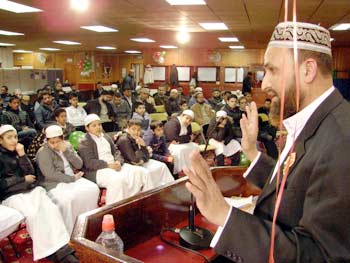 uhammad Muzzamil a newcomer to the organisation told of his experience when he first met with the organisation's leader, Muazzamil said "I shook hands with Dr Tahir al-Qadri and kissed his hand as a gesture of respect and awe to him. Dr Qadri immediately placed his hand on my heart and whispered a prayer my hands and legs were shaking at the time. I immediately felt a great sensation of inner peace and harmony. It felt like something special had been poured into my heart". Muhammad Ali also a new comer to the organisation sang couplets of poetry which he composed himself in homage to the organisation's leader Dr Qadri.
Shaykh Muhammad Sadiq Qureshi, chief Imam of the Minhaj al-Quran centre in Forest Gate announced fourteen new life members to the organisation and eleven memorials. As the crowd stood up to a cake cutting ceremony, Imam Qureshi proclaimed "Shaykh al-Islam", the crowd chanted "Jeay Tahir" – "Long live Tahir".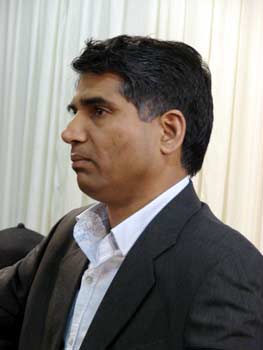 Muhammad Tahir Chaudary Chief Editor of the Forest Gate based Urdu Times International newspaper told the gathering: "Whenever I travel the world I always desire to meet Dr Qadri, a man of great talent and spiritual warmth, a very few of his calibre are to be seen in the era we live in". He also praised the organisation saying: "Minhaj al-Quran has flourished throughout the world in a fairly short span of time and now exists in many countries of the world."
Minhaj al-Quran International is declared by the United Nations as the largest non-governmental organisation. The organisation's patron in Chief Dr Qadri a Islamic law graduate of the esteemed Punjab University received "Outstanding Man of the 20th Century" award from the American Biographical Institute and "International Man of the Year 1998-99" award from the International Biographical Centre in Cambridge in the UK.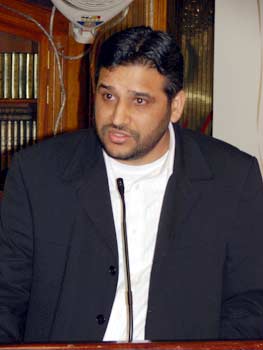 Ishtiaq Ahmad president of Minhaj al-Quran centre told listeners: "The light of Shaykh al-Islam Tahir al-Qadri continues to grow day-by-day. The light of piety and awe continues to manifest itself in the blessed face of Shaykh al-Islam Tahir al-Qadri." Mr Ahmad also said: "May I take this opportunity to send our warm-hearted congratulations to our beloved leader Shaykh al-Islam Dr Tahir al-Qadri on this very happy occasion". Dr Qadri currently resides in Canada and travels the world on official visits on behalf of the organisation.
Among others who attended the gathering included some of the earliest members of the organisation, ex-president al-Haj Muhammad Younis, ex-president Sufi Muhammad Aslam and Shaykh Sanaullah Sethi, Imam of the late Councillor Sardar Ali's Al-Habib mosque in Canning Town.
This report is NOT subject to copyright laws and may be utilised by the local press. You may print, copy or utilise it for research, if the latter, please notify us beforehand.
Media & External Affairs Secretary
Minhaj al-Quran International centre