Impact of the sit-in to continue to rattle the status quo: Dr Tahir-ul-Qadri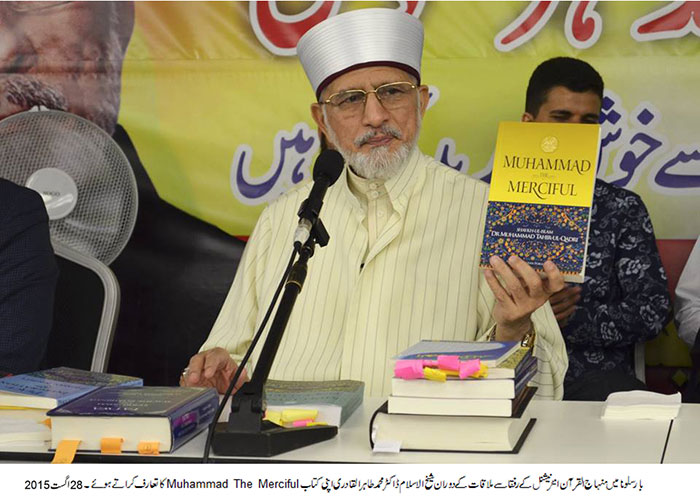 Addressing the leaders and workers of PAT and MQI and the members of the Pakistani Diaspora community in the Spanish city of Barcelona, PAT Chairman Dr Muhammad Tahir-ul-Qadri has said that the PAT staged a sit-in against the corrupt and oppressive system in Islamabad. He said that the sacrifices of our workers would not go in vain, adding that the effects of the sit-in are bound to appear and rattle the status quo. He said that the final round is going to start soon and the so-called leadership that has looted the national wealth will not get a place to hide in. He said that their loot and plunder will be returned to the national exchequer. He asked the people to forge unity in their ranks against corrupt leaders by raising the slogan of 'No to corruption and plunder of state resources.'
Dr Tahir-ul-Qadri demanded that the full might of the state should be used to net the economic terrorists after conclusion of Operation Zarb-e-Azb. He said that corruption and terrorism are intertwined. He said that we staged a long march against the illegally formed Election Commission in January 2013 and today all political parties are making hue and cry against the same Election Commission. He said that unless the nation takes to the streets for their rights, the predators will continue to oppress it.
Dr Tahir-ul-Qadri expressed these views while addressing a ceremony held to launch peace curriculum in Barcelona. He said that the current corrupt system paved the way for a culture of loot, terrorism and injustice. He said that personalities instead of institutions were strengthened. He said that the ministers threatened the judges for not giving verdict of their choice and carried out their character assassination. He asked whether this attitude represents the politics of democracy and nobility. He said that it is for this reason that we did not accept the JIT consisting of Punjab police officers for investigation of Model Town tragedy.
The PAT Chairman said that the honourable Justice of the Model Town Commission was also threatened and his character assassination was carried out. He said that one year has gone by but the martyrs of Model Town tragedy have not been provided justice. He asked we want to know when the state institutions will make the perpetrators of Model Town tragedy stand in the dock.
Dr Tahir-ul-Qadri said that with the initiation of action against economic terrorists, conspiracies have begun to be hatched. He said that the anti-army statements of the government ministers were also link of the same chain. He said that the sit-in staged in front of the Parliament House ended the environment of fear. He said that today the farmers, clerks, the blind people and even milk men are bold enough as to stage a sit-in in front of the Punjab Assembly for fulfilment of their rights and the rulers living in palaces are forced to hold a dialogue with them.