Celebrations of Mawlid un Nabi (saww) and Peace Procession with Fire sticks
Eid - e - Nabwi ka Zamana a gaya
Ghamzadu ko muskurana a gaya
Loot lai ai Haleema tu kisey
Good mey arshi khazana a gaya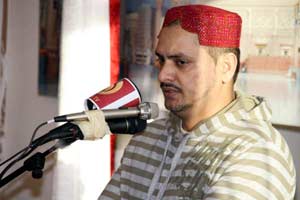 Love of the Holy Prophet Muhammad (saww) is the spirit of minhaj ul Quran.... This is the fundamental of Minhaj - ul - Quran International.
Where this month brings the message of love for the whole ummah there it has particular meanings for MQI. From the plate form of MQI the Mawlid of the Holy Prophet Muhammad (saw) has been celebrated with love and respect in the whole world.
In the beautiful Scandinavian country--Norway, Oslo 9 Annual Mawlid - un - Nabi programmes has been arranged under MQI. the names of the places, Galgeberg (main Idara of MQI), Holmalia, Bjørndal, Åsbråtten, Prinsdal,Stovner, Høybråtten and Manglerud and outside the oslo 4 programmes has been taken place in Lørenskog, Skjedsmo, Stavanger and Moss this is the big achievement of MQI while Mawlid programmes celebrations has been taken place everyday from the beginning of this month. Participation of hundreds and thousands people in the Aalmi Mawlid un Nabi (saw) Conference of lahore Pakistan is a big sign that we don't even care for our lives for the Namoos of our Holy Prophet Muhammad (saw).That number of celebrations of the Mawlid Programmes in the whole world and with such gatherings, Aqa(saw) ki nam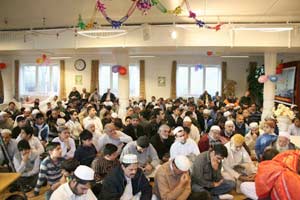 oos par hamla karney walu k mun par tamacha heyand this is due to Faiz of Huzoor Shaykh - ul - Islam Doctor Muhammad Tahir - ul - Qadri that the whole Muslim Ummah all over the world celebrating the Mawlid - un - Nabi celebrations with such love and respect. Because a few years ago when the relation of the Muslim Ummah became weak or was cut with The Holy Prophet Muhammad (saw) and people were afraid to celebrate the Mawlid of the Holy Prophet Muhammad (saw) because they were called as Bidatis and they have to face fatwa's of the amongsters. In such circumstances thats only him who stood up against all these fitna's and proved from The Holy Quran and Hadith that to celebrate the Mawlid of Prophet Muhammad (saw) is the order of Allah (swt) and His Beloved Prophet Muhammad (saw) and provides such evidences that the mouth was shut of the fitna parwars. Same while he bowed the light of the love of The Holy Prophet Muhammad (saw) in the hearts of the Ummah specially in the hearts of the youngsters and awaked their souls.
deen ki is miti hui qadar ko esa zinda kia Jaan to di hui usi ki thi Haq to ye hey k haq ada na hua Ye jaan to Zahoori un key tufail hey Is jaan ko Hazoor ki Namoos pr waar do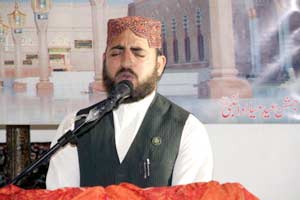 And this reality is clear now that love of The Holy Prophet Muhammad (saw) is called Emaan, if we have love of The Holy Prophet everything is acceptable and if one has burden of aamaal but not have respect and love for The Holy Prophet of that level which is required then nothing is acceptable.
Alhamdulillah the evening of the 16th of March 2008 was an inspirational one for the affiliates of Minhaj - ul - Quran International Oslo as the annual Mawlid - un - Nabi SAW programme organized by Minhaj - ul - Quran Women League Oslo took place in the MQI Idara Oslo.
Thousands of both men and women, young and old gathered to participate this splendid programe.The both hall was full and the men were standing on stairs from the first flour upto the third one due to lack of space.
Director Minhaj Education Centre Respected Allama Noor Ahmad Noor was presiding the gathering while Respected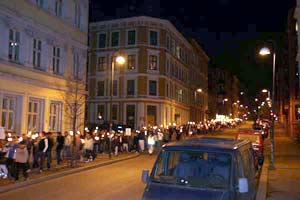 Allama Ghulam Rabbani Tamoor from Lahore Pakistan, President of Minhaj Naat Council Lahore Zaheer Ahmad Bilali were guest of honor. President MQI Oslo Parvaiz Nisar, Vice President MQI Oslo Iftikhar Mehmood, Senior Naib Sadar of European Council Afzal Insari, Respected Ulamaa's from Ghosia Masjid Oslo were also present on the stage.
The proceedings of the evening commenced with the recitations of The Holy Quran
Beautiful nasheeds were sung by MInhaj sisters, then a student of MEC Sobaan Ahmad delevired a speech beautifully.So invited Allama Noor Ahmad Noor, special guest Respected brother Zaheer Ahmed Bilali President of Minhaj Naat Council Lahore (who specially came from Pakistan to celebrate this moment with the people of Norway) on the stage to recite beautiful naats in the prais of Rasool - Ullah (saww) in his beautiful voice. The audience joined him in reciting and admired him by sloging and waving their hands.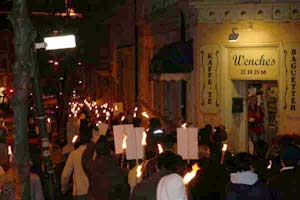 Then respected respected Allama Ghulam Rabbani Tamoor was invited on the mic to deliver his speech. First he thanked the organisers by organising the Mehfil and the audience for participating in such Mefil. He said i am surprised by saying such huge gathering, it seems that the whole population in oslo of the pakistani people have gathered here on the centre of Minhaj - ul - Quran. He started his speech by araising this question that, why we celebrates the Mawlid programme, although Aaqa(saw) has gone from us on the same day, so why just celebrations and other questions like this. He said peoples who think like this are mislead or have lack of knowledge and don't study properly. He mentioned that Allaha (swt) has said that ....Main ney momnu par bara ehsaan kia key un ko apna mehboob Nabi (saw) ata farmaya) . So in this verse Allah (swt) ehsaan jita rahey hen and the verse of the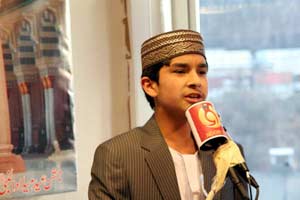 Holy Quran has the same meaning now a days as it was 1400 years ago.This proves that Allah (swt) has not taken back this nemaat of His Beloved Prophet Muhammad (saw) if this was so then this verse has no meanings. (MaazAllah) so our Holy Prophet Muhammad (saw) is still with us and still in us and will remain in us till life of this world. So thats'y we celebrate the day on which we got this great neemat.
2nd how to celebrate is their any boundries in celebrations so the answer is no except the celebrations must stay in the boundries which islam has given us. As mentioned in The Holy Quran Allah (swt) said, soorat younas, verse 19.Allah key fadal or us ki rehmat par khushian mnao. The fadal and the Rehmat of Allah is Aqa (saw). As mentioned in Quran . we have sent you as Rehmat towards the whole universe.
so to celebrate for the Fadal and Rehmat of Allah no boundries has been given by Allah (swt) , celebrate as your heart wants to , recite Quran, Durood and nafwafil. decoration of the stage, new clothes, lighting, sadqa, mawlid dinners , reciting nasheeds in the parais of Rasool Ullah (saw), telling the poeple about his childhood, his life his beauty everything is ok.
The programme came to end with a special dua by Respected Allama Ghulam Rabbani Tamoor and Salaam to Rasool Ullah (saw) led by Respected Brother Zaheer Ahmad Bilali.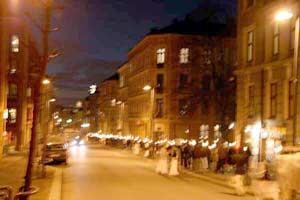 After the programme came to end a peace march with fire sticks was carried out which was organised by the Women League Minhaj - ul - Quran Oslo. The march started after the maghrib prayer in darkness of the night and was acarried out throughout the town to celebrate the special occasion of Eid Mawlid - un – Nabi (saw). Every one was reciting Durood Pak. Every one was fallen into strange kind of feeling. The march went from various streets and came back after an hour. Packed food was distributed out. It was truely a joyous occasion for everyone. Amazingly weather was very clear at that night
All the credit goes to our much loved and respected leader Sayyedi Shaikh - ul - Islam Doctor Muhammad Tahir - ul - Qadri without his guidance we would have never been able to manage celebrating the birth of our Holy Prophet Muhammad (saw) with such love, respect and such a great way living in a non muslim country.
May Allah (swt) give Sayyedi Shaikh - ul - Islam a long and healthy life, and may he guide us and strengthen our link with him.
Wa Salaam un ala Rahmat ul Alameen (saww).
Reported by : - N H Qadri