Opening ceremony of Halqa-e-Durood Shareef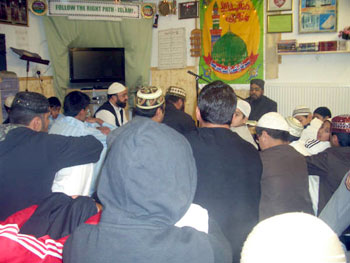 On the 10th of April 2008, Allama Muhammad Idrees Sahib visited the Minhaj-ul-Quran Home Educational Project Halifax at Muhammad Javid Akhtar's residence. This was to perform the opening ceremony of Monthly Halkha-e-Darood Shareef sessions for both brothers and sisters. 
Durind the event, Muhammad Javid Akhtar, In-charge of the Minhaj-ul-Quran Educational Project, presented an update on the progress made on behalf of Minhaj-ul-Quran Halifax to Allama Idrees Sahib, and mentioned that we are very lucky to have had a visit from Shaykh-ul-Islam in 1990 which was the starting point of Shaykh-ul-Islam's tour of the UK, during this tour Shaykh-ul-Islam also opened the very first Minhaj-ul-Quran Library in Halifax at this residence. Adding that, Shaykh-ul-Islam has blessed us by staying at this same residence for a week, during having organised lectures, taking part in the Yorkshire and Lancashire regions. Muhammad Javid also added that, we also organised an event in Halifax for Shaykh-ul-Islam and after the lecture the first official meeting for all the UK members was held in Halifax, after this Shaykh-ul-Islam ordered everyone that they should all go to eat at Javid Akhtar's residence. After this announcement many people become worried as there had only been a certain amount of food prepared at the house by my family, people came back to the house and informed my aunty and my wife of this announcement, they responded in saying 'who made this announcement?' and they said 'Shaykh-ul-Islam', after this they replied 'then we don't need to worry, we will read Bismillah and carry on, there will be enough for everyone Inshallah'. When the meeting had concluded, all the members from the UK made their way back to my residence with Shaykh-ul-Islam. Some of the people had to be seated in the neighbours house due to the large number of people. We began to give out the food to everyone starting with Shaykh-ul-Islam, we began to see a miracle of Shaykh-ul-Islam as everybody had eaten. We also had some food left over that was given to the birds the next day.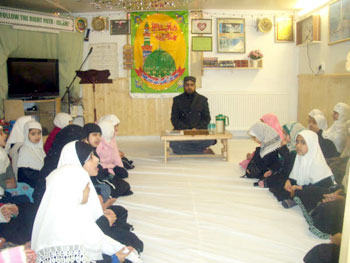 On this event Muhammad Javid Akhtar also added to Allama Idrees Sahib that, Shaykh-ul-Islam had also visited my residence in 1991. On this tour we also organised Shaykh-ul-Islam's Programmes throughout various towns of the Yorkshire and Lancashire regions, these include Halifax, Bradford, Huddersfield, Oldham, Nelson, Bolton and Manchester. On this occasion, Shaykh-ul-Islam also resided at my residence for one week and made it the centeral point for the Yorkshire and Lancashire region activities. Allama Idrees Sahib was also shown the table that was used by Shaykh-ul-Islam for his lecture in 1990 at the Halifax Minhaj-ul-Quran Conference. Muhammad Javid also informed Allama Idrees Sahib that the prayer mat,towel,water jug and flowers used by Shaykh-ul-Islam during his stay at my residence are still present in my home, Shaykh-ul-Islam had given us blessings in the 1990s in which we are not worthy of, these are all the favours of Shaykh-ul-Islam. What we have established in Halifax for Minhaj-ul-Quran or any other fields, this is all the blessings of Shayk-ul-Islam. We pray that Allah will make us sincere to Shaykh-ul-Islam and work with honesty, bravery and wisdom for the mission according to the instructions of Shaykh-ul-Islam, just for the mission and not for our own interests. Ameen.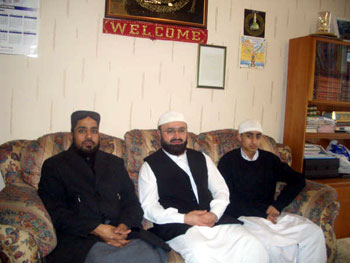 On hearing this, Allama Idrees Sahib was very pleased and then after lunch Allama Sahib was invited to listen to the naats and recitation of Dua 'Lab pe atee hai Dua ban kay tamana mayree, zindagi shamah kee surat ho hudaya mayree...' by the two Girls classes of Minhaj-ul-Quran Home Educational project, after this Allama Idrees Sahib delivered a lecture to them explaining how important it is to have islamic knowledge and told them about Minhaj-ul-Quran and Shaykh-ul-Islam. Allama Sahib became very impressed on how the girls had been trained in reciting naats,dua and the Discipline shown by the students.
After having a break for tea, the main event of the evening began at 6.00pm, this was the opening of the Halkha-e-Darood Shareef ceremony. In this ceremony the students, boys and girls and their mums and dads were especially invited. It began with the recitation of the Holy Quran and Naats by students of the Al-Minhaj Boys Youth Club. Allama Sahib then delivered his speech on the importance of becoming a member of Minhaj-ul-Quran and explained the high status and the great work of Shaykh-ul-Islam in this century. Allama Sahib also mentioned the different Minhaj-ul-Quran centres in the other towns stating that this residence is the Minhaj-ul-Quran centre, of its own kind, for Halifax and they also complimented Javid Sahib and his team, brothers and sisters, for doing a great job on the platform of Minhaj-ul-Quran. Allama Sahib went on to discuss the importance of education and training of the children and the importance of Halkha-e-Darood Shareef. After this, 10 minutes of Shaykh-ul-Islam's English lecture, Renouncing Terrorism regaining Peace, was shown so that everyone present would be able to receive direct knowledge from Shayk-ul-Islam. Everybody was also invited to become a member of Minhaj-ul-Quran,to regularly watch Shaykh-ul-Islam's lectures on Qtv and everybody was also invited to attend the monthly Halkha-e-Darood Sahreef. Allama Sahib then led the Halkha-e-Darood Shareef and then concluded with a dua. Allama Abdul Saeed of Bradford also gave a few words of advice and made the final dua. After this Namaz-e-Maghrib was read and Allama Idrees Sahib and Allama Abdul Saeed Sahib were thanked for their time.
Also on this event, everybody was invited to come to the London Halkha-e-Darood Shareef gathering led by Shaykh-ul-Islam on Saturday 26th April 2008. Especially with the help of the Minhaj-ul-Quran Women and Youth League Halifax we were able to take a coach of brothers and sisters alongside many cars from Halifax to attend this great event in the London Idara. It was many of the students, of Minhaj-ul-Quran home Educational Project, first time for seeing Shaykh-ul-Islam in person and the students became very happy on having this opportunity. May Allah reward the London Idara and especially Allama Sadiq Qureshi Sahib for the organising such a great event very successfully. Ameen.
May Allah through His beloved Prophet (Peace be upon him and his family) make us sincere members of Minhaj-ul-Quran and accept all of our good duas. Ameen.
Report Prepared by Safyah Akhtar (MYL Halifax).