A 5-member US delegation visits Minhaj-ul-Quran International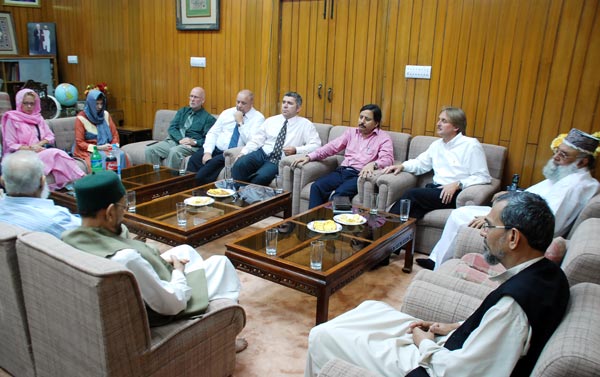 A 5-member US Christian delegation led by Mr. Leif Hetland, President Global Mission Awareness, visited the Central Secretariat of Minhaj-ul-Quran International on August 28, 2008. The other members of delegation included Dr Marqus Fida, Timothy Hatt, Jim Robens and Randall Danley.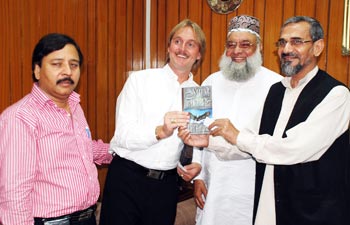 Upon their arrival at the Central Secretariat, the guests were welcomed by the central leadership of MQI led by the acting Nazim-e-Ala Sheikh Zahid Fayyaz, Amir Minhaj-ul-Quran International Miskin Fairz-ur-Rehman Durrani, naib Amir Minhaj-ul-Quran International Brig (r) Iqbal Ahmad Khan, naib Nazim-e-Ala Sq. Leader (r ) Abdul Aziz, and Nazim DFA Muhammad Mustafa (G.M. Malik).

The delegation exchanged views with the leaders of Minhaj-ul-Quran International on matters of mutual interest. Naib Nazim-e-Ala Sq. Leader (r ) Abdul Aziz gave a brief introduction of MQI and its various departments. He told the delegation that MQI was working for the spread of global peace and harmony within the communities. At a time when the holy name of Islam is being exploited by the terrorists for their evil agenda, MQI was engaged in the efforts for highlighting the true teachings of Islam under the inspiring leadership of world renowned scholar Shaykh-ul-Islam Dr Muhammad Tahir-ul-Qadri. He said that Dr Muhammad Tahir-ul-Qadri had rejected the theory of clash of civilizations. Instead, he stressed the need for dialogue among civilizations in order to defeat the extremist elements on both sides that were bent on giving a bad name to their respective religions.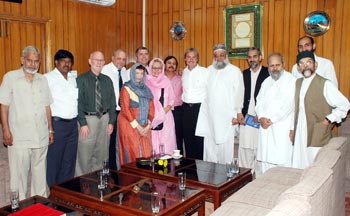 The delegation appreciated the services being rendered by Shaykh-ul-Islam Dr Muhammad Tahir-ul-Qadri for the spread of international peace and harmony. Representing the delegation, Mr. Heland said that there was a dire need to build bridges among the communities in order to develop better understanding about one another. He said all religions preached love, peace and mutual co-existence by urging their adherents to shun violence. He also emphasized the need of boosting such exchanges.

The visit was undertaken under the Muslim-Christian Dialogue Forum as a part of efforts for developing understanding and curtailing differences among communities. The delegation visited various departments and branches of MQI and appreciated the set-up. At the end they were seen off by the central leaders of MQI.